It's Christmas time again and if you want to see something spectacular, it might be worth checking out the Gaylord Palms Ice Orlando Exhibit during your stay. If you are not familiar with the Annual ICE!™ event that happens at the Orlando Gaylord Palms, it is high time that you do. Have you ever been to a Wedding or a big event and seen a large swan or other large statue created purely from Ice? Do you look at it for a while and wonder, "How in the world does someone make this from a block of ice?" If so, you are truly in for a real treat when you visit ICE!™ at the Gaylord Palms Orlando.
ICE™ Gaylord Palms Orlando 2014
Coming this year, take in The Nutcracker like you have not seen before. All of you beloved scenes played out in vibrant colors and everything built from blocks of ice kept at a chilling 9°. Listen to the beautiful music in the background as you relive all of the moments from the ballet. You will feel as if you are in a magical place, just take it in and make sure you get some good pictures along the way to show everyone something they have never seen before.
How much ice are we talking about?
It varies from year to year, but each year, this is a massive undertaking. Over 2 million pounds of ice is shipped in and carved to exact specifications. Let's put it another way! You will be viewing the sculptures created from more than 1,000 tons, or over 300 Elephants worth of ice. It is really hard to wrap your mind around this until you actually see it.
Types of Ice
There are 3 different types of Ice used to make all of the sculptures at the Gaylord Palms ICE!™ exhibit. All of the ice comes from an Ice Factory and takes about 3 weeks total to ship it all in.
This ice gets its color by the use of various dyes. It is more difficult than you would think to create color in the ice.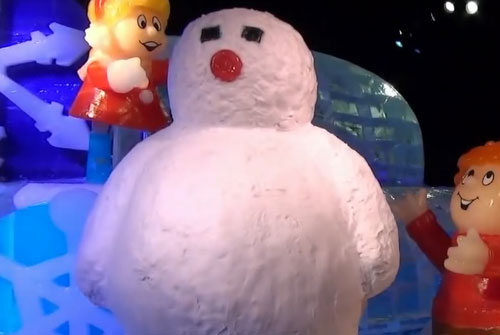 In order to get the feeling of actual snow, ice is frozen fast to give it a cloudy look and used for the white in Frosty.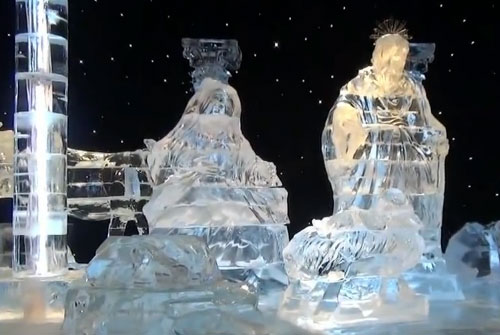 This ice is the most difficult to create because it has to be frozen slowly to get the look of a more flawless crystal.
Is the ice Exhibit Free?
No, it is not free. The amount of time and expense it takes to create something so masterful is very expensive and the Gaylord has to offset its cost by charging a ticket price. You can save a tiny amount by purchasing the tickets in advance but it will only save a dollar or two. The best option is if you are a Marriott Rewards member. If you are, you can save up to 30% on your tickets. If you are not a member, and you are interested in viewing ICE!™ the Gaylord Palms Christmas Ice in Orlando, now might be a great time to become one.
Adult Admission
$28.99
Seniors (age 55+)
$26.99
Kids (4-12)
$14.99
* Prices are subject to change without notice

Ice Gaylord Palms Orlando 2013 Video
Frequently Asked Questions about Gaylord Palms Ice Orlando