It is time for the Disney World vacation that the entire family has been talking about but you really would like to cut down on the expense of travel a little. That is when you should look at the Pop Century Resort Rooms in one of the Value Resort Disney properties provided for their more cost conscientious guests. This resort is very large but be aware that there are not any Family Suites anywhere in this resort. As long as you don't mind staying in a room that is very similar to regular hotel or motel room, this is a great place to stay and save some extra cash. Don't be concerned about the rooms being a little smaller because you will more than likely be spending most of your time outside anyway. Also, since this is a Disney Property, it will be well maintained and the staff will be pleasant to work with no matter what might come up. So save that money that you have worked so hard for and use it to expand your Disney adventure in other places during your visit.
Room Types

Taking a stroll through this property will make you sit back in wonder thinking about the time and effort that went into the design and large sculptures that line all of the courtyards. There are a total of 5 themes across 4 distinct separated locations to enjoy during your stay. Sure, this might be a Disney Value Property but you would never know it by the attention to detail placed all around you. All of the rooms will match in some way to the decade theme that it is placed in. Be sure that you know that there are only standard rooms at this location and you will not find any Suites. If you are looking for a great place to have some extra room to stretch out, head across the pond to the Art of Animation Resort Disney. They actually have more Family Suites than standard rooms and each on can accommodate up to 6 guests.
Themed Areas

Let's take a look at the themed areas and see how they are different:
Classic Hall
As you walk out of the Classic Hall, you will enter one of the main Hot Spots at this resort.
1960's
The kids will be jumping for joy as they see the huge Flower Shaped Swimming Pool surrounded by the decade of the 1960's. Flower Power galore with giant Yo-Yo's make up the staircases at the end of each of the buildings that house the accommodations. You will have to walk around a giant Play-Doh container to get to one building or Baloo and Mowgli from the Jungle Book guarding the other. Kids always look at the art at each area as only they can with a face full of amazement and bewilderment.
1950's
Hang a right and you will walk through a beautiful garden with large 4 story Bowling Pins making up the staircases to the ends of the 1950's accommodations. As you continue walking, you start to hear some splashing on this end of the resort as well. It might not be quite as easy to make out the shape of the pool at this location, but it take the shape of a large Bowling Pin. Pretty neat when you think about all of the thought an engineering behind these wonders. At the entrance to each of these buildings you will find a Giant Juke Box as well as Lady and Tramp from the 1955 Disney Animation.
1970's
As you head off in the left direction you will enter the 1970's. This is the one area that does not have a swimming pool but is still close to the entrance making it easier to walk to the Classic Hall for meals or Disney Transportation. If you have ever played Table Soccer (or Foosball) you will love seeing the giant players in the courtyard. The kids will play for a long time around this incredible sculpture of Disney Art.
1980's and 90's
Keep on the path and your final destination will be the 1980's and 1990's. This section is the farthest away from the front of the Resort and will make for a much longer walk day after day to get to the food and transportation. On a positive note, since it is further away, it is one of the more quieter sections in the whole area. The Computer themed pool is smaller than the main pool at the front but it will still be a great place for the kids to hang out and play. The buildings have Rubik's Cubes that make up the end stairwells for the main buildings and the entrance-ways are guarded by a massive Sony Walkman, a laptop computer and even Roger Rabbit. Take in all that there is to see at this resort. Whichever section you decide to stay in, make sure you walk around the entire area and get pictures to have memories to last your lifetime.
Themed Buildings and Accommodations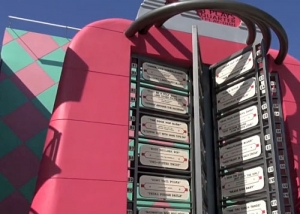 1950's: Bowling Pins, Lady & Tramp, Juke Box
1960's: Play-Doh, Baloo & Mowgli, Large Pool
1970's:Mickey Mouse Phone, Big Wheel, Foosball Players
1980's & 1990's:Sony Walkman, Laptop Computer, Roger Rabbit
Disney Pop Century Rooms
Types of Rooms
2,880 Standard Guest Rooms
Can Accommodate up to 4 Guests
260 Square Feet of living Space
2 Double Beds or 1 King Bed
King Bed Rooms are designed as accessible rooms
All Standard Rooms located through the entire Resort
All Guest Rooms Include:

Wireless Internet Access

Disney Theme Park Transportation

In-Room Complimentary Local Phone Calls

Iron and Ironing Board

In Room Safe (Small but large enough for items like jewelry and tickets)

Alarm Clock Radio

Hair Dryer

Some Disability Accessible Rooms Available (Please check on availability when booking)
All Rooms are Non-Smoking
Standard Rooms
---
This Room has views of the Courtyard, Pool or Parking Area
Max Occupancy = 4
Bedding Configurations Available

2 Double Beds

TV (with Disney Programming)
Small Table and 2 Chairs
Vanity with 1 Sinks
Refrigerator (on request)
Complimentary WiFi
In-room Safe
Non-Smoking

This Room has views of the Courtyard, Pool or Parking Area
Max Occupancy = 4
Bedding Configurations Available

2 Double Beds or

1 King Bed

TV (with Disney Programming)
Small Table and 2 Chairs
Vanity with 1 Sinks
Refrigerator (on request)
Complimentary WiFi
In-room Safe
Wheelchair Accessible Rooms (on request)
Non-Smoking