When you drive by the Reunion Resort Water Park located directly on this luxurious property, the kids are going to perk up and start asking, can we go there now? Having a Water Park at Reunion Resort full of fun things to do, can make a vacation place really stand out among all of the other locations in the area. Add in the fact that this is one of the 5 Star Hotels in Orlando and it is tough to beat what this resort has to offer its guests.
Pool and Water Slide Information:
Water Park Hours: Daily 10am – 6pm
Pool Hours: Daily 7am – 10pm
Water Slides: 1 Large Water Slide and 2 Kids Slides
Lazy River: Wide Lazy River, about 620 foot long
Kids Area: Full Kids Splash Park with Dumping Bucket, zero-entry and water slides
Towels: Located around the pools
Notice: Pool hours can change without notice. Always check the daily schedule at the hotel for the updated hours to the pools and any events.
Who: All of the Pools are available only to guests of the Reunion Resort
Lifeguards: There are Lifeguards at the Reunion Resort Water Park
Lazy River for Slow Moving Mun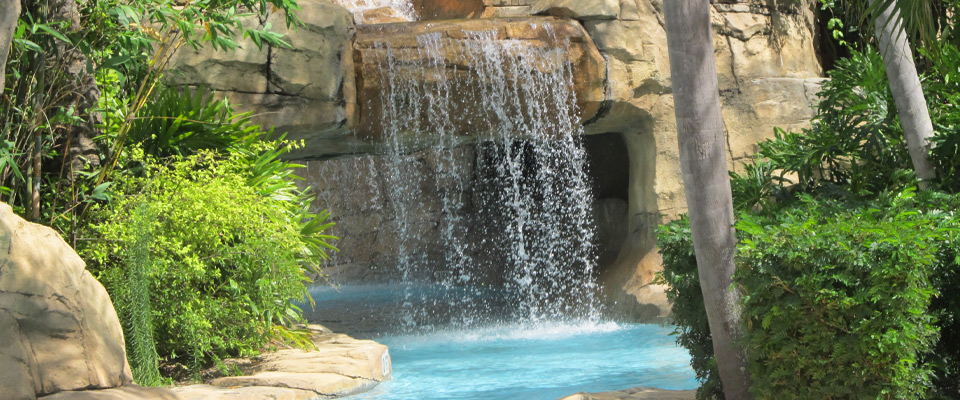 The Lazy River at the Reunion Resort Water Park is about 620 feet long and will take a few minutes to float around the entire length before starting around again. The Lazy River is nice and wide so you are not banging in to people as you float around them. There are plenty of inner tubes around the main section of the pool at all times and the great thing is, they do not cost anything to use. Entry points from various locations can get you to the free flowing water and it is built in a way that you can use it as a water taxi system to get you to the different locations in the Reunion Resort Water Park. The water is not very deep, it maintains a depth of 3 feet 6 inches all the way through. Watch out for the waterfalls along the way, your kids are sure to push and pull until you get completely soaked. It is something they will remember for a long time and is great fun for all ages.
Large Water Slide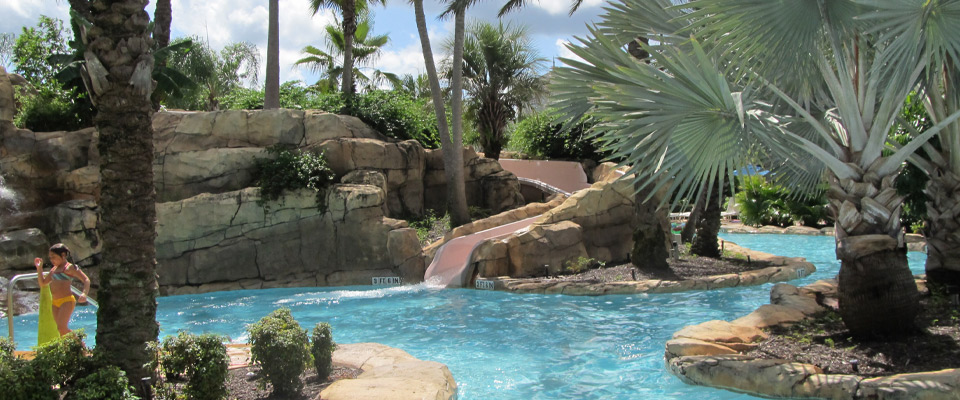 There is only 1 large adult size Water Slide at the Reunion Resort Water Park but it is large enough that the big kids will enjoy really enjoy it. Lifeguards are continually walking around the entire location throughout the day and you can always rest assured that a lifeguard will be manning the starting point of the water slide to make sure no one gets hurt. As you slip down the water slide and make the turns to the bottom, it exits into its very own splash zone. This makes it very safe for all of the other guests because there is not a chance that you will come down on top of someone else.
Large Pool with Zero-Entry Access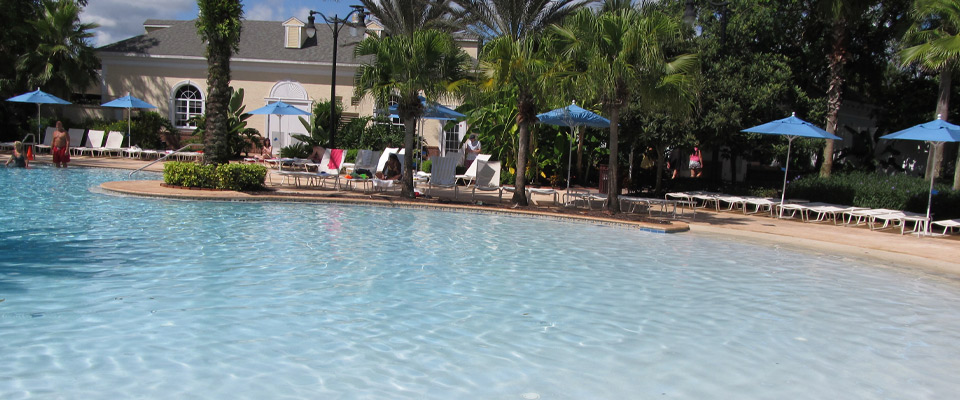 There is a very large pool at the Reunion Resort Water Park that is attractive to all ages. It is a great place for the parents to keep an eye on the kids while they are playing. The entrance from all sides is a gentle slope that leads to shallow waters unless you go all the way out. You will see kids sitting on the edge splashing or older ones a little deeper in playing ball. It is a fantastic hangout because of its easy access to the Lazy River and Water Slide.
Kiddie Splash Zone
Small kids are looking for fun to last for the entire day, so head to the right after you enter the Reunion Resort Orlando Water Park and let them have their fun at the children's splash zone. The little ones eyes will light up as they see the colorful play area and massive 400 gallon dumping bucket catching innocent bystanders by surprise as they walk underneath. Each of the water slides at this location are scaled down to fit the young ones who will venture to this water playground. There is a lot of fun to be had and your kids will not want to leave so make sure that you plan ample time for them to get worn out at this amazing Kiddie Water play zone.
Dry fun
Are you ready to get out of the water for a while but still want to play? There is a very large section at the Reunion Resort Water Park Orlando that is set aside just for playing games and you will see Staff members on hand to get you started. Here is some of what you can expect:
Horse Shoes
Jump Rope
Corn Hole
Giant Checkers
Mega Jenga
White Sand Volleyball
Dining at the Grill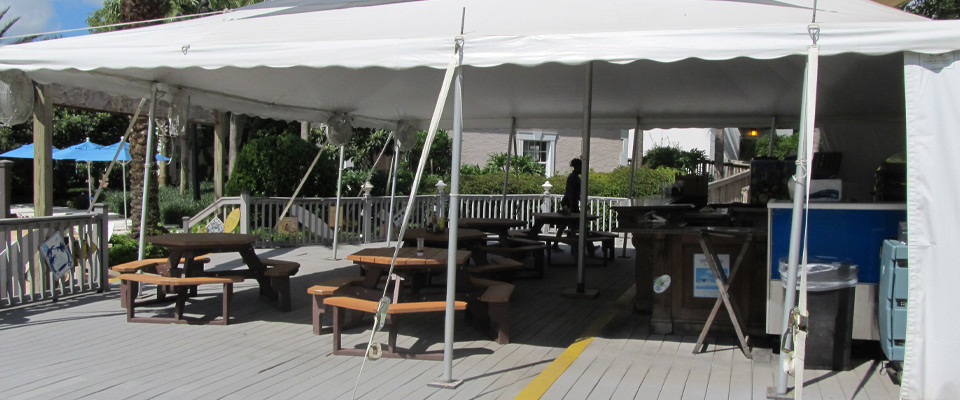 You need to know that you are not allowed to bring your own food into the area. There are a couple of places to get some food and drinks. You will see a Resort worker walking around taking orders but you can also walk up to the little bar area near the front of the park and place an order for anything you would like on the menu. There is also a grill located at the far side near the large Zero-Entry pool.
Additional Information
Let the fun begin while enjoying the sun and water fun at the Reunion Resort Water Park near Orlando / Kissimmee area. There is so much to do that the kids will never want to leave.