Hotels in Orlando with Indoor Pool
Top Pick: Large Indoor Pool at 4 Star Resort
If you are looking to stay at one of the top-notch 4 Star Hotels in Orlando that just so happens to have a large, indoor pool, you might consider the Orlando World Center Marriott. On top of having an Indoor Pool complete with luxurious seating, it is really the Outdoor Water Fun that is even more exciting. The Falls Pool is huge with continuous flowing Waterfalls and big screens to watch your favorite sporting events. They also have multiple water slides, some up to 200 feet in length. Oh, and did I mention the speed slide? If you are up to the challenge, you might want to give this one a try.
Tips for the Fountains Resort Indoor Pool:
The indoor pool is open 7 days a week from 8am until 11pm
Towels are provided at the Indoor Pool and Outdoor Pools
A kids splash zone is located outside if the weather is nice
All of the Outdoor Pools are heated
Check out more information on Orlando World Center Marriott.
Second Pick: 6,000 Square Foot Indoor Heated Pool
If you are looking for an awesome indoor pool this would have to be a top pick because the pool is bigger than most AND just happens to be one of the water park resorts that we feature. The Fountains Resort Orlando Pool amenities include a heated 6,000 square foot indoor/outdoor pool along with outdoor water park amenities.
Tips for the Fountains Resort Indoor Pool:
The indoor pool is located at the clubhouse and will not include slides or a lazy river
If you want to be near the Indoor Pool during your stay you will want to make sure you request to be in building 6 which is just a 2 minute walk from the clubhouse however it can be noisy from Karaoke at the pool bar
The newer buildings are closer to the outdoor pools
Building 10 has some great outdoor pool views
Not all rooms have been renovated so ask for one upon booking
Live Shows
Check out more information on room amenities at Fountains Orlando.
Third Pick: Heated Indoor Pool open 24/7
The Enclave has an indoor pool, Jacuzzi and pool towels open 24 hours a day and 7 days a week (although pool hours are always subject to change). Not only that but they also have 2 outdoor Olympic free-form pools as well. I consider it a great choice because you don't hear of hotels with indoor pools in Orlando very often let alone a one that's open all day and all night. The downside is that it's not as big as the Fountains Resort but you have all day every day to find a time that works to beat the crowd when using the indoor pool.
Tips for the Fountains Resort Indoor Pool:
Building 1 has a great view of the lake and Wet and Wild Water Park
Not all rooms have been renovated so request for a refurbished one
This is not a full blown water park hotel but the fact that it has an indoor heated pool makes it nice for those wanting to be out of the sun or out of the cooler weather during off-season months
Check out more information on room amenities at Enclave Hotel and Suites.
Fourth Pick: Indoor Pool, Dry Hot Sauna and Whirlpool
There are technically 4 Embassy Suites hotels in Orlando that have indoor pools (International Drive, Jamaican Court, Lake Buena Vista and the Altamonte Springs "North Orlando" areas). Not every single Embassy in the United States has an indoor pool but it is very common for this hotel chain to offer at least an indoor pool if not both indoor/outdoor pools all across the country but they tend to be very small and shallow. All 4 Embassy's in Orlando that I've mentioned have both indoor AND outdoor pools. The International Drive indoor pool Embassy Suites location, however, has the biggest indoor pool closest to everything central that Orlando has to offer and that is why I've chosen it as the 3rd pick. That combined with the expansive complimentary hot breakfast items at the Embassy Suites make it a really good option to consider. You will also find a dry sauna and whirlpool.
Tips for the Fountains Resort Indoor Pool:
Both pools are shallow (approximately 4.5 to 5 feet)
Pool view rooms are nice but beware of the noisy helicopter landing
Request a room away from Interstate
The top floors facing the atrium are very nice
Complimentary breakfasts at Embassy Suites are better than other hotels as you will find with made to order omelets
Additional information and booking can be made at Embassy Suites International Drive
Indoor Pool with a Hot Tub
Two out of four Embassy Suites made my list. The Embassy Suites Orlando North in Altamonte Springs is my 4th pick because along with my 3rd pick this one also has a bigger indoor pool. The only difference: This one is technically in Altamonte Springs which would be up to a 25 minute drive in traffic to get to Orlando, a 45 minute drive to get to Disney and a 30 minute drive to get to Universal Studios. It is not the most convenient location for the tourist area of Orlando but it is worth mentioning for those wanting a nice "north" area of Orlando hotel indoor pool. Enjoy an indoor pool, sauna and hot tub here. There is no outdoor pool.
Tips for the Fountains Resort Indoor Pool:
The south side rooms are near the pool
The north side rooms have lake and boardwalk views that are really nicely decorated during Christmas
Additional information and booking can be made at Embassy Suites Altamonte Springs
Hotels in Orlando with Indoor Hotel Pool are somewhat easy to come by, but there might not be as many as you would think. Locations with Indoor Pools that are not warm throughout the year are nice, but why would you want one in Florida? That is a very easy question to answer. Even though you are staying in Orlando, during the winter months, it can still get a little chilly and what about the days the weather is too dangerous to remain outside.
For these reasons alone, it might be nice to know what Orlando Hotels with Indoor Pool are available. Sure, if you are staying in for the day you might not have access to water slides or lazy rivers. Nevertheless, it is nice to be able to splash around if there are no options for anything else. I want to highlight the fact that the average high temperature in Orlando is anywhere from 70 degrees in the coolest months to around 92 in the hottest months. I am sure you would agree that many Water Park Resorts in Orlando with Outdoor Fun. That is part of the reason people visit Florida in the first place, right?
It is in a hotel's best interest to provide a way to relax and splash around out in the sun versus indoors. However, there are some popular Hotels in Orlando with Indoor Pool and those who provide it make it possible to enjoy an aquatic experience regardless of rain, cold or inclement weather. The cool thing is that almost all of the Orlando Hotel with Indoor Pool also offer at least one outdoor pool. Take a look at the hand-picked options below that make swimming fun and comfortable every season during your vacation in Orlando.
Which are the best Orlando Hotels with Indoor Pools?
Are there any cheap hotels in Orlando Florida with indoor swimming pools under $100 per night?
Rates and availability are always subject to change in the travel industry but more than likely you will be able to find a few hotels in Orlando Fl with an indoor pool for under $100 per night.
There are many factors to keep in mind that can change hotel rates, here are a few:
What time of year you are traveling?
Are you willing to stay at a lower star rated hotel?
Are your dates flexible?
Are you willing to stay at a hotel with not so good reviews (check TripAdvisor.com for up to the day reviews on every indoor pool hotel in Orlando)?
Is a major sporting event going on?
Is there a business or some other event going on in the area?
Are non-refundable rates available (in some cases meaning a lower rate)?
Are you willing to wait until a couple of days before arrival to book?
Are you willing to reserve with a flexible cancellation policy so that you can cancel and re-book if the rate goes down?
Are you willing to book far in advance for the cheap rate OR if you are willing to book via a third party?
As you can see from this list, there are genuinely many overwhelming factors to consider, and this is not all of them. Bottom line, most people know by now that the travel business is all about supply and demand. If there is high demand, the prices will skyrocket. If there is low demand, the rates will drop over time. That being said you might want to check out the properties listed for those indoor pool hotels in Orlando Fl that are most likely to be under that $100 nightly range, although there is never a guarantee until you lock in that rate!
A couple of Cheaper Hotels to consider with an Indoor Pool in Orlando
Indoor / Outdoor Pool that is Inexpensive
Depending on the time of the year, you can find rooms at the Courtyard Lake Buena Vista in Orlando Florida below the $100 mark (not including resort fees, tax or incidentals). The pool at the Courtyard Lake Buena Vista is an Indoor – Outdoor Pool. This hotel also has a very nice outdoor pool for the warmer times of the year and it has a Zero-entry sloping entrance making it very easy for little ones to easily get into the pool without much help. For the price, this hotel gets really good ratings and is one worth checking out if all you need is an indoor pool hotel in Orlando.
Tips for the Courtyard Lake Buena Vista:
Indoor pool has an opening to the Outdoor Pool
Some of the rooms at this hotel also have an in-room Jacuzzi
Very good ratings for the price
To get rates under $100 a night – you will have to book through a 3rd party booking engine like hotels.com
Additional information and booking can be made at Courtyard in Lake Buena Vista
---
Ramada Maingate West Indoor Pool Hotel in Orlando
Important Note:
This Ramada Maingate West hotel was bought out by Magnuson Grand Hotel and these properties are no longer open
Ramada's Maingate West with indoor pool offers rates sometimes as low as $40 per night (before tax, resort fees, and incidentals), although rates and availability are subject to change. The indoor pool at the Maingate Ramada West in Orlando is heated and is located in a huge open space leaving less of an overwhelming chlorine smell as some of the smaller closed in areas of certain hotels. In that open area, you will also find a hot tub, a small lounge-like area, and a game room. Everything seems to be right there at your fingertips. TIPS: This hotel also has an outdoor pool. The 4th-floor interior rooms offer the nicest pool view and may be quieter than lower floor rooms closest to the pool. Rooms closest to the pool have a chlorine smell. The towels at the pool are a little small. Beware of poor reviews as there are reports on rooms with mold. Corner rooms are bigger and less noisy. Maingate West Ramada is located at 7491 West Irlo Bronson Memorial Highway Kissimmee FL 34747.
---
CHEAPEST: Metropolitan Indoor Pool Hotel in Orlando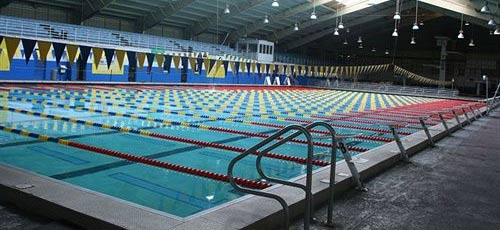 The cheapest rates here sometimes come in as low as $35 per night (not including resort fees, tax or incidentals). It is important to know that the Metropolitan Hotel Orlando Indoor Pool does not technically have an "indoor pool" per say, but they advertise it that way. They do, however, offer the use of 3 heated indoor pools at the YMCA Aquatic and Family Center right next door which is a 5-minute walk away. Not bad for the price, huh? Aside from the Metropolitan Orlando YMCA pool usage guests will also be able to take advantage of the full state of the art wellness center, cardio theater and a 1200 square foot area full of free-weights.
TIPS:
Outdoor pool usage available at the sister property next door as well as at the YMCA
Visit guest services upon arrival to obtain guest passes for complimentary access the indoor pools, cardio theater and 4 racquetball courts
If you are on a low budget this could be your ticket although it's not as updated
There are lots of negative reviews
Lots of guests claim the rooms on the ground floor are the best
Full List of Orlando Hotels with Indoor Pools
Orlando Hotels with Indoor Pools Options
Most of the Hotels in Orlando with Indoor Pool are not part of a Water Park but if that is a must-have option, consider the ones listed above.