5 Star Hotels in Orlando
It is really surprising how few 5 Star Hotels in Orlando Florida there actually are. When you think about how built-up Orlando is with all of the family fun parks, you would think there would be many to choose from. This is just not the case.
When you add in water park features to these 5 Star Hotels in Orlando, the list gets even smaller. All of the 5 Star Hotels in Orlando will be listed. More focus is placed on the 5-Star Resorts with the extra water features. This means we are looking for something more than a pool. It is important to find the 5 Start Hotels in Orlando which have a lazy river, water slide, zero-entry, kids splash park, or a combination of these.
How many 5 Star Orlando Hotels are there?
It was apparent that there are not many locations in Orlando that meet these criteria. In fact, you will see from the list below that we have only found three (3) of the 5 Star Hotels in Orlando that fit these conditions. Let's take a look at what hotels there are to choose from.
A List of 5 Star Hotels Orlando
Large Lazy River, 3 Swimming Pools and a Kids Splash Playground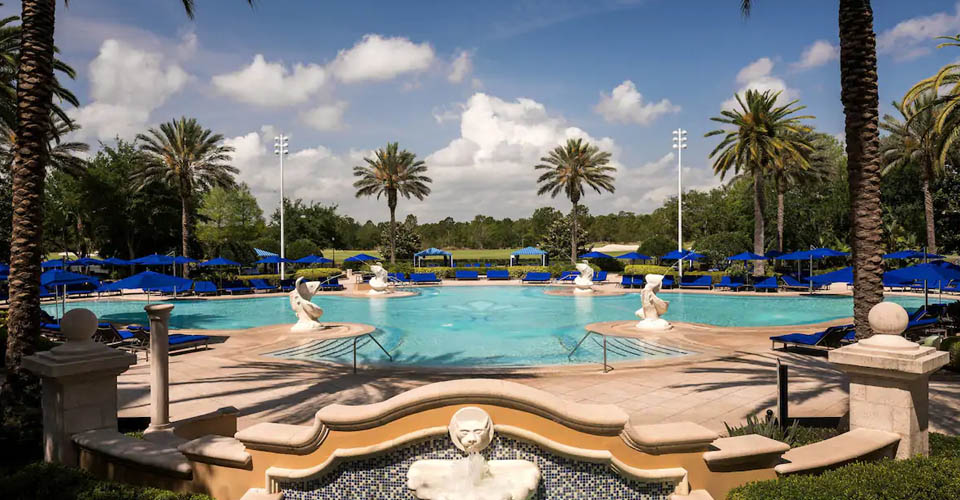 The Ritz-Carlton is a lavish Resort and is unique in that it shares amenities with its sister property, the JW Marriott Orlando. Between the two of them, there are a total of 3 pools, 1 large flowing lazy river, zero-entry access, and a very small Kiddie Play area. Most of the fun water features are found at the JW Marriott but since they are both part of the Grande Lakes Resort and share amenities, it falls under the benchmark that we use to classify the 5 Star Hotels in Orlando.
Suits, Villas, Homes, Private Pools, Rooftop Pool & Water Park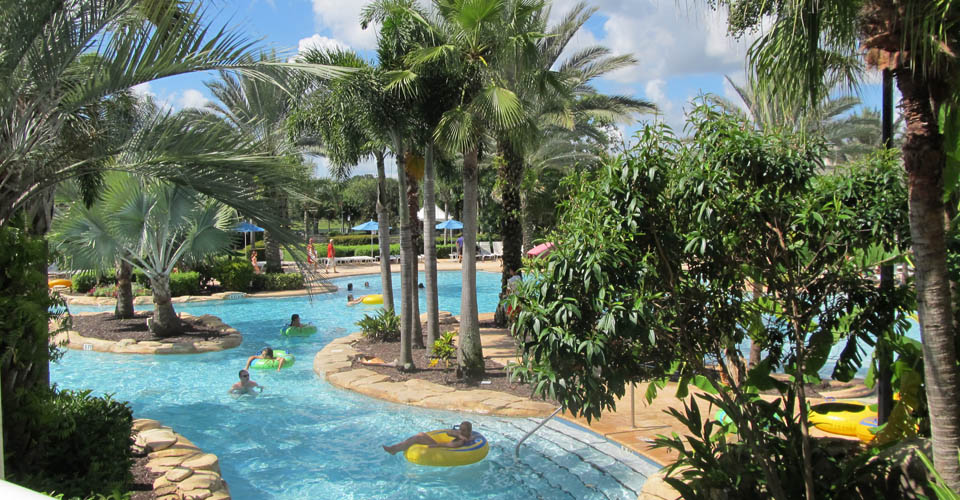 The Reunion Resort is the largest of the 5 Star Hotels in Orlando. Just a few miles south of Disney World, the Reunion Resort will get you away from all of the traffic and activities if you desire. This resort is extra special when you look at it from a Water Fun featured perspective. They have everything that we are looking for in a full Water Park Resort. Thirteen (13) Swimming Pools, one of which is on top of the Reunion Hotel and you can overlook the Orlando area while enjoying a dip in the pool. The water park area comes complete with a fun twisting water slide and a huge twisting, Lazy River. Add in the Zero-Entry access and large wading area and that seems like it would be enough of a reason to stay here but that is not all. This part of the park also has a full Kiddie Splash park with water cannons, places to climb, and 2 additional smaller water slides. The Reunion Resort has many fun things to do and is a fantastic 5 Star Hotels in Orlando.
Inside of Walt Disney World, Cabanas with Lagoon Style Pool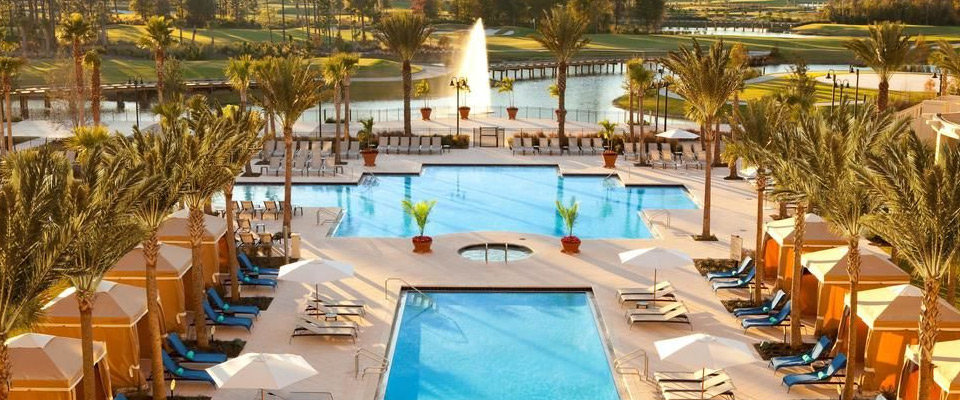 Built inside of the Walt Disney World designated property, the Waldorf Astoria is the perfect place to enjoy all of the pamperings you expect from the true 5 Star Hotels in Orlando. The Waldorf Astoria Orlando shares amenities with the Hilton Orlando in Bonnet Creek next door. When you include the water fun from both of these locations you end up with so much more. Two (2) quiet, reserved pools with Cabanas and lush settings at the Waldorf Astoria are great for the adults. One (1) Large Lagoon Style Pool with Lazy River and Water Slide are perfect for the whole family at the Hilton Orlando. Zero-Entry access is available at both locations and you will also find whirlpools located at each of the pools as well. Whether you are staying here for business or pleasure, if you are looking for a quiet getaway or something thrilling for the kids, this Resort has something for everyone.
List of 5 Star Hotels in Orlando with Water Park Features