Hotels in Orlando with Lazy River and Water Slide
When you find a Hotel in Orlando with a Lazy River and a Water Slide, you are getting pretty close to having the fun of a full water park without going anywhere else. There are some really great Resorts in Orlando with a Water Slide and a Lazy River.
Are you looking for Disney World and Universal Resorts with a Lazy River and Water Slide?
Here are a few Top Hotels in Orlando with Waterslides and Lazy River. Below you will see a complete list.
620-foot Lazy River & 125-foot Water Slide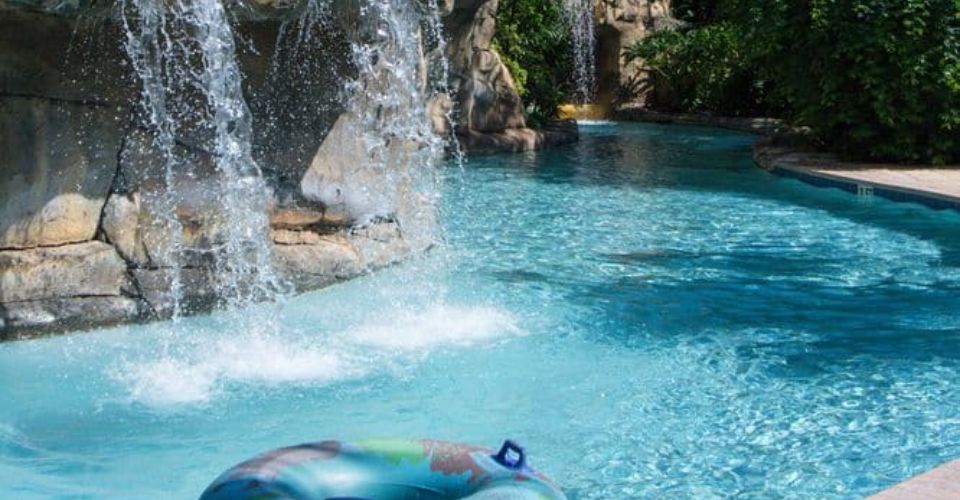 The Reunion Resort is an amazing 5 Star Resort just a few miles south of Disney World. You can find accommodations at this property to fit any need you might have from Standard Guest Rooms or Suites in the Reunion Hotel, to 3 Bedroom Reunion Resort Villas and even Homes with Pools. There are a total of 11 Pools on the property; one is even a rooftop pool with great views of the fireworks. Reunion Resort Water Park is also on grounds with a water slide, beautiful lazy river, and even a large kids splash zone with smaller slides and a dumping water bucket.
Check out more information on Orlando Reunion Resort.
Full Resort has 5 Pools, 2 Lazy Rivers and 2 Water Slides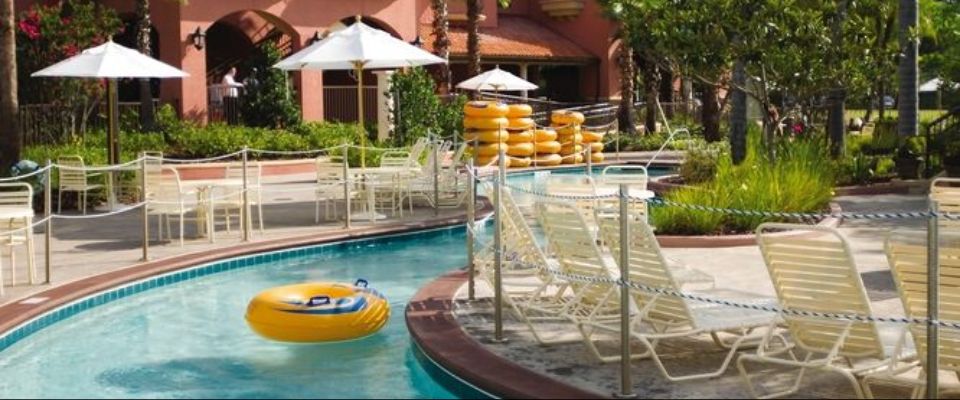 The Wyndham at Bonnet Creek is in a great location with close proximity to all of the Major Theme Parks and Attractions in Orlando. There are a total of 5 Pools at this Hotel. A lengthy, fun Lazy River is also at this Wyndham at Bonnet Creek with a Water Slide at the main Pool. For the kids, there is a shallow water splash area, and the main pool is equipped with zero entry.
Check out more information on Orlando Bonnet Creek Wyndham Resort.
850 Foot long Lazy River and a Twisting 125 Foot Water Slide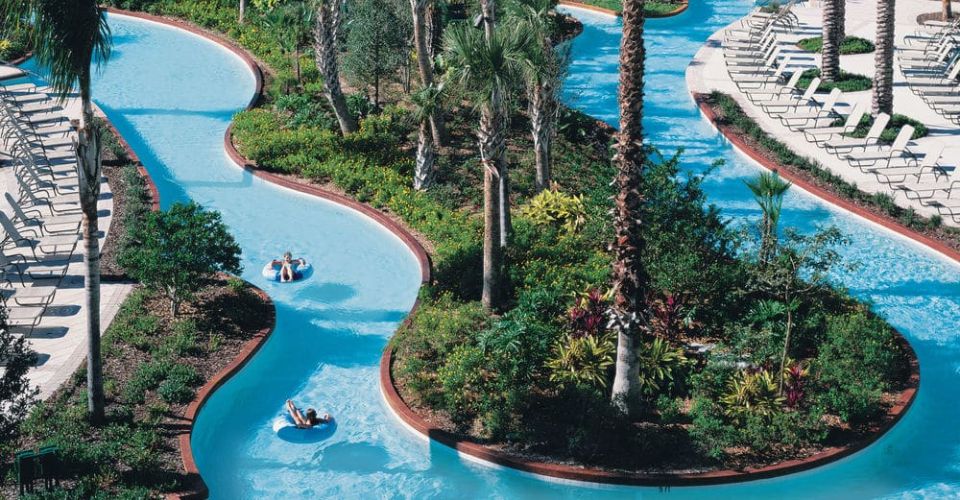 The Omni Resort in Orlando has it all from Family fun water areas to more private adult only pools with poolside Cabanas. The Family pool is huge with room for all and plenty of seating to enjoy your favorite reading material while the kids splash about. This pool also has a large 125 foot twisting water slide with a water tower dropping water all day long. The Lazy River is very long at about 850 feet with lounge chairs lining the entire length. If you are looking for a great relaxation spot, you have found it at the Omni Orlando.
Check out more information on Orlando Omni Resort.
It is pretty much a "given" when you see a property in Orlando with a Lazy River it will almost always have a Water Slide as well, but this is not a 100% guarantee, as you will see. If you want to know all of the Hotels in Orlando with Lazy River and Water Slide, take a look at the list below. Looking at the Lazy River Hotels in Orlando you will discern that the Ritz-Carlton Orlando and the JW Marriott Grande Lakes, both share pool amenities and have a beautiful Lazy River but do not make the list because they are missing a Water Slide.
Disney Resorts with Lazy River and Water Slide
There is a pretty good chance if you are visiting Orlando Fl that you might venture into Disney World during your stay. Based on that observation, you might be interested in knowing which Resorts in Disney World have both a Waterslide and Lazy River. It might come as a surprise that there are not many to choose from. One of the more impressive Water Parks at a Disney Resorts that has both a lazy river and water slide would be the Stormalong Bay. Three (3) Acres of Water Fun that has it all including three (3) Large Pools, one of which has a sandy bottom. Also at Stormalong Bay, a beautiful lazy river whisks you around the park and the longest water slide in all of Disney World is located here as well. So where do you have to stay in order to have access to Stormalong Bay? GOOD NEWS, it is so large that it is shared between the Yacht Club and the Beach Club. You really can't go wrong with either one, so pick one that fits your family style and enjoy one of these Disney Hotels in Orlando with Water Slide and Lazy River as long as you would like.
Universal Orlando Resort with Water Slide and Lazy River
Universal Orlando has some fantastic properties as well, but it wasn't until they added the Cabana Bay Beach Resort that they had a Hotel at Universal Orlando with a Water Slide and Lazy River. I think they realized that to draw the crowds to stay at their properties, they had to up the ante a bit. Well, they succeeded when they added this massive complex complete with a 50's theme and all of the amenities you could want from today.
Full List of Hotels in Orlando with Water Slides and Lazy River