Unwind in Paradise: Discover the Finest Lazy River Hotels Orlando Offers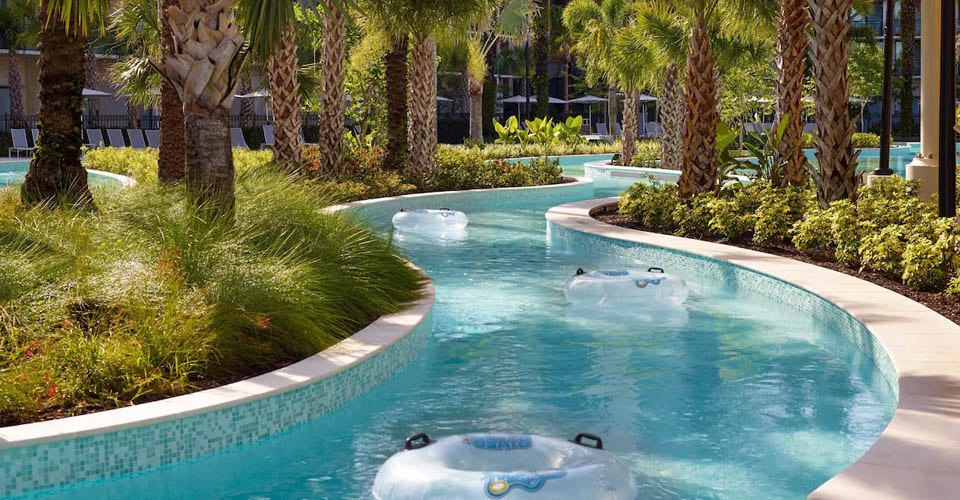 When it comes to ultimate relaxation, nothing beats staying at one of the remarkable Lazy River Hotels Orlando has to offer. While a resort pool provides a delightful experience, there's something truly magical about pampering in the peace of a lazy river. But with so many options available, how do you choose the perfect one for your getaway?
Orlando has a diverse selection of hotels and resorts that feature beautiful lazy rivers. From winding, shallow streams with lush landscapes to exhilarating fast-paced options like the Crystal River Rapids at the Gaylord Palms Resort, these special destinations never fail to surpass expectations.
Lazy River Hotels Orlando Florida: According to Length
(Hotel Lazy River Lengths at time of this post)
Fun Fact: Did you know that the longest lazy river in Orlando, which will leave you awe-struck, isn't located at a hotel? Instead, it can be found at Disney's Blizzard Beach Water Park, stretching an amazing 3,000 feet in length.
Another Fun Fact: Prepare to be amazed by the Ichetucknee River, one of Florida's longest lazy rivers, spanning an impressive 6 MILES. Nestled within Ichetucknee Springs State Park in Fort White, Florida, this crystal-clear spring is a true natural wonder.
But let's save those stories for another time. Now, let's embark on a journey through our handpicked selection of favorite lazy river resorts organized by the approximate length in Orlando.
Are you dreaming of a getaway at a Disney World Resort or a Universal Resort in Orlando while enjoying the luxury of a lazy river? Look no further, as we have the perfect options for you:
Disney World Resorts with Lazy River: Dip in the enchantment of Disney while floating along a lazy river. A Disney Resort offers a seamless blend of magic and relaxation, ensuring an unforgettable vacation.
Universal Orlando Resort with Lazy River: Experience the excitement of Universal Studios while spoiling yourself in the calmness of a lazy river. A Universal Resort provides the perfect balance between thrilling adventures and peaceful relaxation.
With numerous outstanding resorts in Orlando featuring lazy rivers, we have carefully curated a selection of standout options for you to consider. However, if you're eager to explore the full list of hotels in Orlando with lazy rivers, feel free to jump ahead and discover the perfect one for your ultimate getaway.
Tranquil & Relaxing in a Lazy River Orlando Hotel
Are you looking for a place to relax on your next vacation or business trip? Maybe, staying at one of the Lazy River Hotels in Orlando is the right spot for you. Picture it, you are sitting in a comfy lounge chair by the Swimming Pool. The book you have been putting off for months is sitting on the side table. In your hand, you have your favorite frozen beverage. The Florida sun is relentlessly beating down on you. The heat is overwhelming. It's a good thing you booked one of the Hotels in Orlando with a Lazy River.
There are quite a few Hotels that offer the tranquility of floating around without a care in the world. We have created a list of some of the best Lazy River Hotels Orlando available.
Lazy River Hotels in Orlando for all
Orlando Hotels with Lazy River is ideal for those who want to float around gently on a tube in safe, shallow surroundings. There is no end unless you decide to stop. Otherwise, you can float around the Lazy River at your Orlando Hotel as long as you would like, or, at least until the pool closes. Water parks often add scenic elements, making them the perfect place to relax and enjoy time away from the hustle and bustle of the rest of the water park.
Adults love that they can lean back in a float and ride along with this Lazy River Orlando Resort without care, but the kids love them too. The first time your child gets in, they are so amazed that the water moves them around they don't want to get out. These hand-picked Lazy River Hotels Orlando offer every guest a variety of water park fun. Some offer much more, like waterfalls, sprinklers, zero entry, and sandy beaches, with acres of water fun and twisting Water Slides.
Plenty of Hotel Choices with a Lazy River
As you start looking at the different Lazy River Hotels Orlando, it is incredible how long the list is. If you want to have some extra added fun and narrow the list down a bit more, look at the Hotels in Orlando with Lazy River and Water Slide. This list will significantly scale back your options, but the kids will have fun. Imagine their delight with one or multiple water slides at your favorite vacation spot.
---
Hotels with Lazy River Near Disney World
Most of the Hotels in this list are near Disney World. Some are closer than others, but all of them are still nearby. If you are looking for an actual Disney property to stay at, look at the Disney World Hotels with Lazy River.
Do any of the Universal Resorts have a Lazy River?
Universal Studios is a great option in Orlando, so consider looking at the Universal Orlando Resorts with a Lazy River.