Hotels Near Disney Springs
Looking for a great place to spend an evening walking around, enjoying the sidewalk shows, eat at some great restaurants, and get some shopping in? You might want to consider staying in one of the Hotels near Disney Springs in Orlando Fl.
If you have not been to Disney Springs, you are truly in for a real treat. Honestly, if you want to spend some time perusing the various shops, it is amazing what you will find. The word "Shopping" might normally send your kids into a tailsping, but not at Disney Springs. Disney Springs is an adventure for the whole family and is well worth taking the time to visit.
I know there have to be Disney Resorts near Disney Springs
Of course there are Disney Resorts near Disney Springs. In fact, if you stay at the Saratoga Springs Resort & Spa, you can actually see Disney Springs from your back yard. You are so close that you can even walk if you would like. I would like to recommend the Water Taxi system as a great way to get back and forth if you stay at Saratoga Springs. It is a simple and fun way to transport your family from Saratoga Springs directly to the Disney Springs Area.
There are a few other properties around that also offer Water Taxi service but aren't quite a "stones throw" away. As you head up the canal on the west side of Disney Springs, you will come upon the Old Key West Resort. The Key West Resort is an amazing place to visit and is still just minutes away from the Disney Springs by boat.
Just north of the Key West Resort you will find the Port Orleans French Quarter and the Port Orleans Riverside Resorts. These 2 resorts share amenities and Water Features with each other because they are sister properties. The Riverside resort has a full 3.5 acre Water play area complete with Water Slides, Rope Swings, and much more. It is worth taking a closer look at the various Disney Hotels near Disney Springs to see which one best suits the style of your family.
Close to Epcot
Did you know that Disney Springs is only about 1.2 miles from the edge of Epcot? That is right, and with this being the case, you might also want to check out the different properties that are near Epcot as well when you are searching for any of the Orlando Hotels near Disney Springs.
Hotels in Lake Buena Vista Disney Springs Area
There are a number of Hotels near Disney Springs that are not Disney owned. In fact, the properties that are located in Lake Buena Vista are right across the street from this sprawling complex.
Great Water Park with Lazy River & Water Slides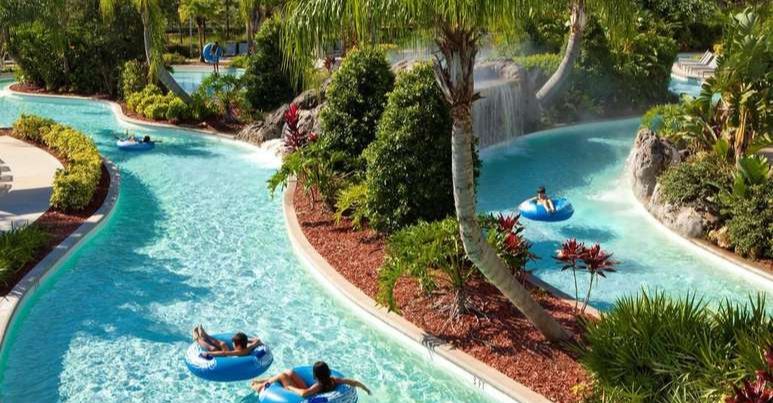 The Hilton Orlando Hotel is located on Buena Vista Drive on the corner across from the east side of Disney Springs. Having a Water Slide is a great water feature but the Hilton Orlando also has a Lazy River that spans almost 900 feet in length. They also have a few Private cabanas if you really want to pamper throughout the day. Directly across Buena Vista drive from the Hilton.
Huge Resort with kids splash pool and Tower Water Slids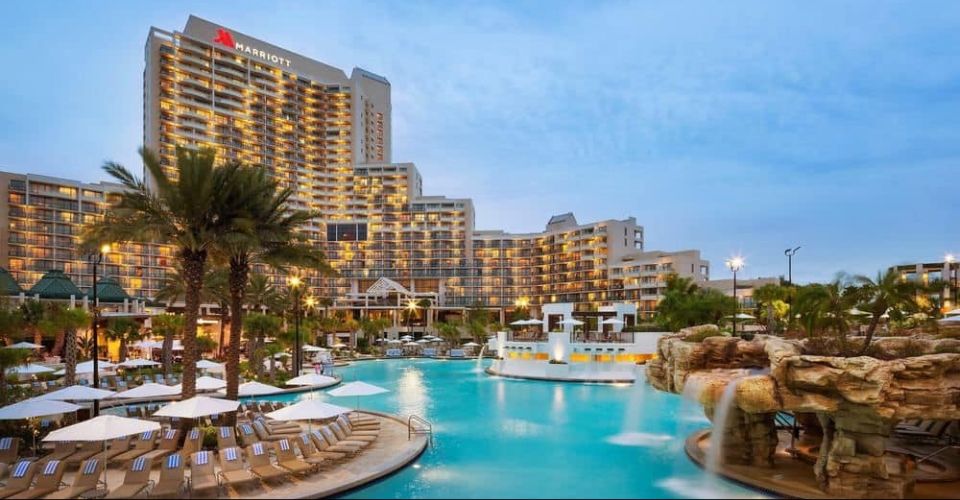 A little further away but still very close is the incredible Orlando World Center Marriott. The World Center Marriott sets itself apart by its sheer size with amenities like a Mini-Water Park complete with large waters slides and a Kid's splash zone. You will also have access to a gorgeous, well maintained 18 hole Golf Course, right on the grounds of this location.
Huge Resort with kids splash pool and Tower Water Slids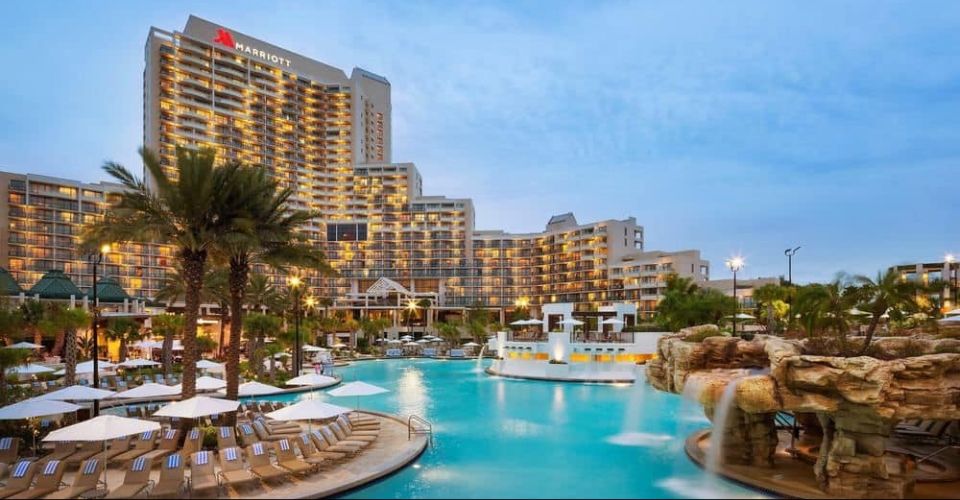 Across World Center Drive, if you have young kids, you might have to check out Holiday Inn Resort Orlando Suites Waterpark. The Holiday Inn used to be the Nickolodeon Resort and Water Park. This resort is geared towards being a 100% Kids paradise with vibrant colors, and a full Water Park for kids and adults alike. The Holiday Inn Resort and Water Park is fun for all.
Each of these properties are not within walking distance of Disney Springs as they are about 4 miles to the south. Even so, they are close enough and they have great Water Park features so we felt they should be included in the list of Hotels near Disney Springs in Orlando Florida.
All of the Hotels near Disney Springs