Volcano Bay Water Park in Orlando
Immerse yourself in a truly amazing, island-themed Volcano Bay Universal Water Park in Orlando. Join in a theme park and a water park full of a tremendous amount of water and fun, and there you have the Volcano Bay Water Park.
Location and Transportation
As you drive down Interstate-4, you can't miss the huge Volcano that sits off of the highway, in the middle of the water park. The Volcano Bay Water Park is located directly behind the Cabana Bay Beach Resort. If you are staying at the Cabana Bay, you have quick access by the designated walking path that takes you right to the entrance of the park. Alternatively, you can also walk along the Garden Path to Volcano Bay if you are staying across the street at the Loews Aventura Hotel or Loews Sapphire Falls Resort. All of the other Resorts at Universal include bus transportation.
Additional Information you will want to know:
Having all of the available information before visiting Universal's Volcano Bay Water Park, prepares you for your day. Understanding the rides, tickets, and technology makes for a much better experience when you visit.
Park Size: Around 27 Acres
Wave Pool: Waturi Beach sits at the base of the Volcano and is the perfect place to get situated for the day. Enjoy sitting in your lounge chair watching the waves roll in, or join in on the fun and ride the waves.
Lazy River: There are actually two (2) lazy rivers at the Volcano Bay Water Park. Each river offers a completely different experience. Closer to the front of the park, hop in the Kopiko Wai Winding River for a slow ride around the park. For something a little more exciting, head over to the TeAwa Fearless River for a more thrilling white water experience.
Water Slides: Great Family slides with large multi-person tubes, Speed Slides for the thrill fanatics, Racing slides, and even kids-sized water slides in the Tot Tiki Reef for toddlers and Runamukka Reef for older kids.
Kids Play Areas: Toddlers will have an amazing time in shallow water and simple water fun activities at the Tot Tiki Reef. The older kids will want to head over to the Runamukka Reef where there are larger slides and places to climb around and have hours of fun.
Location: Just off of I-4 behind the Cabana Bay Resort. If you are staying at one of the Universal Resorts, transportation is provided for you.
Parking: If you are staying at one of the Universal Resorts, you don't have to be concerned with parking. Transportation is provided at each resort. If you are staying at the Cabana Bay, Aventura or the Sapphire Falls, you also have the option to walk to the Volcano Bay Water Park.
Locker Facilities: Lockers are available at the Park
Cabanas: There are many different types, sizes and locations in the park where you can rent Cabanas. Be sure to get yours reserved early as they sell out quickly.
Life Jackets: Life Jackets are provided at many of the attractions where they are needed. These are complimentary during the day and can be used on each ride.
Towels: Towels are not provided but can be rented or purchased in one of the Gift Shops
Pets: Pets are not allowed in Universal's Volcano Bay Water Park.
Can anyone go to the Volcano Bay Water Park?
Absolutely! As long as you have a ticket to get into the park, everyone is welcome. There are some benefits to staying at the resorts though. If you book a stay at one of the Universal Resorts, Value, Prime Value, Preferred, or the Premier Resorts, you do get some additional perks. Transporation is the best reason to stay at a Universal property. All guests at a Universal resort get free transportation to all of the parks. If you get a pass that includes all 3 parks, you also get early access to Volcano Bay with availability to some of the rides before anyone else. Even though the early access only gives you 30 minutes more than general pass holders, this gets you into Volcano Bay before the crowds to get a great seat and start your way to the first few rides. It makes a huge difference on your day.
Attractions at Volcano Bay
There is something for everyone at the Universal Orlando Water Park. Excited about thrill rides? Be sure to head over to the Krakatou Water Coaster and flow in your tube up inclines propelled by powerful water jets, or hit the "saucer water slide" Maku Puihi.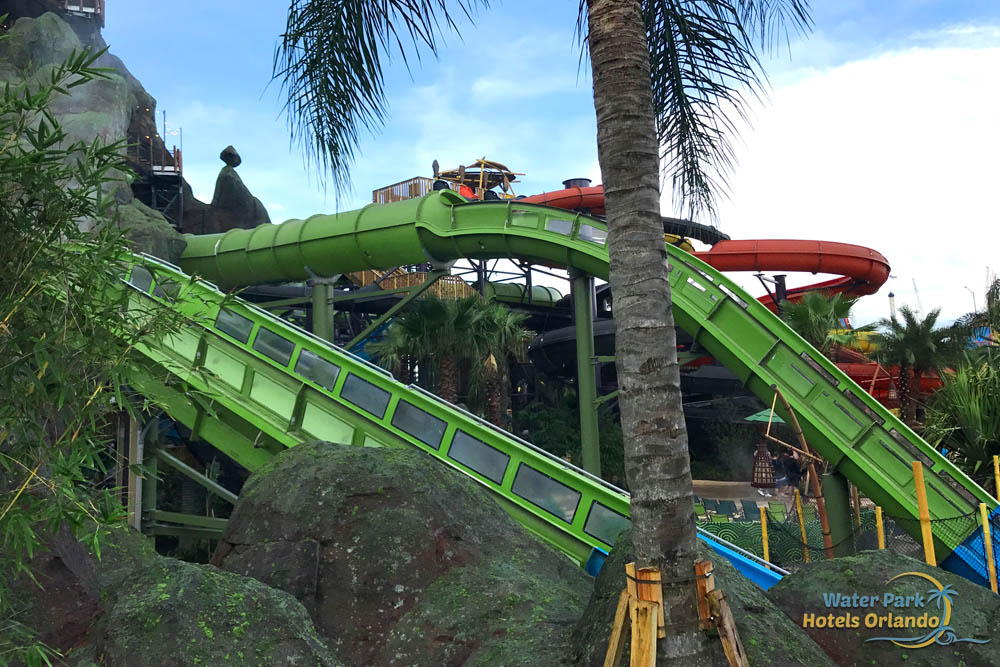 For something a little more reserved, you can't go wrong with the Kopiko Wai Winding Lazy River. Everyone loves the coolness of the water while floating around and enjoying the sights of the water park from the lazy river.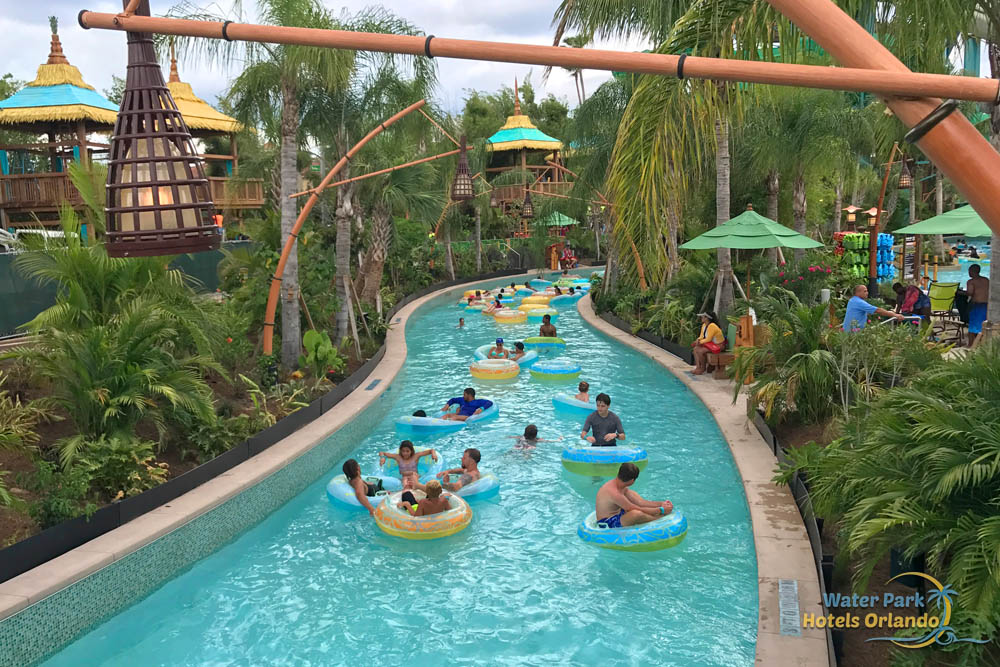 The kids will love the kid's water sections. The Tot Tiki Reef is great for the toddler age and the Runamukka Reef works wonders for older kids.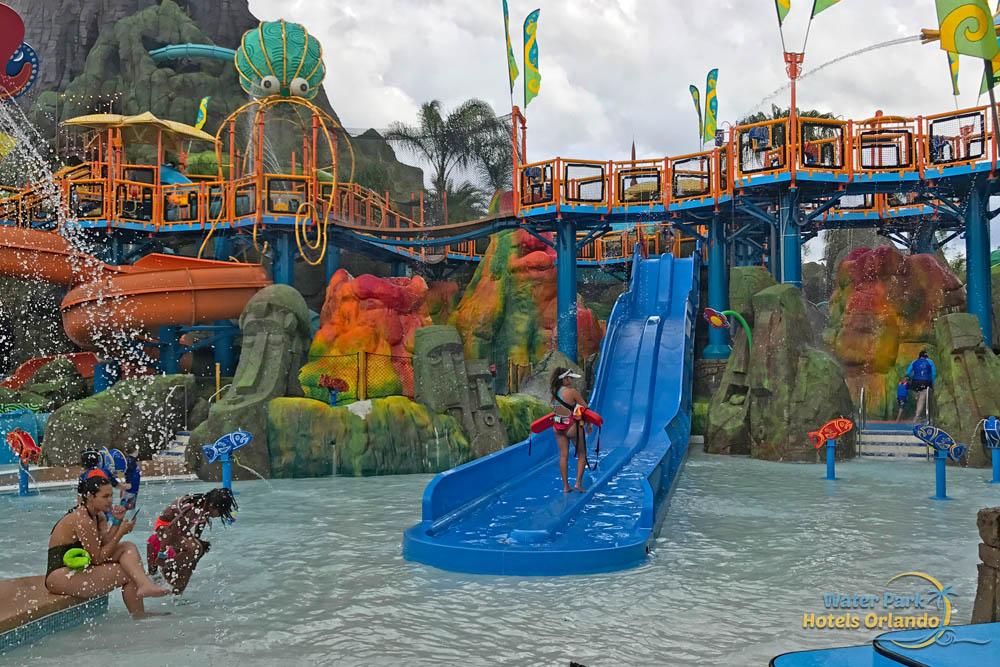 Technology at the Universal Volcano Bay Water Park
Disney has its Magic Bands and Volcano Bay has its TapuTapu digital wristband. As you enter the park, you will be given your own wristband to wear for the day. So, what does it do for you? If you think back to the Fastpass days at Disney World, where you would walk up to a kiosk and get a ticket so you don't have to stand in a long line, that is similar to how the TapuTapu works. Each ride has a Tapu station.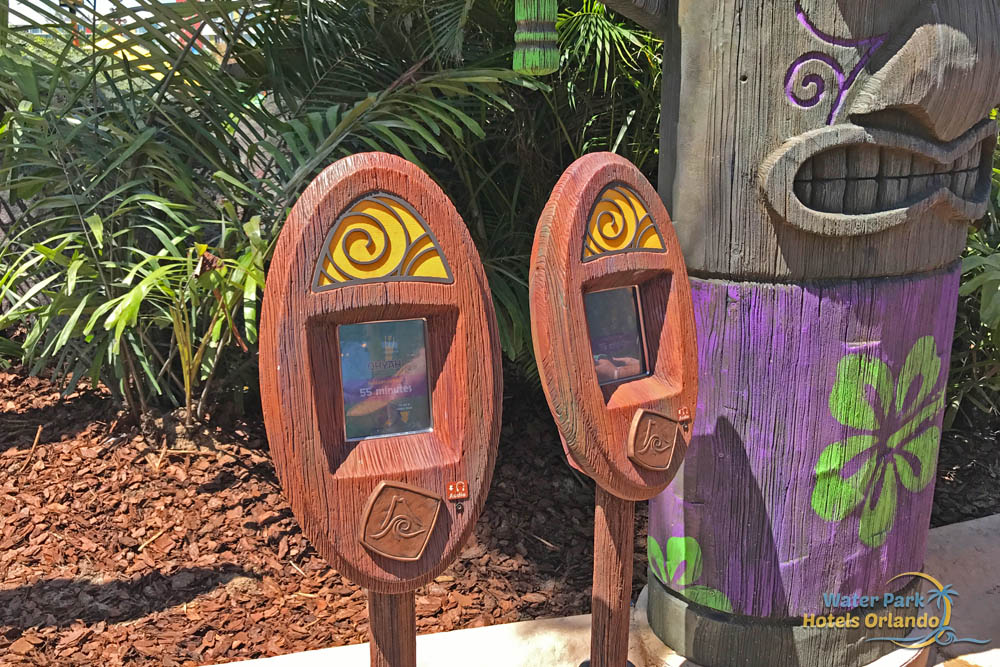 Using your TapuTapu wristband, you can tap the Tapu and get time to return to ride the ride. This cuts down considerably on the time you will stand in your line.
Volcano Bay Express Pass
Similar to the Express Passes you can purchase for Universal Studios and Islands of Adventure, you can also get an Express Pass for Volcano Bay. While at the time of adding this article, the only available Express pass for Universal's Water Park is a "one time per participating ride". This means that for any ride that allows the Express Pass, you will get front-of-the-line access, once per day. Be sure to check with Universal Sales when getting your ticket to verify the status of any Express Passes before purchasing as this information can change at any time.
Please note the information and fees provided can change without notice, however, was accurate when published. To confirm all details you will need to check directly with the properties in question before completing your vacation planning.
Frequently Asked Questions: Volcano Bay Universal Water Park
Is Volcano Bay open year round?
Yes, but there might be some exceptions. Orlando is typically warm all year long so it makes sense to keep Volcano Bay open. If the weather turns really extreme or there is lightning in the area, Volcano Bay might have to close. It's a good idea to check with Universal's Guest Services Department if you have any questions on the Water Park being open 407-224-4233 option #4.
---
Is Volcano Bay worth it?
Believe it or not, this question gets asked a lot. Of course, this is subjective and everyone has their own opinion as to what makes a water park great. However, Universal's Volcano Bay has everything you can ask for. Great theming, scary drop slides, family slides, body slides, lazy river, fast river, wave pool, and a couple of kids splash parks.
---
Is the water heated?
Yes, on most of the rides, the water is heated at Volcano Bay water park making it great no matter when you go.
---
Are Cabanas available?
Yes, Cabanas are amazing at Volcano Bay. Be sure to reserve yours early as they sell out quickly. If you wait until you get to the park to rent one, it will likely be too late.
---
When did Volcano Bay open?
Universal opened the Volcano Bay water park on May 25th, 2017.
---
How big is Volcano Bay?
Volcano Bay is about 27 acres in size and has all of the great rides you would expect in a full-size water park.
---
Can I buy Volcano Bay tickets at the gate?
Yes, there is a ticket counter to get your tickets at the entry gate of Volcano Bay water park.
---
What is Volcano Bay capacity?
While it is not easy to find the actual number of guests allowed in the Volcano Bay Water Park, if Volcano Bay reaches full capacity, they alert guests on the UniversalOrlando.com website and on their Twitter feed @UniversalORL. You can also call the Universal capacity hotline at 407-817-8317 for the latest updates.
---
Can you walk to Volcano Bay?
If you are staying at one of the nearby Universal Resorts, you can easily walk to Volcano Bay. The Cabana Bay Beach Resort is right beside the water park and just across the street you can walk from Loews Aventura Hotel or the Loews Sapphire Falls Resort. It is recommended to take the shuttle if you are parking in the main Universal Parking Garage or any of the other Universal properties.