Aquatica SeaWorld Water Park in Orlando
You might be familiar with SeaWorld in Orlando but did you know they also have a huge Water Park? Aquatica SeaWorld Water Park in Orlando is just across the street from the SeaWorld Theme Park. Aquatica offers a spectacular day of fun in the sun and water. Although the Aquatica Water Park is not Themed as extravagantly as the Disney Typhoon Lagoon or Disney Blizzard Beach, it is a very pretty park.
Aquatica is designed to be a Tropical Oasis. Water park attractions are unique to this SeaWorld park. SeaWorld does everything very different from Disney and Universal. Expect this from their water park as well. All of the Water Parks in Orlando are nice but if you are looking for something a little out of the ordinary, you might want to consider Water Park Aquatica
Dolphin Plunge – Very special water slide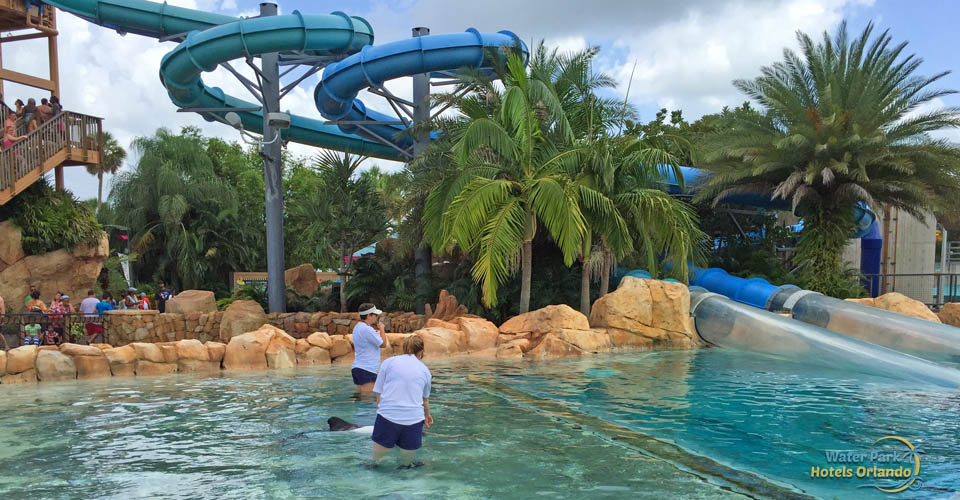 You will see the amazing difference of the Aquatica water park within minutes of walking through the turnstiles. Just past the entry gates you will look up and see one of the attractions that have made this Water Park stand out from all of the others, Dolphin's Plunge. You will have to continue forward to see the full ride but what a great first site upon entering. Dolphin's plunge is made up of 2 enclosed Blue and Green tubes that turn into clear tubes. Once they turn clear, you can see the riders zip through a huge water tank that stores the Commerson Dolphins.
You will have to take a second look because you have never seen any Dolphins like this before. Commerson Dolphins are black and white with coloring very similar to a small Killer Whale, but they are most definitely Dolphins. For most people, at least the adults and anyone who loves these magnificent creatures, this is worth the price of admission to the entire park.
Incredible Water Slides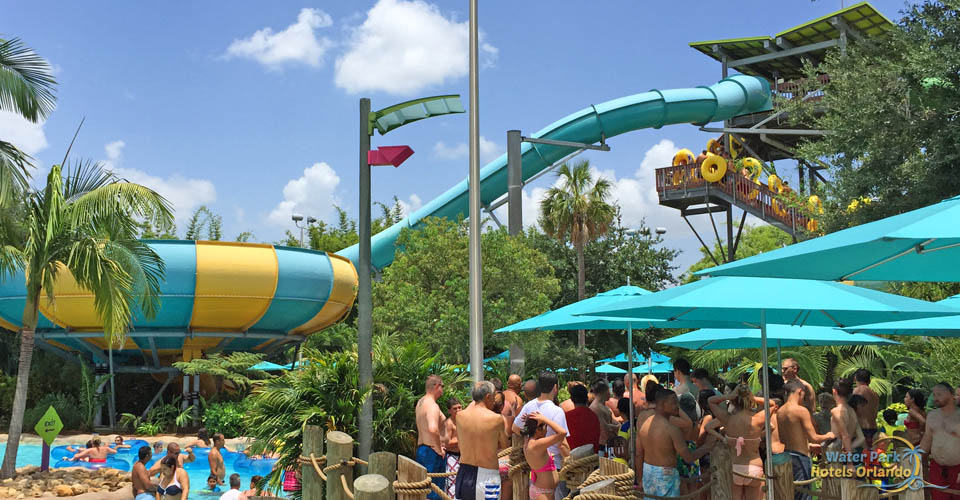 You will also see some very different water rides that you won't see at any of the other water parks. Take for instance the 2 enclosed tubes that drop each rider into a swirling bowl where you float around in circles until it dumps you out into the small splash pool below. What about the water ride that sends you on a half-pipe adventure where you feel weightless as your tube climbs the sides. So exciting, isn't it?
More tame water slides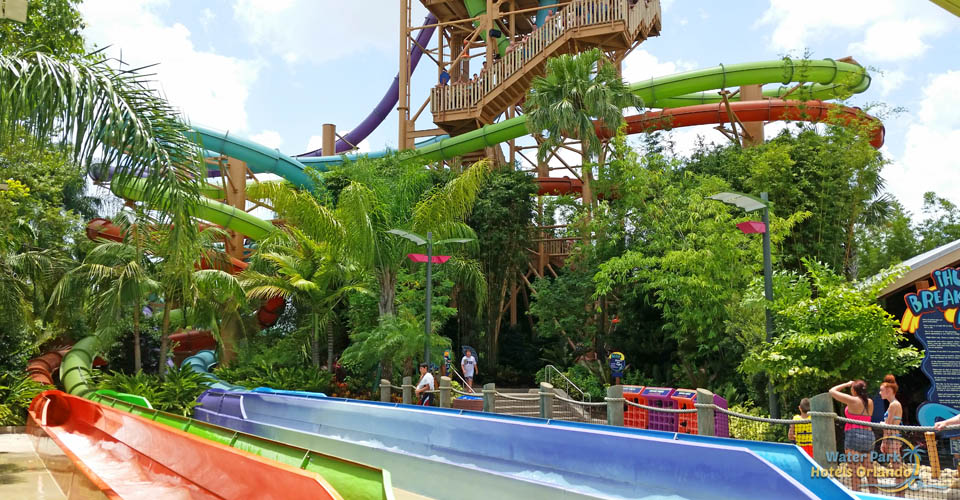 If these rides seem a little too wild, there are also some more traditional Water Slides in the Aquatica Park.
Family Water Slides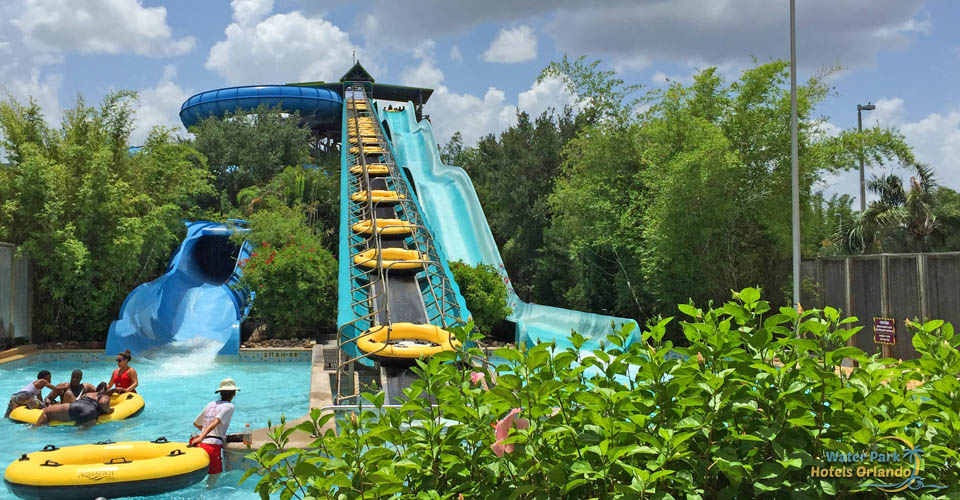 Some of the most fun rides include space for the whole family like the 2 large raft rides that accommodate up to 4 people at a time. Large raft rides are great to have a full family adventure all at once. For full details on all of the more extreme rides in the park, take a look at the more detailed Aquatica Water Slides information.
11 Large Water Slides, 4 Youth or Tween Water Slides and 10 Kiddie Slides Throughout the Water Park
2 Enclosed Speed Slides that take you through an amazing Dolphin Tank
2 Inner Tube Giant Bowl Slides
2 Inner Tube Half Pipe Water Slides
1 Racing Water Slide with 8 Lanes with a 360 Degree Twist
2 Large Water Slide with 4 Person Family Tube
2 Sets of Different High-Speed Slides
1 Small 360 Degree Open Slide
1 Midsized 360 Degree Open Slide
1 Double Green Slide for Toddlers
1 Double Blue Slide for Toddlers
2 Medium Sized Open Twisting Body Slides
1 Medium Enclosed Slide for Tweens and Teens
2 Medium Water Slide for Tweens and Teens
Lazy River – Floating Fun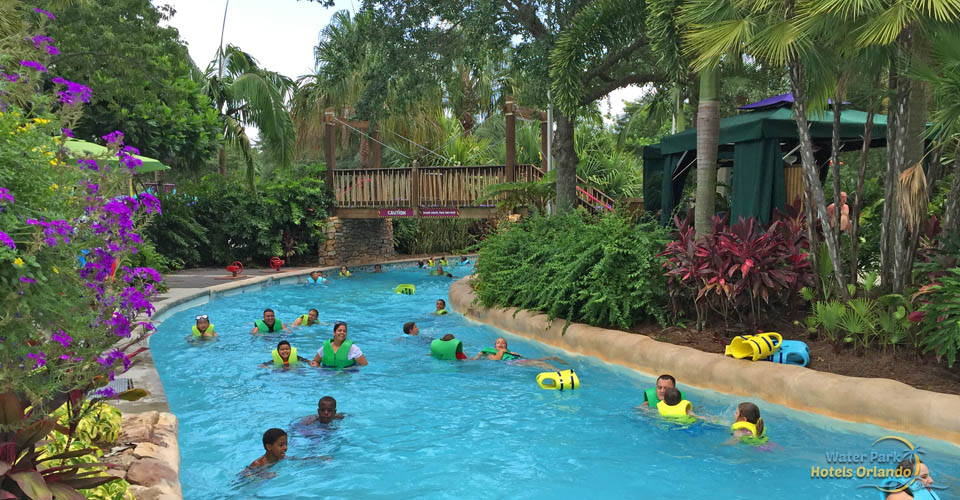 There is something at the Aquatica Water Park for everyone, even for those not interested in dropping down tubes and splashing into pools of water. At SeaWorld's Aquatica in Orlando you will also find a really nice Lazy River called Loggerhead Lane. Loggerhead Lane is your more typical lazy river but it does offer a different perspective on our Commerson's Dolphins as you float by. Loggerhead Lane lazy river also floats by a large Aquarium with many different Tropical fish built into one of the walls you go by.
A much faster lazy river, the Rapid River ride has a much stronger current carrying you around. All of the details can be found at the Aquatica Lazy Rivers.
2 Lazy Rivers
Lazy River

1,200 Feet in Length
Cave area has Window to view the Commerson's Dolphins at Dolphins Plunge
About 10 Minute Round Trip
Tubes Provided but you can swim if you would rather

Rapid River

1,500 Feet in Length
Fast moving Water
Life Vests required under 51″
2 Zero Entry Locations
Who doesn't like a Wave Pool?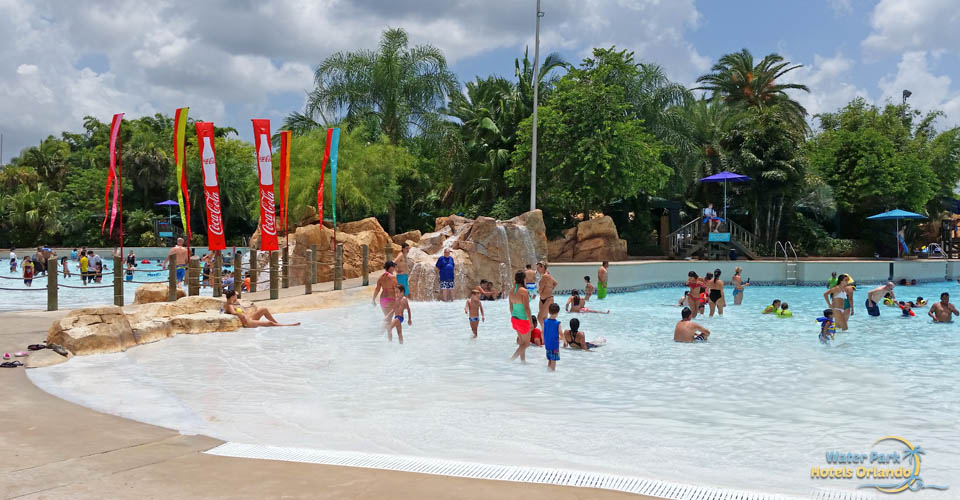 Wave Pools are fun. I don't know anyone who doesn't like spending time at the Wave Pool. Did you know that Aquatica has the only Wave Pool in North America that has Side-by Side Wave Pools? You might wonder why this would make a difference. The main reason is that both of these pools can manage the wave intensity and frequency separately from one another. One side of the pool is set to consistently create larger and more frequent waves while the other is set to create many different size waves and alternates its timing as well. Take a look at all of the additional information we have on this unbelievable experience at the Aquatica Wave Pool.
2 Wave Pools – one for fun and the other for family
2 Wave Pools
Soft White Sandy Beach Area
Waterfalls and Rock Formations to around the Pool
1 Wave Pool has consistent waves and the other varies height and timings
Additional Information for Aquatica Water Park in Orlando
The more you know before going to the Aquatica Water Park in Orlando, the better off you will be. Knowing the ins and outs of the park are as important as the rides themselves.
Park Size:

About 59 Acres

Location:

About 1.5 miles off of Interstate 4, across from the SeaWorld Theme Park on International Drive. For additional location information please see our Aquatica SeaWorld Map page.

Aquatica SeaWorld Park Rules

Children Under 10 Must be Accompanied By an Adult
No Food or Drink in the Pool or on the Pool Decks
Glass Containers and Alcoholic Beverages are not Permitted
Height Requirements May Apply at Certain Attractions
Clothing with Rivets, Buckles, or Exposed metal is not Permitted on Attractions
For Safety, Diaper Age Children must Wear Swim Diapers
Shower Before Entering Pools
Do not Swallow Pool Water
Smoking is not Permitted Except at Designated Locations (Shown on Guide Map)

Dining Options at Aquatica SeaWorld in Orlando

There are 3 main options for grabbing a bite to eat at Aquatica SeaWorld offering a range of experiences from grab and go to a full buffet. There are also a number of Snack Bars throughout the park.

Banana Beach

This location offers something unique that you will not find anywhere else in the park. All you have to do is purchase a Banana Beach Pass and you will be set for the entire day. Come back throughout the day and grab whatever you would like from the buffet. On the buffet you will have options like Pizza, Hot Dogs, Baked Chicken and Pulled Pork. They also have Coke products that come with this offering as well. It will also be well worth the additional $5 to get a refillable souvenir bottle to continue getting refills through the day.

Mango Market

This dining location offers Sandwiches and Salads as well as Chicken Tenders and Fries. You can also pick up a number of different desserts and Coke Products or your favorite bottle of beer.

Waterstone Grill

Grab a delicious Hamburger, wrap and Kids Meals at the Waterstone Grill. Ice cold Beer and Coke products served at this location

Picnic Areas

There are no Picnic Areas in Aquatica SeaWorld Orlando
Picnic items such as lunches or other Family Portion Servings are not allowed in this park
Alcohol is also not permitted
You may bring small food items into the park like snacks, bottled waters and baby food in plastic containers
No glass items of any kind are allowed in the park

Near

7.2 Miles from Downtown Disney

1.6 Miles from SeaWorld

13.9 Miles from Magic Kingdom Theme Park

View additional locations on our Map Page

Blizzard Beach Parking Fees

Park your Vehicle in the Main Aquatica SeaWorld Parking Lot
Car and Motorcycle Parking – $12
Recreational Vehicles – $15
Platinum Members get special upgrade treatment when available

Aquatica Transporation

Some hotels and resorts offer transportation to SeaWorld Parks – Please check with your front desk

Locker Facilities

Dressing Rooms
Showers
Locker Rental
Life Jacket Rental

Aquatica SeaWorld Cabanas

A Number of Premium Reserverd Areas are available but you will probably want to call the park and reserve them in advance.

Designated Area accessible only with paid wristband
2 – 8 Person Rentals
Large Umbrella or Full Cabana Covering
Upgraded Lounge Furniture
Towels Provided for each person in the Group
Complimentary Water
Private Locker

For complete information check out our Cabana at Aquatica SeaWorld page.

Life Jackets

If you have an approved USCG (United States Coast Guard) Approved Life Vest, you are welcome to bring your own. If you would like to have a life vest to use throughout the day, there are many different Life Vest stations with all sizes available throughout the park FREE of charge. Kids under 48″ are required to wear a life vest on many of the rides.

Towels at Aquatica SeaWorld

If you have not rented one of the Cabanas, the towels are an additional fee of $4 per towel for the day. Since small expenses like this can really add up, you might want to consider bringing your own towels.

Aquatica SeaWorld Orlando Pets

Service Pets ARE allowed at Aquatica SeaWorld but they are not allowed on any of the Attractions
Pets are NOT allowed in the park but there is a Kennel available

Air-Conditioned Kennel
$15 per day ($10 if you are a Pass member)
Bring own food
You must walk your own pet
Blankets may be brought in
Immunization Records must be shown
Kennels cannot be reserved

Plan Ahead

The Beach Chair Rentals and Cabanas might seem a little far fetched and an expense that you don't feel you need but think of the convenience that comes along with this small price. Take all of the amenities in to account before you decide against this little luxury as an option. There are only a limited number of premium seating options so if you are interested, make sure you reserve these in advance to coming to the park. If you wait and try to get one when you enter, you might find that there are not any available. Bring plenty of Sunscreen to protect your skin throughout the day. Being around water intensifies the rays and you will want to make sure you are well protected from any harmful rays as you play with your family around the park.

Smoking

Smoking is not allowed inside the Aquatica SeaWorld park except in designated areas.
Please note the information and fees provided can change without notice, however, was accurate when published. To confirm all details you will need to check directly with the properties in question before completing your vacation planning.