Disney Blizzard Beach Water Park
None of the Water Parks in Orlando are quite like the Disney Blizzard Beach water park. Just imagine pulling up to an amazing alpine ski lodge with snow and Ice Sculptures around every corner. Wait, what? Blizzard Beach is one of the most unique Water Parks you have ever seen. Disney wants you to have the feeling of being at the base of an Alpine Village with views of snow and ski slopes surrounding you.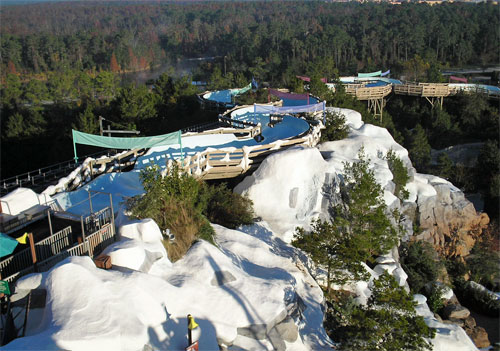 I wonder if any studies have been done to see if people who go to Blizzard Beach feel as if they are cooler than other Water Fun locations. This is only one of the Disney Water Parks at Disney World, if you are interested in visiting a tropical, lush paradise, you might want to also take a look at Disney's Typhoon Lagoon. Both of these water parks are a lot of fun and each of them has its very own style and flair.
Starting off, notice all of the structures are built to make you feel like you just stepped into a Mountain Village with Toboggans, Sleds, and many inviting shops. It might look cold but the temperature outside as well as the trees and magnificent flora will say, "Tropical". Even the signs are color-coded to give the appearance that there are different difficulty levels (like at a ski resort).
Look off into the distance and you will notice a large ski jump. As you look closer, you notice this ski jump is hiding a large water slide. How does this work? Take a look at the additional information we have on all of the Water Slides at Blizzard Beach to find out.
Chairlift at a Water Park?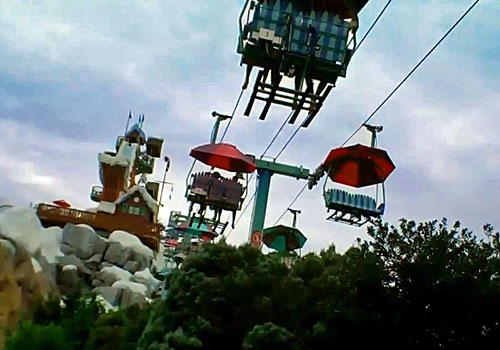 One of the focal points at the Disney Blizzard Beach water park is the Chairlift system that takes riders to the top of Mount Gushmore. What would a ski resort be without a working Chairlift? Even if you don't want to ride any of the slides at the top, it is worth riding the chairlift at least once to get a view of the entire park.
12 Large Water Slides, 5 Youth or Tween Water Slides and 5 Kiddie Slides Throughout the Water Park
2 Speed Slides
1 Single Rider Inner Tube Slides
2 Dual Rider Inner Tube Slides
3 Toboggan Water Slides
1 Large Water Slide with 4 to 6 Person Tube
2 Side by Side Racing Slides
1 Large Racing Slide with 8 Lanes
5 Kiddie Size Slides at the Tikes Peak Kiddie Park
5 Larger Kid Slides at Ski Patrol Training Camp
For complete information check out our Water Slides at Blizzard Beach page.
Blizzard Beach Water Park is full of Water Fun having a total of 12 Large Water Slides ranging from the Scary Speed Slides to the more tranquil Tube slides. No matter what brought you to the park, you will find multiple Water Slides to meet your fancy.
Cross Country Creek Lazy River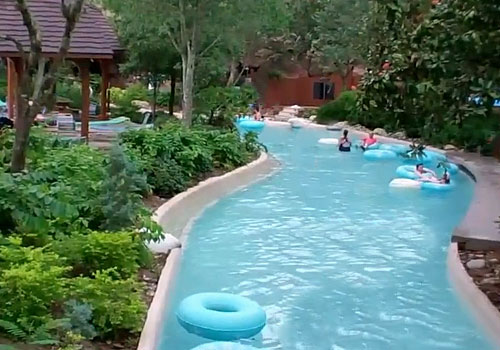 Not everyone comes to a Water Fun Park for the Slides, those who enjoy floating at a slow pace while relaxing and enjoying the views around you, take a look at the amazing Lazy River at Blizzard Beach. The Cross Country Creek is no ordinary Lazy River>, just the length of this monster is impressive. At a total of 3,000 feet, it wraps around the entire park allowing you to use it as your very own transportation system from ride to ride. If you decide that you just want to jump on a tube and start riding, it takes about 30 minutes to complete.
Lazy River Information:
3,000 Feet in Length
Circles the Entire Park
About 30 Minutes for a Round Trip
Tubes Provided but you can swim if you would rather
For complete information check out our Lazy River at Blizzard Beach page.
Melt-away Bay Wave Pool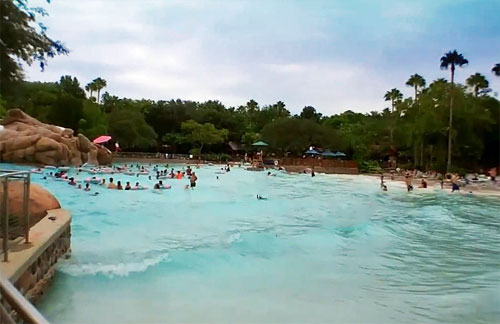 The Blizzard Beach Wave Pool, Melt-Away Bay has some really fun features. A really large pool area that continually sends small rippling waves across the water forcing you to bob up and down in an uncontrollable fun motion. Your family will love this one full acre of small waves and it is easier to relax because you do not have to watch out for 4 to 6-foot waves knocking you off of your float. If you are looking for a Wave Pool that offers large waves, check out the Wave Pool at Typhoon Lagoon.
Wave Pool Information:
A Full 1 Acre of Fun
Relaxing Beach Area
Beautiful Surrounding designed to look like waves are created by melting snow off of Mount Gushmore
Waves are not very large and do not work the same as the larger wave pools but they are still fun and relaxing.
For complete information check out our Wave Pool at Blizzard Beach page.
Kid's Splash Areas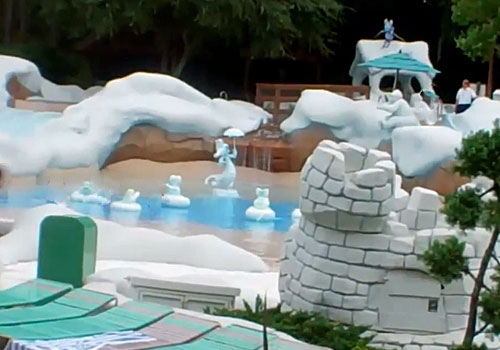 Watching your kids play in the water can bring as much fun as any ride. Depending on the age of your child, Blizzard Beach has two (2) very unique water play areas just for them. Tike's Peak is designed for the smaller toddlers and pre-schoolers while the Ski Patrol Training Camp is for older kids.
Tike's Peak – Kids Play Area
Designed for the Toddlers and Preschoolers
Water Fountains, Interactive Water Play Area, mini-rapids and smaller Water Slides
For complete information check out our Kiddie Play Area Blizzard Beach page.
Ski Patrol Training Camp – Older Kids Play Area
Designed for the Older Kids and up to Tweens (Ages 5 – 12)
Speed Slides, Snaking Slides through the Snow, Tube Drop Slide, Unstable Ice Chunks to Walk across and a Zip Line.
For complete information check out our Kids Play Area Blizzard Beach page.
You Should Know
Park Size:

About 66 Acres

Location:

Not far from Interstate 4, Right next door to Disney Animal Kingdom off of Buena Vista Drive. For additional location information please see our Blizzard Beach Map page.

Disney Blizzard Beach Park Hours

Opens at 9:00am and closes at 8:00pm (Times Change Throughout the Season so be sure to check with the Park)

Blizzard Beach Park Rules

Children Under 10 Must be Accompanied By an Adult
No Food or Drink in the Pool or on the Pool Decks
Glass Containers and Alcoholic Beverages are not Permitted
Height Requirements May Apply at Certain Attractions
Clothing with Rivets, Buckles, or Exposed metal is not Permitted on Attractions
For Safety, Diaper Age Children must Wear Swim Diapers
Shower Before Entering Pools
Do not Swallow Pool Water
Smoking is not Permitted Except at Designated Locations (Shown on Guide Map)

Places to eat at Blizzard Beach

Enjoy many different locations to eat at this Winter Style Water Park. None of the locations have full service where a wait person takes your order but there are plenty of Casual Quick Service locations as well as many Snack Bars throughout the park.

Avalunch – Quick Service Shack

Get some of the American favorites that you always look forward to when you visit a Water Park in Orlando. Choose from Turkey Legs and Loaded Hot Dogs or just pick up a snack like Ice Cream or a bag of Chips. Daft Beer and Soft Drinks are served at this location.

Frostbite Freddy's Frozen Freshments – Quick Service Shack

Enjoy the view while sitting at one of the tall tables for four at Frostbite Freddy's. Anything COLD that you would like you can pickup at this little food shack. Enjoy Ice Cream, Frozen Lemonade or a Smoothie as well as pickup your favorite adult beverage like a bottled beer or a Long Island Ice Tea.

I.C. Expeditions – Ice Cream Stand

Pick up your favorite Ice Cream treat and enjoy your very own creation or choose from items like Sundaes, Floats and Waffle Cones. If it is Ice Cream you are looking for, head for I.C. Expectations.

Lottawatta Lodge – Quick Service Walk Up Dining

This is the largest location to get food in the park and it has the most variety if you are looking for more choices with your food. Enjoy some American dishes like Cheeseburgers and Chili Dogs along with Wraps and Sandwiches.

Mini Donuts

Grab some mini donuts to share or enjoy them all by yourself. You can get a dozen or half a dozen at a time but what makes thes donuts so special are the many dipping sauces to choose from. Dip your delicious treat in Chocolate, White Chocolate or Rasberry. You can also get your favorite cold or hot drinks from this location.

Polar Pub

Sitting by the Wave Pool, Meltaway Bay, and getting Thirsty? Head on over to the Polar Pub and pickup your most enjoyable cocktail.

Warming Hut

A Favorite at the park with delicious items like Toasted Sandwiches and a selection of Barbecue. If you want something a little different, this is the place to grab a wonderful bite during your day.

Picnic Areas

Although there are not any Picnic Areas designated inside of the Blizzard Beach Water Park area, coolers are allowed but you can not bring glass items or Alcohol into the park area. If you are interested in this option, you might wat to rent one of the Lounge chair options which will get you a couple of lounge chairs, a cocktail table and some shade with an umbrella.

Near

4.2 Miles from Downtown Disney

9.8 Miles from SeaWorld

5.9 Miles from Magic Kingdom Theme Park

View additional locations on our Map Page

Blizzard Beach Parking Fees

Park your Vehicle in the Main Blizzard Beach Parking Lot
Parking is Free at the Blizzard Beach Water Park

Blizzard Beach Transporation

Disney Transportation available at most of the Hotels and Resorts in the Walt Disney World Resort locations

Locker Facilities

Dressing Rooms
Showers
Locker Rental
Towel Rental
Life Jacket Rental

Blizzard Beach Cabanas

A Few Premium Reserverd Areas are available but you will probably want to call the park and reserve them in advace. Reservations can be made by calling 407-WDW-PLAY. What you get with your Premium Area:

Roped Off Area accessible by Wristband
6 Person Maximum
Large Umbrella
Upgraded Lounge Furniture
Towels Provided for each person in the Group
Complimentary Water Park Refillable Mug for each Guest
Ice Chest with Bottled Water
Private Locker
Attendant to get food and refill drinks (You are responsible for paying for any food that you order – this is not included with the Premium Area Fee)

Premium Beach Chair Deal – Reservations can be made up to 180 days in advance by calling 407-WDW-PLAY

2 Lounge Chairs
2 Beach Chairs
Small Table
Umbrella
Towels
Private Location

Life Jackets

You are welcome to bring your own life jacket but if needed, you can pickup a FREE jacket at Snow-less Joe's. Although the Life Jackets are free for use, you will need to secure it with a deposit using a credit card of your drivers license.

Towels

If you have not rented one of the Beach Chair Deals or a Reserved Area, the towels are an additional fee. This can really add up for a large family so it might not be a bad idea to treat this like a beach outing and carry in the items you need to make yourself comfortable.

Blizzard Beach Pets

Service Pets are allowed at this location
Pets are NOT allowed at this location

Plan Ahead

If you will not be renting one of the Beach Chair or Premium Reserved Area options, it might be in your best interest to get to the park a little earlier to beat the incoming crowds. You know how fast the seating gets taken at a Water Park and this will give you your best chance of getting the lounge chairs you would like to have before they are all gone. Bring plenty of Sunscreen to protect your skin throughout the day. Being around water intensifies the rays and you will want to make sure you are well protected from any harmful rays as you play with your family around the park.

Smoking

Smoking is not allowed inside the Blizzard Beach park except in designated areas.
All Pricing is subject to change.
Please note the information and fees provided can change without notice, however, was accurate when published. To confirm all details you will need to check directly with the Water Park before completing your vacation planning.