How many Pools?
When you start counting all of the Wyndham Reunion Resort Pool locations, you start to understand why it would be difficult to find any other property in the Orlando, Kissimmee area that could have more. In fact, you could visit a different pool everyday during a week long stay and still not have swam in them all. That's right, there are a total of 10 pools in the resort and some of them really stand head and shoulders, by about 110 feet actually, above the rest.
Rooftop Pool Reunion Grande Hotel
Are you serious? Is there really a swimming pool on top of the exquisite styling of the Reunion Grande? The answer is a resounding Yes! As you make your way through the striking marble floor lobby, take a right and you will see the elevators down the main corridor. Take this to the Eleventh Floor and you will see the entrance to the Elegant Dining Area, Eleven. This is a great place to visit during the evening to have a cocktail right before taking that last dip in the pool to end your day. This is also a great place to take in the nightly fireworks from Disney's Epcot. If you visit during the day, there is not a tremendous amount of seating but what they do have is very comfortable. Look over the edge of the railing and get some phenomenal pictures to remember this Pool on the roof location.
Seven Eagles Pool Pavilion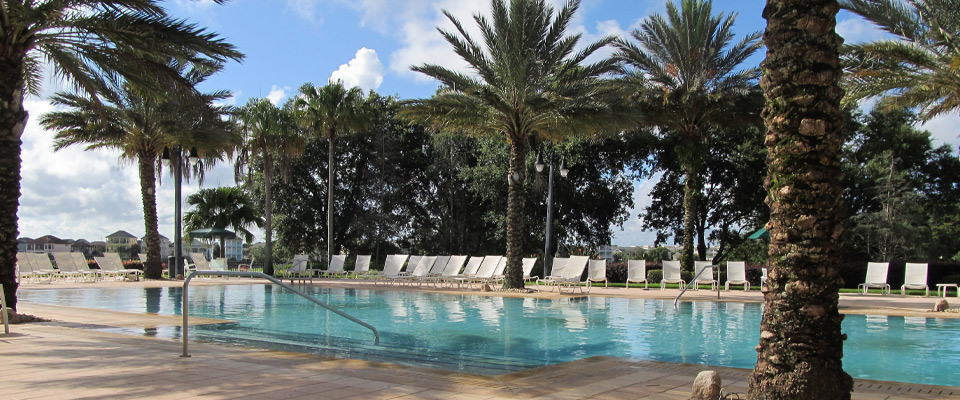 If you are interested in spending a good part of the day splashing around, then the largest swimming pool on the grounds would be the Seven Eagles Pool Pavilion. During the summer, the heat of the day keeps this pool at a nice temperature and it does not normally get too warm due to the very big size. If you are visiting on a cooler date, don't worry, this pool is heated for your All year round enjoyment. Enjoy soaking in one of the hot tubs and relaxing while the kids are swimming nearby. The large building leading to the pool offers many fun amenities if you would like to get out of the water and sun for awhile. Enjoy a game of Billiards or head into the game room for a bit. If you get hungry or just want your favorite beverage, The Cove is right off of the edge of the pool serving a light menu and drinks.
Other Swimming locations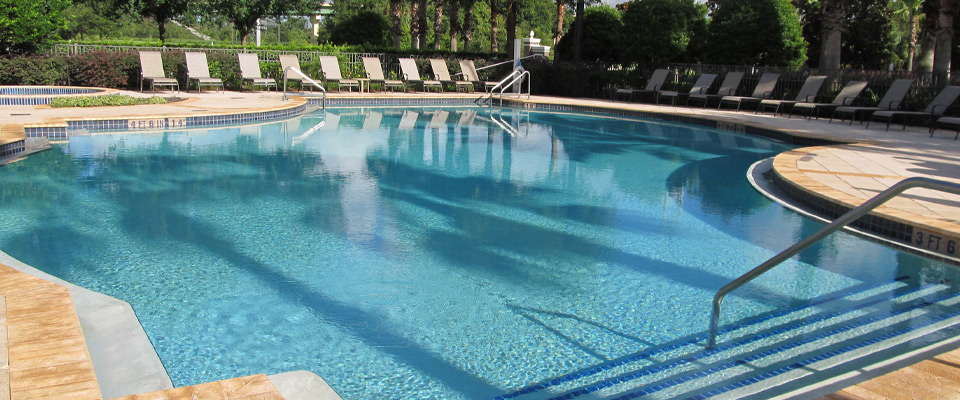 Since the resort is so large and the Villa's are broken up into multiple locations, each one of the Accommodation groupings has at least one pool in order for you to stay in your own complex if you would like. If you go to these in the early morning or late evening, they are not very crowded and you can sometimes get the whole area to yourself, at least for a little while. These pools are not as large as the Seven Eagles Pool but they are very nice, have plenty of seating and offer a Whirlpool. If you get hungry, you will have to either bring your own food or plan to leave to get something for everyone to enjoy.
Water Park
Reunion does have a really nice water park with great water activities for all ages. Take a look at all of the Water Park Information. Notice in the List below that the Lazy River, Zero-Entry access, Kiddie Splash Zone and Water Slide are only at the main Water Park at Reunion.
Pool Information You Should Know
1 Very Big Pool Area, 1 Water Park with Kiddie Splash Area, 1 Pool atop the Reunion Hotel, 10 Pools throughout the property
Seven Eagles Pool Pavilion
Beautiful Lush Large Pool Area
2 Hot Tubs
Lots of Seating
The Cove Dining and Drinks
Billiard Table
Game Room
Exercise Equipment
Great place to relax for the day
Reunion Hotel Rooftop Pool
Beautiful Pool Area 11 Stories up
Gorgeous Views
Beside the Restaurant "Eleven"
8 Additional Pools
Throughout the Resort Area
Each Complex has at least One Pool
Whirlpool
Plenty of seating
Number of Water Slide
There are not any slides at the regular swimming pools
Check out the Slides at the
Reunion Water Park
Number of Hot Tubs
2 at the Seven Eagles Pavilion
At least 1 at each of the more Quiet Pools
Wyndham Reunion Resort Pool Hours
Seven Eagles Pool Pavilion – Daily | 7 AM to 11 PM
Rooftop Pool – Daily | 8 AM to 5 PM
Additional 8 Pools – Open Daily | Dawn to Dusk
---
Additional Information
It is hard to beat the water activities that you will experience when you bring the family on vacation to the Reunion Resort near Orlando, Kissimmee. Your family is not going to want to leave when your stay comes to an end. On top of the 2 main larger pools, don't forget that if you want to enjoy a swimming pool that is a little quieter, there are many more options for you to select from.