Welcome to Your Orlando Adventure at Blue Tree Resort
Located about 2 miles from Disney Springs, the Blue Tree Resort at Lake Buena Vista invites you to visit. It sets expectations of comfort, fun, and convenience. This resort isn't just a place to stay; it's a wonderful place where memories are made. As you plan your trip to explore the magic of Orlando, consider this cozy lodging away from home. With its condo-style accommodations, the Blue Tree Resort ensures a seamless blend of comfort and excitement.
Proximity to Walt Disney World and More
Just a short ride away, the magical world of Disney awaits to sweep you off your feet. But the adventure doesn't end there. The Blue Tree Resort is your gateway to explore the many attractions that make Orlando the family fun capital of the world. After a day of delight, the peaceful atmosphere of the Blue Tree Resort welcomes you back to your temporary home to rejuvenate and prepare for the next adventures.
Here are some of the highlights of what awaits you:
🏊 Four Outdoor Pools
🏌️ Miniature Golf Course
🏋️ Fitness Center
🎮 Game Room
🤸 Playground
🏀 Volleyball, Tennis, and Basketball Courts
Whether you're traveling solo, as a couple, or with family and friends, the Blue Tree Resort at Lake Buena Vista in Orlando, Florida, offers a rich experience that caters to all. Each day at the resort unfolds new adventures, ensuring your Orlando vacation is nothing short of unforgettable.
Comfortable and Spacious Accommodations
At the heart of the Blue Tree Resort at Lake Buena Vista in Orlando, Florida, you will find comfort alongside modern conveniences. The resort offers well-appointed guest suites developed to be your relaxing retreat after a day of adventures. Whether you're returning from a thrilling day at the theme parks or a shopping spree at Disney Springs, the comfort of your Suite awaits you.
Suites Tailored to Your Needs
The choice of accommodations at Blue Tree Resort caters to different needs. Couples looking for something more romantic may seek out the one-bedroom Suite. Family adventures will find the spacious two-bedroom suites a better option. Each of the two-bedroom suites has space for up to six guests. These spacious rooms give you the feeling of home, which is nice after a day at the parks.
Amenities: Just like Home
Every Suite has great amenities to make your stay enjoyable. Having a full kitchen allows you to make a quick breakfast or relax and stay in with a delightful dinner. The convenience continues with a laundry facility, making your stay less hassle.
Here's a glimpse of the suite amenities you can look forward to:
🍽️ Full In-Suite Kitchens: Prepare your favorite meals even while on vacation.
🛌 Cozy One or Two Bedroom Suites: Choose the space that fits your needs.
🧺 On-Site Laundry Facilities: Stay fresh and clean with ease.
A Tropical Oasis Awaiting Your Arrival
The Blue Tree Resort is more than just a place to stay; it's a tropical oasis where every day brings about a new opportunity for relaxation and enjoyment. The lush landscaping surrounding the resort creates a serene ambiance, letting you unwind in peace. The exceptional on-site amenities coupled with plenty of activities, make this resort a great option in the Orlando vicinity.
Blue Tree Resort Lake Buena Vista Reviews
PROS
Pros:

Great Location: Blue Tree Resort is in a desirable location close to the magic of Walt Disney World, a few blocks from Disney Springs, and a short drive to Universal Orlando.
Spacious Accommodations: Offering comfortable condo-style accommodations with fully-equipped kitchens, providing an environment reminding you of home.
Amenities: With four outdoor pools, two whirlpool spas, a fitness center, a miniature golf course, and basketball and tennis courts, you will never run out of fun activities to keep you entertained through your stay.
Family-Friendly: The children's pool, with dumping buckets and sprinklers, playground, game room, and even an activity center, provides your kids with plenty of fun options to enjoy.
Shuttle Services: Convenient shuttle services to the nearby theme parks make exploring Orlando hassle-free.
CONS
Cons:

Timeshare: Some guests mentioned encountering some sales pressure for timeshare opportunities at the resort.
Additional Fees: There may be additional fees for certain amenities and activities that could add to the overall cost of your stay.
Limited Dining: There are not any restaurants, but there are a few restaurants within proximity of the resort.
Housekeeping Services: Housekeeping services can be available for an additional fee, but guests are typically expected to take care of their own dishes, laundry, and trash removal.
No On-Site Restaurant or Bar: Unlike some other resorts, Blue Tree Resort doesn't have an on-site restaurant or bar, which might be a downside for those looking to dine in.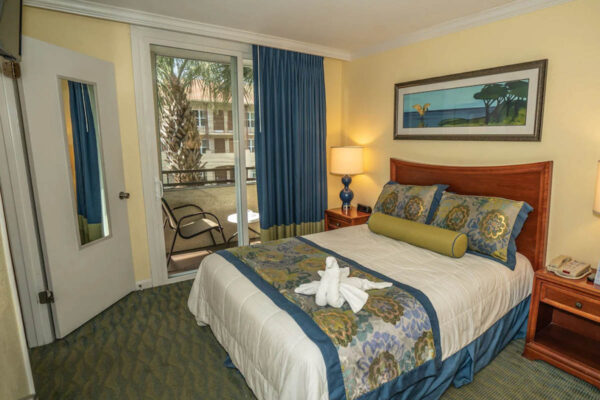 1 Bedroom Executive Suites
Relax in a spacious 542 sq. ft. suite, sleeping up to 4 guests. Enjoy a queen-size bed, sleeper sofa in the living room, and a furnished screened-in porch. The Suite includes a full kitchen, dining area, and a living room, providing a comfortable stay.
Size: 542 sq ft
Sleeps: 4 Guests
Bedroom: 1 Queen Bed and 1 Sofa Bed
Amenities: Full Kitchen, Dining Area, Living Room
Outdoor Space: Furnished Patio
TV's: 2 Flat TV's
Expedia Deals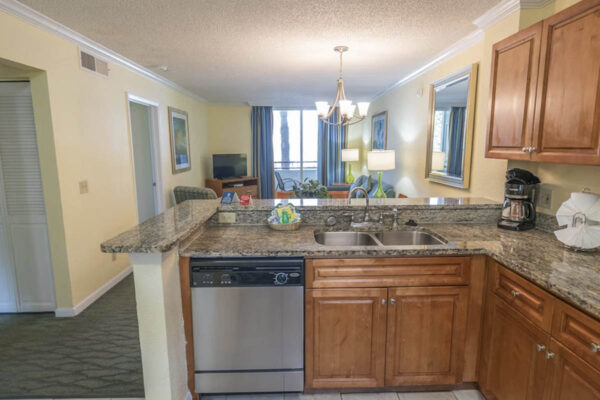 2 Bedroom Executive Suites
Enjoy a generous 867 sq. ft. suite, ideal for families of up to six. Featuring a queen-size bed, two twin beds, and a queen sleeper sofa in the living room. A full kitchen, dining area, and furnished screened-in porch are perfect for enjoying the Orlando breeze.
Size: 867 sq ft
Sleeps: 6 Guests
Bedrooms: 1 Queen Bed OR 2 Twin Beds
Amenities: Full Kitchen, Dining Area, Living Room
Outdoor Space: Furnished Patio
TV's: 3 Flat TV's
Expedia Deals
Resort Amenities
At the Blue Tree Resort at Lake Buena Vista, you will be welcomed into comfort and convenience. Though pets aren't allowed, the resort does allow service animals. The daily resort fee covers WiFi, parking, and scheduled shuttle service to nearby theme parks. Adding to the home-style feel, your Suite will have a fully equipped kitchen. This gives you the options to prepare your meals. While there isn't a spa on-site, the resort's four heated pools and two hot tubs add to your relaxing escape. Take a closer look at all of the amenities at the Blue Tree Resort at Lake Buena Vista.
Pets: Pets are not allowed, but service animals are welcome. Tip: If you want to bring your pet and have access to the amenities of the Blue Tree Resort at Lake Buena Vista, you might consider staying at the Westgate Blue Tree Resort. The Westgate Blue Tree and Blue Tree Resort are in the same area and share amenities like pools and on-site activities.
Resort Fees: The daily resort fee provides amenities like WiFi, parking, and scheduled transportation to Theme Parks. Check with the reception area when arriving for the latest Shuttle Schedule.
Parking: Parking is included in the daily resort fee, offering you the convenience of self-parking outside of the Suite you have booked.
Fully Equipped Kitchens: Prepare meals with ease in the fully equipped kitchens available in each Suite.
Outdoor Space: Take in the Sun and Breeze in Orlando from your patio or screened-in porch.
Internet: Stay connected with complimentary high-speed wireless internet available in your suite and throughout the property.
Fitness Center: Maintain your workout routine at the on-site fitness center, equipped with free weights and work out machines.
Fun Activities: Engage in a variety of fun activities, including:
Tennis
Basketball
Mini-golf
Swimming
Shuffleboard
Volleyball
Shuttle Service
If you're considering a stay at the Blue Tree Resort in Lake Buena Vista, one standout feature you'll appreciate is their shuttle service. The Shuttle will pick you up in front of the Blue Tree Resort Registration building to whisk you away to the nearby theme parks. For those eager to explore the enchantment of Walt Disney World or the excitement of Universal Orlando without the hassle of driving, this resort has you covered.
The Shuttle Service at Blue Tree Resort can be a great option for getting to the parks but know that it is limited in its offerings. There are a few pickups in the morning and a few shuttle return schedules. Suppose the times provided do not meet your needs. In that case, you can also get an Uber or other transportation to go to the parks when you want without being bound by the shuttle schedule offered. It might be a good option for families who wish to maximize their time at the parks. Be sure to reserve your seat in advance, and the Shuttle can fill up quickly during the busy times of the year. With such a convenient way to get around, the Blue Tree Resort is a smart choice for those looking to make the most of their Orlando getaway.
Activities and Things to Do at Blue Tree Resort
Blue Tree Resort at Lake Buena Vista in Orlando offers many activities and things to do for guests of all ages. Here are some of the activities you can enjoy:
Recreational Activities: With options like tennis, basketball, mini-golf, swimming, shuffleboard, and volleyball, there's always something fun to do.
Fitness Center: The fitness center is equipped for a variety of exercises, helping you stay active during your vacation.
Outdoor Pools: Take a plunge into all four outdoor pools or relax in one of the two hot tubs.
Children's Playground: A fun playground is available for the little ones to burn off some energy.
BBQ Areas: Prepare a delicious meal in one of the BBQ areas located at various locations around the resort.
In addition to the activities offered at the resort, Blue Tree Resort is also located near a variety of other attractions, including:
Walt Disney World: Home to four theme parks, including The Magic Kingdom, Epcot, Disney's Hollywood Studios, and Disney's Animal Kingdom. You can also enjoy visiting one of the two water parks, Typhoon Lagoon and Blizzard Beach. Don't forget to explore the shopping and dining options at Disney Springs.
Universal Orlando: Head into a different type of fun with the two theme parks, Universal Studios and Islands of Adventure. If you want some water fun, check out the Volcano Bay water park.
SeaWorld Orlando: Experience marine life like you have never seen before at SeaWorld Orlando, which combines a marine park and zoo with thrilling rides and attractions.
Aquatica, SeaWorld's Waterpark: Slide into fun at Aquatica, a water park filled with slides, pools, and rides for the entire family.
As you can see, there are so many activities on-site and nearby attractions, Blue Tree Resort is the ideal base for your next Orlando adventure.
RESERVATIONS
Blue Tree Resort Lake Buena Vista