Island H2O Live Water Park in Orlando
Located by the Margaritaville Orlando Resort, a visit to the Island H2O Live Water Park offers a day of water fun with a technology twist. As you look at all of the attraction names, you start to see a trend. Each ride is named with Social Media in mind. Take a ride on the plunge body slide, "Live Streaming", or a large 6-person tube ride "Hashtag Height". Take on the adventure like none other.
Can anyone go to the Island H2O Live Water Park?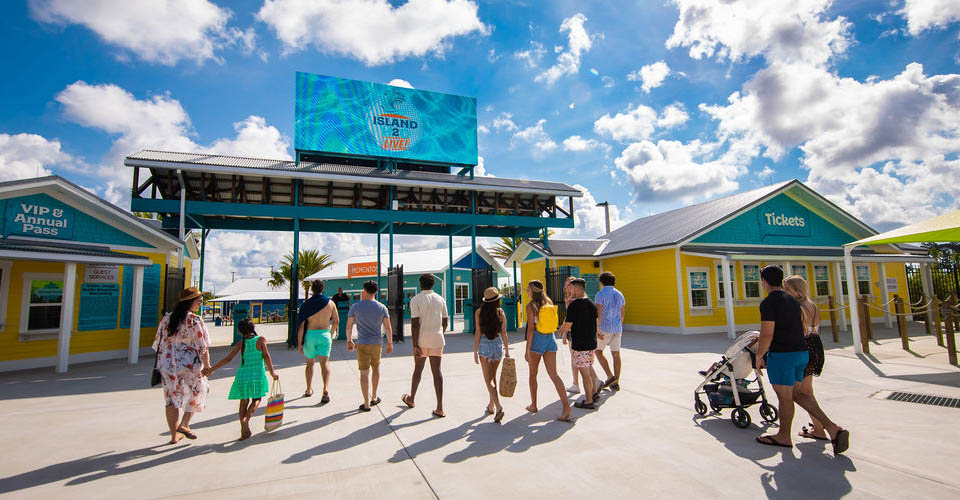 The quick answer is "YES"! This is one of the most asked questions about the Island H2O Water Park. Since the Island H2O Water Park is located near the Margaritaville Resort in Orlando, many think that this is just for guests staying at this resort. This is not the case however, in fact, even if you are staying at the Orlando Margaritaville Resort, the Island H2O Water Park is not free. Anyone can purchase tickets to the H2O Island Water Park and have a great time.
What types of attractions are at the Island H2O Live?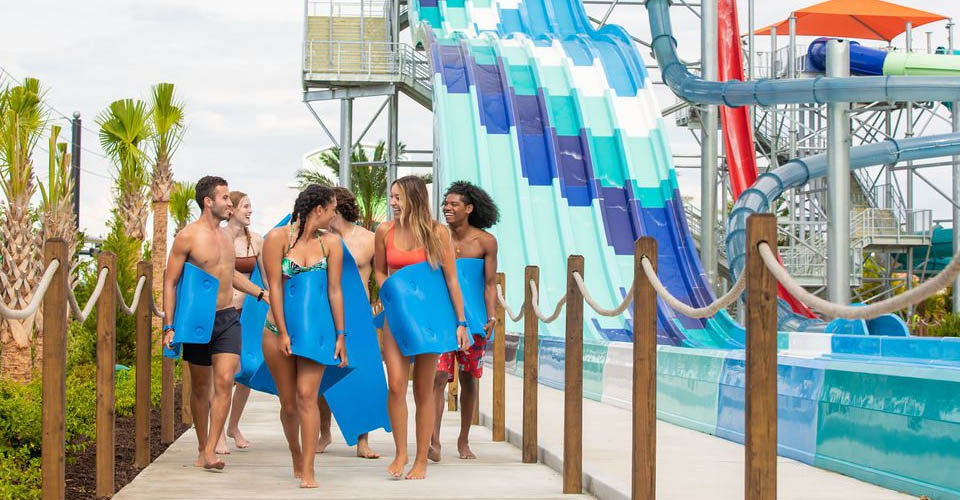 No matter what age you are, there is something designed just for you at the H2O Live Water Park near Margaritaville Resort in Orlando. Amazing thrill water slides with steep drops, family water slides with massive 6 person tubes, and even some smaller water slides for the little ones. The Chat Creek Lazy River and the Live Lagoon Wave Pool is awesome fun for almost every age. There are also a couple of kids splash parks around the Island H2O Water Park.
How does the Technology work at Island H2O Water Park?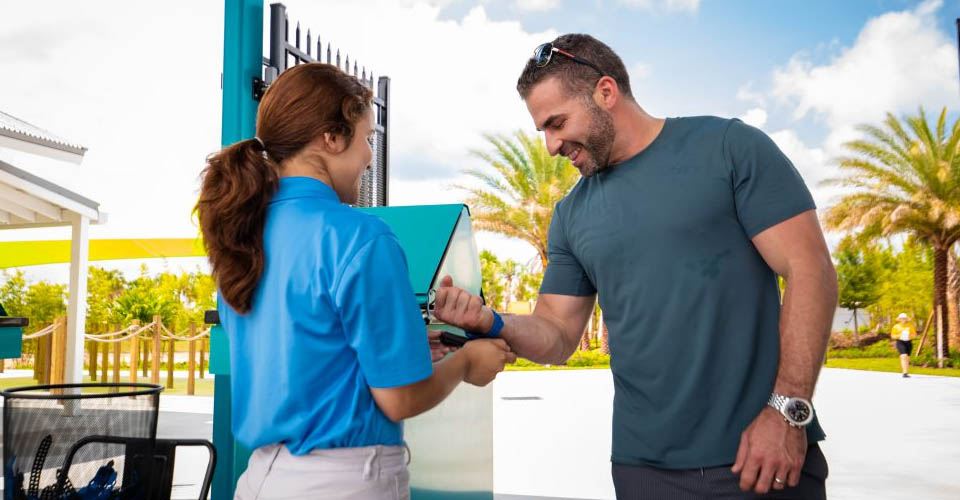 When you get to the Island H2O Water Park and have purchased your ticket, as part of your experience, you will receive a wristband that connects you to everything in the park. To further expand on your experience, you can download the Island H2O Live App on your phone. Once you do this, you can program things like your favorite music and your color scheme. Once you make these changes in your app, your wrist band is used to program the slides with specific settings based on your configuration. For example, when going down a family water slide, the colors change in the tubes, and music plays based on your preferences. How cool is that? You can also add others to your profile and know where everyone is in the park during the day.
I heard about earning points, how does that work? For every ride you go down, you get points that can add up to saving on merchandise or on food and beverage stations at the Water Park.
So, what if I don't want to bring my phone into the park? That is a great question. Island H2O Water Park has kiosks throughout the park that will allow you to program all of your settings and bind them to your wristband so even if you don't want to have your phone with you, everything is covered.
Additional Information about the Island H2O Water Park in Orlando
Get the information you need before going to the H2O Island Water Park in Orlando. Knowing about the rides, tickets, technology and other information makes for a much better experience.
Park Size: 14 Acres
Wave Pool: The Live Lagoon Wave Pool is a wonderful place for the family to enjoy the wave lapping up on the zero-entrance or get out into the thick of the waves. Seating is available around the Wave Pool and this is also a prime location to get a Cabana. There is no sand around the wave pool.
Lazy River: Enter the Chat Creek Lazy River where you will be whisked around most of the Island H2O Water Park. While floating on this lazy river you will see many of the other water slides and attractions available at the park. Chat Creek is a great family adventure and also gives you a chance to relax while floating effortlessly around the park.
Water Slides: Amazing Speed Slides, Racing water slides, family fun slides, and even kids-sized water slides in the kid areas.
Kids Play Areas: Younger kids will have a blast with two places setup just for them, the Pelican's Paradise and the Candy Striped Cove.
Adult Pool: The Island H2O Water Park even has an adults-only pool area. You must be 21 or older to enter this enclosed section of the water park.
Location: Right off of SR 192 (W Irlo Bronson Memorial Hwy) on the Margaritaville Orlando Resort grounds
Parking: Each vehicle entering the park will incur a Parking fee (check with Island H2O for the latest pricing). Parking is Free for Select Season Pass Holders.
Locker Facilities: Lockers are available at the Park
Cabanas: Cabanas are available around the Island H2O Water Park. Please reserve yours early as they go quick.
Life Jackets: Life Jackets are provided
Towels: Towels are not provided but can be rented or purchased in one of the Gift Shops
Pets: Pets are not allowed but you are able to bring your Service Animal
Please note the information and fees provided can change without notice, however, was accurate when published. To confirm all details you will need to check directly with the properties in question before completing your vacation planning.