RV Park at Disney World
It comes as a surprise to many guests that there is an actual Disney World RV Park and Campsite complete with hookup and everything else you might need. In fact, the Disney World RV park is included as part of the Disney Fort Wilderness Resort and Campground. Do you know what that means? Not only do you have one of the premier RV parks in the World but it is a "True" Disney World owned and operated property. This also means that guests at the Disney World RV Park get all of the same perks as someone staying at any of the other Disney Resorts.
Information about the Campsite
The first time you enter the Fort Wilderness Resort, you will be amazed by the sheer amount of land you have available to you. Disney wanted this to be an escape like no other you could get. Sitting on about 750 acres of woodland, there are campsites for all types of campers, whether you like to RV, pull behind a camper, or even pitch a tent, you will find the perfect spot just for your type of family vacation.
The Great Outdoors done Disney's way!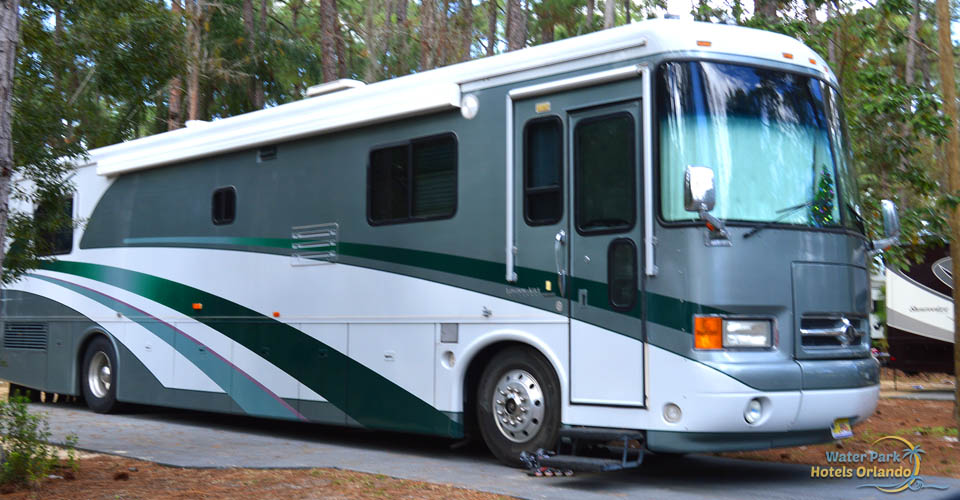 Guests who stay at the Disney Fort Wilderness Resort and Campground wouldn't dream of staying anywhere else. It is not for everyone but it is definitely the Premier camping experience if you are wanting to stay at a Disney World RV Park.
Date Opened: 1971
Campsites: 847
Cabins: 363
Pools: 2
Water Slides: 1
Lazy River: No
Zero Entry: Yes
Kid's Splash: Yes
Counter Service: Yes
Table Service: No
Arcade: Yes
Disney Shuttle: Bus, Water
So many fun things to do
Camping expands into a brand new experience when you come to the Premier Disney World RV Park at Disney's Fort Wilderness. Two Pools are located on the Disney Fort Wilderness Resort with one having a corkscrew water slide and a kids splash park. Take a canoe on a wilderness journey, or rent a watercraft to take out on the lake. You will be amazed by all of the fun things to do at the Disney Fort Wilderness Resort that you might find it difficult to camp anywhere else.
No RV but love outdoors?
No problem. If you really enjoy nature and like the idea of getting a little more gritty on your next vacation, don't give up on Fort Wilderness just yet. Did you know that on top of this Disney World RV park accepting regular campers, they also offer Cabins at Fort Wilderness? Yes, your very own cabin in the woods, secluded from those around you by the forest and the trees. Okay, this might not be roughing it exactly but it does get you closer to nature than most of the Disney Resorts.
Campground Transportation
750 Acres is a lot of land to cover. Keep in mind that you are not allowed to drive your vehicle around the Campsite. Consider renting a golf cart for the week. They are a lot of fun, kids think it is another Disney perk and it saves on walking additional miles during your stay.
Great RV Park Amenities at Disney World
Staying at the Disney World RV Resort does not mean you are giving up any of the attention or special amenities other guests might have. After you look at what they have to offer, you might think just the opposite. Have fun at one of the 2 heated pools, a water slide, pony rides, playgrounds, and the list just goes on and on. There is actually more fun things to do at the Disney Fort Wilderness Resort & RV Park than at any other Disney Resort.