Hotels in Orlando with Wave Pool
There are a number of Orlando Hotels with water slides and plenty others with a Lazy River. Are there any Hotels in Orlando with a Wave Pool?
At this time, there are a couple of options although, there is truly only one of Hotel with a Wave Pool built at the Resort. The Resort we are talking about is the Omni Orlando at Champions Gate. But, there is another, the Margaritaville Orlando Resort. In fact, the Margaritaville Resort has a full Water Park built on the Resort grounds.
Wave Pool at the Omni Resort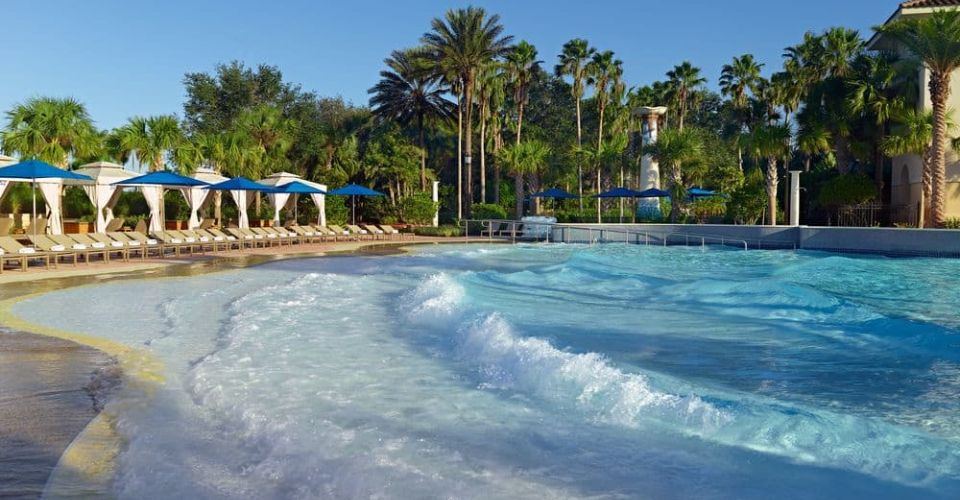 Omni Orlando ChampionsGate Pool Information:
Number of Pools: 4 Pools, including a kids pool and wave pool
Fun Facts: Zero Entry at the wave pool, kids pool and the lazy river. There is so much fun at the Omni Orlando.
Pool Hours: Pools are open Daily 6 am – 10 pm, the Wave Pool is open from 10 am to 6 pm
Kids Pool: Smaller water slides and zero-entry access make the kids pool a great spot for the smaller ones
Wave Pool: The Wave Pool is large with 131,000 gallons of water. Life jackets are available if needed.
Water Slides: Located at the Family Pool you will find a 125-foot corkscrew water slide.
Lazy River: The lazy river is located beside the main family pool and is 850-feet in length. Great fun for the whole family floating on the lazy river at the Omni Resort.
Towels: Towel Bins located at each Pool
Notice: Pool hours can change without notice. Always check with the front Desk of the Omni Orlando at Champions Gate for the updated hours to the pools.
Lifeguards: There are Lifeguards at the water slides and the lazy river.
More Information: Wave Pool at the Omni Orlando
The Omni Orlando at Champions Gate is a Luxury 4 Star Hotel in Orlando. The Omni Resort has a large Family Play area complete with a big water slide, 850 foot lazy river, wave pool, kids water slides, and a Kids splash zone. Add to this another Quiet, more Extravagant Pool with Cabanas, Pool Bar and Hot Tubs and you have a Water Play area fit for any family or Business Event. The Wave Pool at the Omni Resort in ChampionsGate is really impressive. This is one of the only Hotels in Orlando with Wave Pool.
Other options if you want to play in a Wave Pool
When looking for Hotels in Orlando with Wave Pool, there are some other options. Do you require the wave pool to be built at the Resort you are staying at? If you are visiting Disney World, Universal Orlando or SeaWorld, each have their very own Water Park and all of them have at least one Wave Pool. Sure it is not in your own backyard like staying at the Omni Orlando at Champions Gate but it does provide additional options for you.
Very Surprising
It might be surprising that other resorts do not have a Wave Pool. A wave pool is definitely fun but it is also a more expensive addition to a resort. On the other hand, having a small wave pool, is a pretty nice feature to draw guests to your resort. Especially when there are so few who have one.
It will be interesting to see if any of the other Water Park Resorts in Orlando or maybe even Hotels with a Lazy River and Water Slides might consider adding a Wave Pool. This could allow them to compete or offer something unique to their guests. Time will tell, but for now, these are your options when looking for Hotels in Orlando with Wave Pool.
Full List of Hotels with Wave Pool