Aquatica SeaWorld Kid Areas in Orlando
What great fun for the kids playing at the two (2) Aquatica SeaWorld Kid Areas in Orlando. Giving young kids of all ages a great place to splash around, will make their day at the Aquatica Water Park. Aquatica has two (2) locations to help keep the smaller ones safe.
Two Kids Splash Parks in Aquatica
Kookaburra Cove was created just for the little ones. Anyone over 48″ is not allowed in this area (except the parents, of course). Walkabout Waters play area was created for all ages and has some larger water slides and places to climb and play. So, if you have children of different ages you can stay at one location to keep an eye on all of them in one place.
Fun for Toddlers at Kata's Kookaburra Cove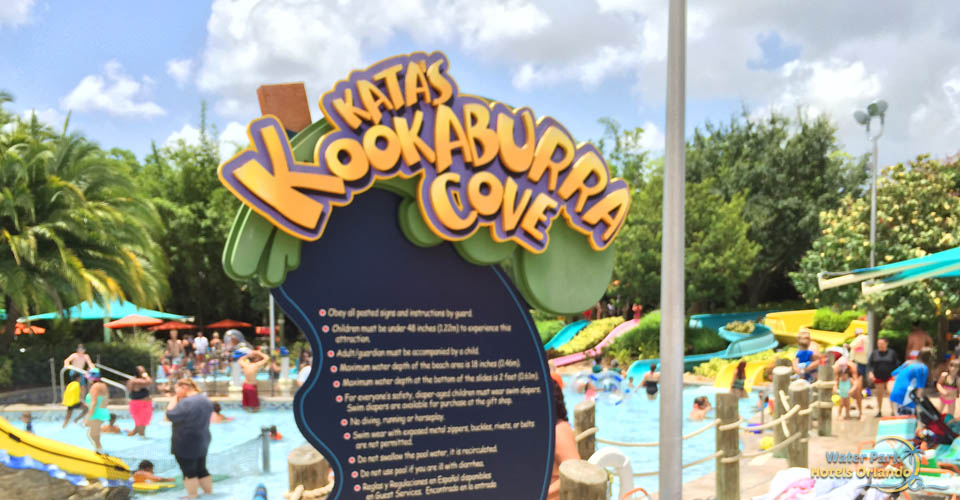 Designed especially for youngsters up to 48″ tall, the Kata's Kookaburra Cove is a perfect place to hang out while your kids are having the time of their life. Find a couple of Lounge Chairs under an umbrella and camp out while your kids are splashing and playing in an area created just for them.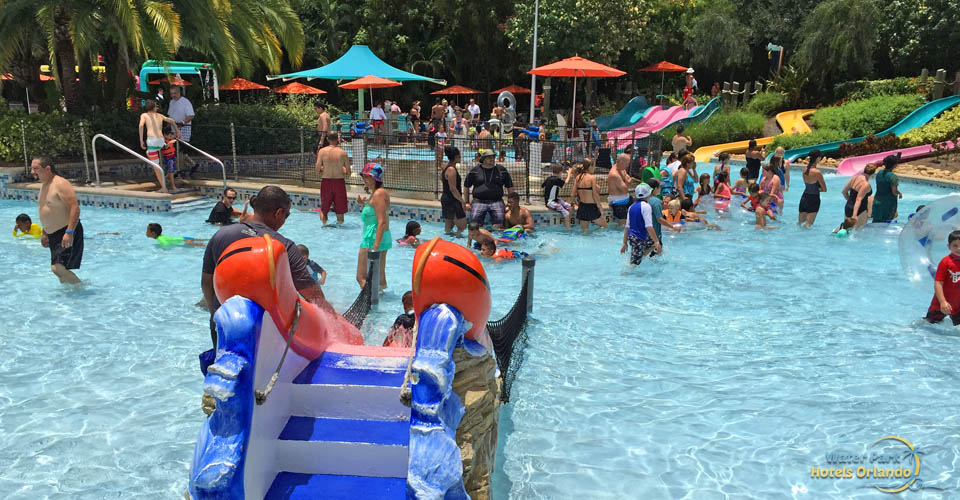 Wading Area with smaller water slides
The Wading area is surrounded by gentle Zero-Entry making it a safe environment for the smaller kids. Since the water is very shallow, you can relax while your little one is playing at the water's edge. Older toddlers that are up and running will thoroughly enjoy the 2 small water slides. These slides are located just inside the edge of the pool and splashdown into a few inches of water. Watch the kids as they run around this slide and slip down into the water, over and over again. Relax in knowing that the kids are having the time of their life with such a simple water feature.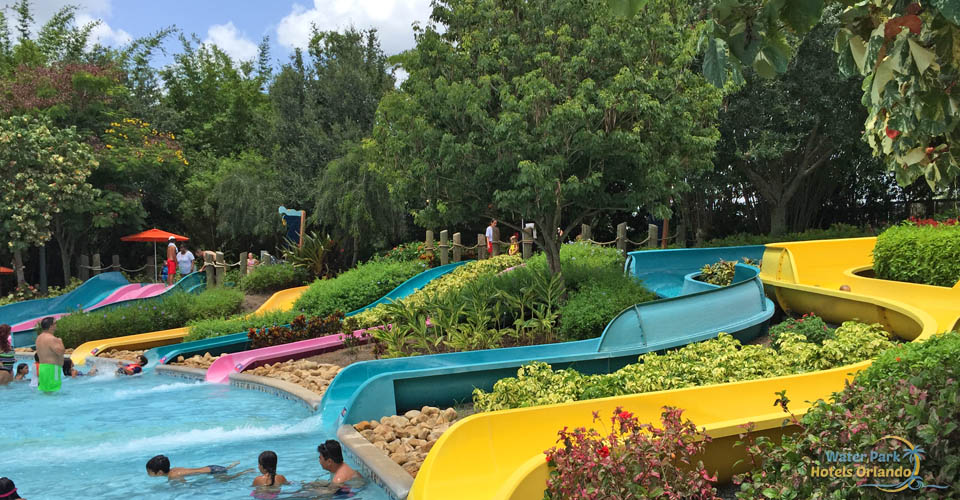 Larger Water Slides
Older children will head towards the six (6) tube and body water slides where they will enjoy the larger splash into the far edge of the pool. A four (4) track racing water slide is fun while seeing who can get to the bottom first.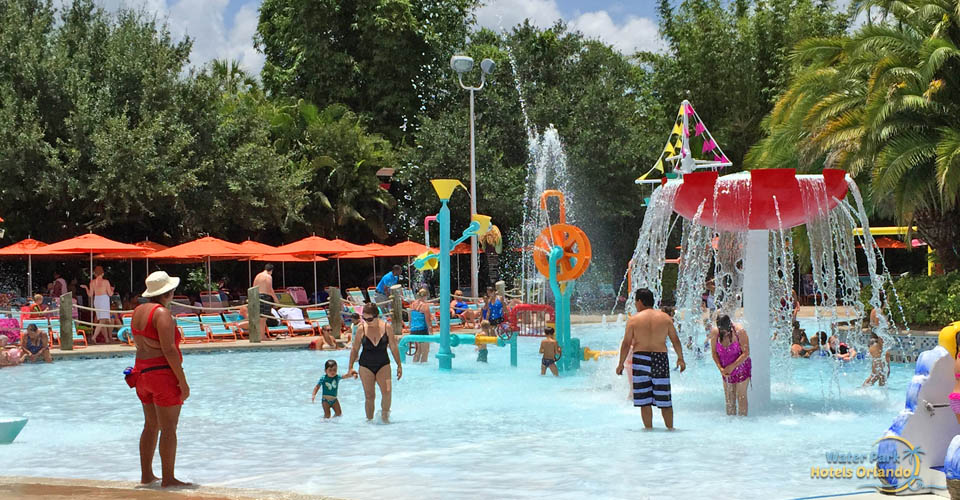 Sprinklers and Water Fun
In the center of the pool there are additional features with small Water Pails that fill up and dump on the kids below. Tubes spraying water in multiple directions add to the enjoyment as the young ones run underneath staying cool below.
Must be 48″ or less to play
Parents must stay and Supervise – Please do not just leave children here unattended.
8 Fun Smaller Water Slides

Designed specifically for the Toddlers and Preschoolers
2 Great Winding Tube Slides -Single and Double Riders
2 Straight Gentle Sloping Body Slides
1 Smaller Twisting Water Slide
1 Side-by-Side Racing Slide with 4 Lanes
2 Small Red and Yellow Kiddie Playground Water Slides in the Shallow Water

Zero Entry Pool with Shallow Splash Zones
Water Playground Area Playful Water Fountains and Squirting Water Features
Water Pipe Play Area with Small Filling Dumping Buckets
Small Water Geysers
Plenty of Beach Chairs for Lounging to watch the kids from a safe distance
Plenty of Umbrellas and Shady places for the Parents
Fun for all Kids at the Walkabout Waters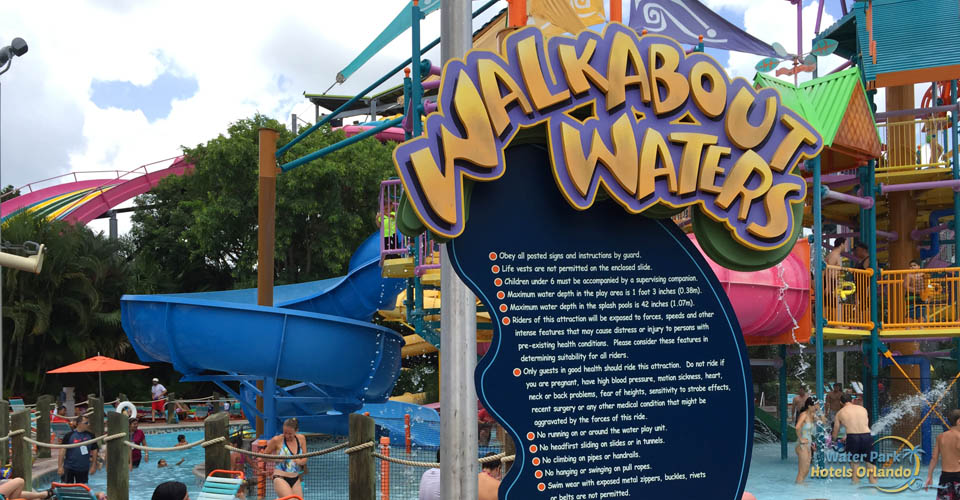 If you have children older than 5, Walkabout Waters will be the better kids splash park for them. Lounge chairs surround Walkabout Waters with plenty of umbrellas providing shade. Walkabout Waters is great for kids of all ages. It has so much to do and different sections provide water play fun for different age groups.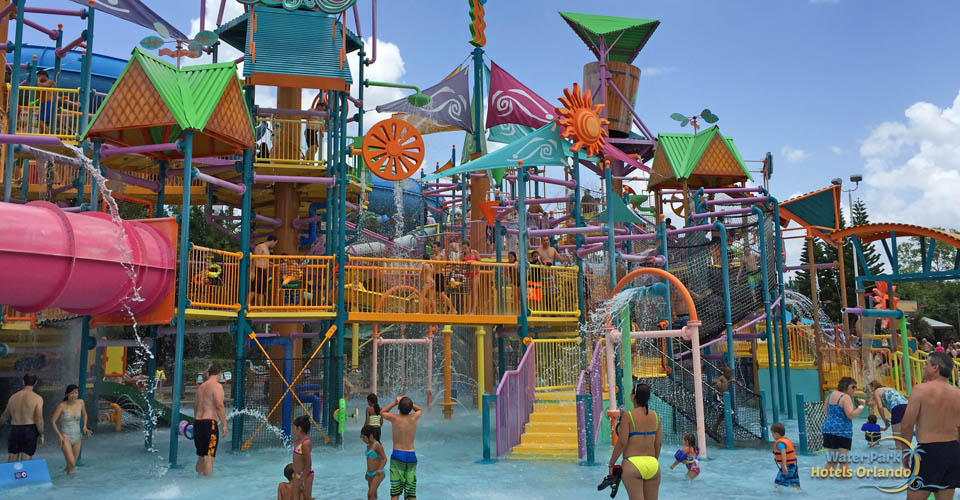 The entire water play area is accessible through zero-entry access with no drop-offs. For the Toddlers and very young children, you will find four (4) water slides for them to slide, splash, and play. The older kids will be able to climb around on the large water playground and slide down the much larger slides from the upper levels. Four (4) larger water slides splashdown into their very own splash zone. This is a great feature because there are lifeguards at each water slide exit to make sure that this area is always safe and secure. Little kids can't wander in and get hurt by the bigger kids coming down the slides.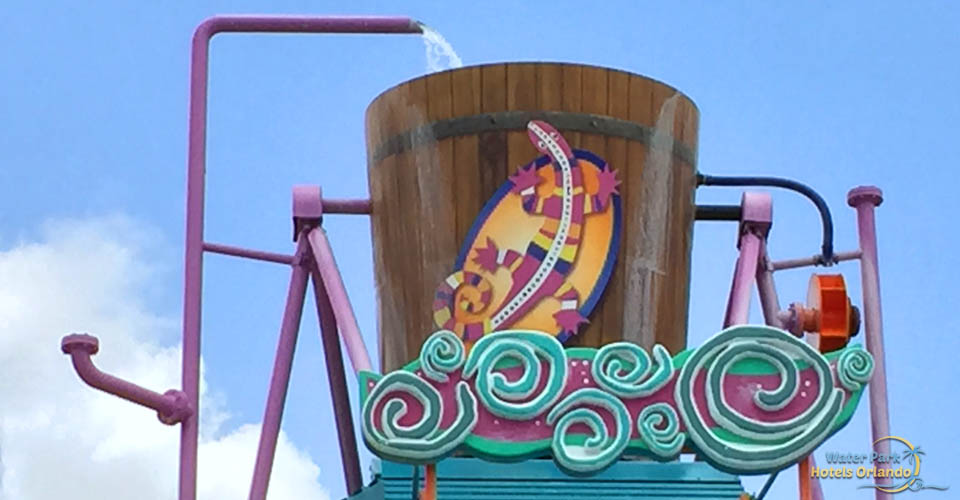 The entire family can play at Walkabout Waters. Small water geysers continuously bubbling in the shallow pool. Multiple water spraying systems around the play area keep everyone cool during the hot days. Watch out for water dropping from above. There are 2 large drenching buckets that tip when they fill, flowing hundreds of gallons of water on anyone nearby. All of the kids will have such a great time climbing around and chasing one another. The kids will have so much fun you might have to remind them that there are other places in the park to enjoy.
This Large Water Playground Area has Something for Kids of Any Size
Parents will want to stay to watch over the younger kids
4 Fun Larger Slides for the Older Kids

2 Medium Sized Green and Yellow Open Twisting Body Slides
1 Pink Open Figure 8 Body Slide
1 Yellow Enclosed Water Slide with 2 360 degree turns
Splashzone for all slides is a Private small pool away from the other kids at play

4 Fun Smaller Slides for the Younger Kids

1 Blue Shorter Run 360 Degree Tube Slide
1 Blue Open Body Slide with 360 Degree Turn and horseshoe slide
1 Green Slide with Dual Side-by-Side Slides for Toddlers
1 Blue Slide with Dual Side-by-Side Slides for Toddlers – Smallest of the Slides in this play area
Shallow Splashzone for all slides for all of these slides

2 Large Water Buckets Dump Gallons of Water on guests below
Stairs and Spirals for Climbing
Zero-Entry Shallow Splash Area
Bubbling Geysers
Spraying Water from Tubes at many locations
Shady areas for the Parents
Lounge Chairs with Umbrellas
Although there are Life Guards at all locations through the park, Parents should keep an eye on their children while playing at these Kids Water Park locations at Aquatica SeaWorld Orlando at all times.