Disney World Themed Hotel Rooms
All of the Disney World Resorts in Orlando Florida have a different Theme. When looking for the Best Disney World Themed Hotel Rooms, some really stand out from all of the others.
Many factors may determine the theme you select;
Age of your child
Boy or a girl
Their favorite Disney characters
Whether you have a elegant princess or a rough and tough pirate, a perfect Disney World Themed Hotel Rooms await for you.
Themed Rooms at Disney World
As a parent, we look for ways to bring out the sparkle in our kid's eyes. What better way to accomplish this than get one of these Disney World Themed Hotel Rooms. Spending a little more to book one of these amazing rooms is worth it. Just look at how excited your kids are while they look forward, in anticipation, to the Family vacation you have put together for them. It will be something they will never forget. Isn't that what it is all about? Making memories that never fade over time.
Magic for Everyone
Everything in Disney World is Magical and each of these Disney World Themed Hotel Rooms have their very own special appeal. Let's take a look at them and see which is the best fit.
Themed Rooms at Value Disney Resorts
The Disney World Value Resorts with Themed Rooms will be your least expensive option. The Art of Animation has a few different options, some less expensive than others but all with incredible designs.
The Little Mermaid, Cars, Lion King and Finding Nemo Themed Rooms
---
---
---
Disney Moderate Themed Rooms
Stepping up to another level, the Disney World Moderate Resorts have more amenities to offer with Water Slides and fantastic pools. The Moderate Disney World Themed Hotel Rooms are a little more expensive but well worth looking at.
Upscale Princess living in a Moderate Disney Resort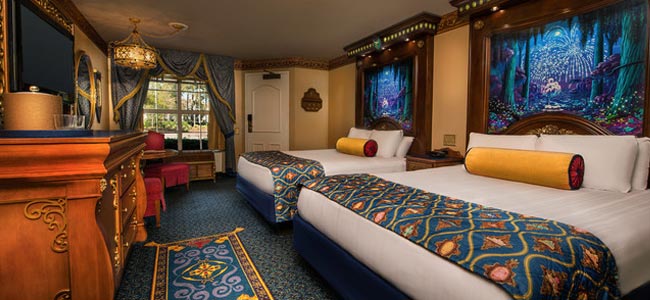 Fit for a Princess, the Royal Guest Rooms have so many features to make this the perfect location to put your little girl on a pedestal. Each and every detail from the ornate headboards with painted scenes to the decadent bedspreads and rolled pillows, promises to make your childs dreams come true. Even the furniture is elegant with inlaid features and velvet padded stools. The images of the Disney Princesses are located all over the room. Even the curtains look expensive enough to be in Cinderella's castle. There is almost no limit to what was done to give you the best experience ever. What a great option for your princess at one of the most amazing Disney World Themed Hotel Rooms.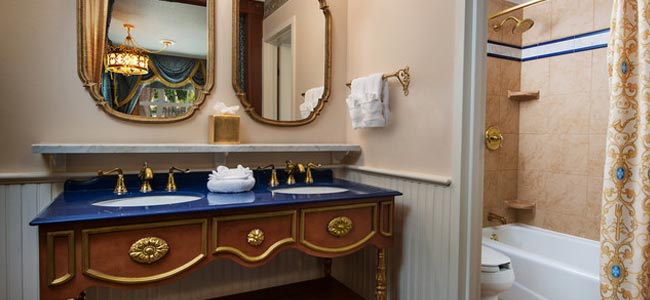 The bathroom is as elegant as the bedroom area. The double sinks have a royal blue top and the faucets are shaped like a Genie's lamp. The Tub and Shower unit is in an enclosed area off from the sink to give additional space to get more guests ready.
These rooms have been built to impress your little girl. They will not be let down from the moment they enter the room. The Royal Rooms are only booked to hold 4 guests and are not suites.
Caribbean Resort – Pirate Rooms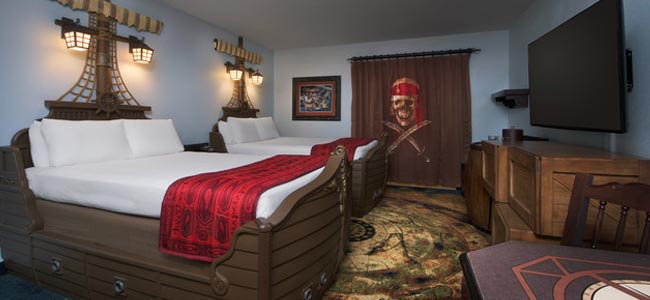 The Pirate Rooms at the Caribbean Beach Resort are perfect for the young lad who wants to throw caution to the wind and sail the seven seas. Each of the beds are made like pirate ships and storage is made to look like crates ready to be stowed on a long sailing journey. The curtain separating the Bathroom is the Pirate skull and crossbones giving the entire room that Pirate feel.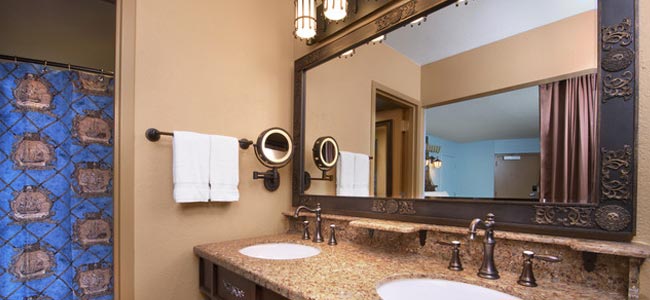 The bathroom at the Pirate room has a much more rustic feel but it is equipped to make it easy for a family of 4 to get ready. With 2 sinks and a tub/shower unit in a private, closed-door space, multiple guests can get ready at the same time.
Disney DeluxeThemed Rooms
Technically, there are not any Deluxe Disney World Themed Hotel Rooms but even though Disney does not come out and say it, if you look at the pure elegance of the Grand Floridian Rooms, it would be tough to say these are not designed with a princess in mind.
The true Princess Experience from the time you Enter to sleeping in your extravagant room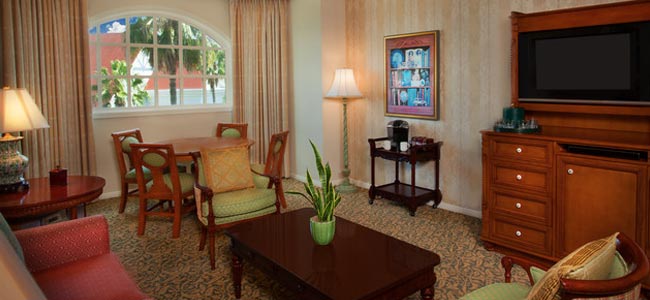 The Flagship property, Disney's Grand Floridian was originally set to be the most decadent property in Disney World. This is why we add it to our list of Disney World Themed Hotel Rooms. As you look at the Victorian design, it is nearly impossible to think that a Princess would turn down a night in one of these rooms. The Grand Floridian comes with standard rooms up to a 1 and 2 Bedroom Suite option. Each of these rooms and suites come at a premium price but they are the best of the best.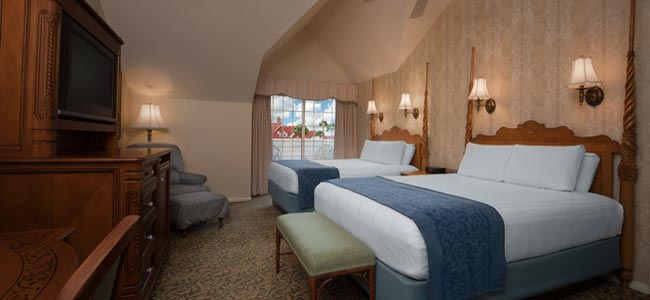 Poster Beds and first-class furniture make up the bedroom in the Grand Floridian resort. The carpets are made of fine materials and you even get a nice chair in the room and desk if you need to get something done.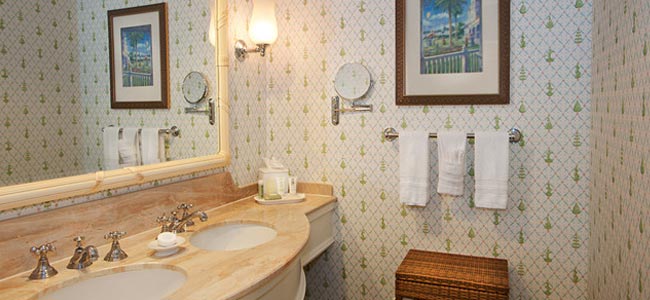 Starting with the double marble sink and also having an enclosed second room for the tub and shower, the bathrooms are elegant at the Grand Floridian.
The best way to make the right choice when you plan to book one of the Disney World Themed Hotel Rooms is to sit down with the entire family, look at all of the options and see what grabs everyone's attention. Boys and Girls love the thought of Disney World Story Rooms. Whatever you go with, they are sure to have the time of their lives.