Floridays Resort Orlando Suites
Each of the Floridays Resort Orlando Suites, whether it be the 1,005 Square Foot, 2 Bedroom Suite or the even larger, 1,295 Square Foot 3 Bedroom Suite, will surely meet whatever you need for space. Each of the Suites are Smoke-free and are large enough to keep you from getting cramped and bumping into one another during your stay.
Extra Amenities
On top of having additional space, you also get the benefits of a Full-size Kitchen and a Washer and Dryer. Oh, and did I mention the Balcony on each unit? A great place to start your day off with your hot cup of coffee.
Description and Pictures
Below you will find a description of each unit and since the main difference between the 2 Bedroom Suite and 3 Bedroom Suite at Floridays is the 3rd Bedroom and larger Bathroom, the Pictures will give you a good idea of what to expect from each of the units.
Condo Amenities, Layouts and Floorplans
---
2 Bedroom Suite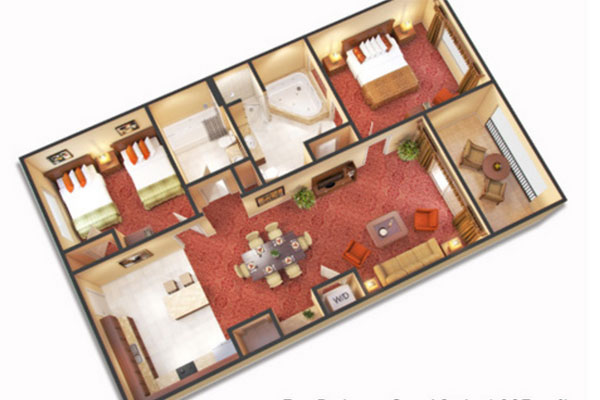 The Two Bedroom Suite has 1,005 sq. ft. of living space and sleeps a total of 6 guests. The Master Suite is a rather large room with a King Bed and Flat Screen Television. The Master Bath comes with a Jacuzzi Tub and a Standup shower unit. The Second Bedroom has 2 full beds and makes it easy to sleep 4. The secondary, shared bath is not as large as the Master but does come with a tub/shower unit. The Living Room adds plenty of space for spreading out. The full-size kitchen is fully equipped and has granite countertops and an island for your convenience.
3 Bedroom Suite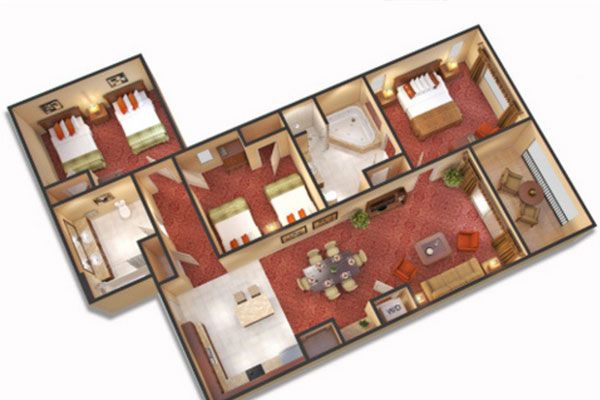 The Three Bedroom Suite has 1,295 sq. ft. of living space and sleeps 8 comfortably. The layout of the 3 Bedroom Suite is identical to the 2 Bedroom Suite until you get to the 3rd Bedroom and Shared Bathroom. The 3rd Bedroom is a similar layout to Bedroom 2 with 2 full beds and a flat screen tv. The second Bathroom in the 3 Bedroom unit is much larger than the the one in the 2 bedroom unit. A full Kitchen with granite countertops and an island make for an easy place to put together meals during your visit. The dining room table seats 6 and the Living room space is spacious.
Special Note:
The 2 Bedroom Suites have plenty of space for up to 6 guests at one time but if you really need to spread out or have a larger party, the 3 Bedroom accommodates up to 8 people at one time. Also, the second bathroom in the 3 Bedroom Suite is larger than the one in the 2 Bedroom Suite.
---
Full Size Kitchens

A Full Kitchen with large appliances make for an easy, home away from home vacation. Each of the 2 and 3 Bedroom Suites come with a full kitchen having a granite counter top, refrigerator, stove, microwave and dishwasher. It also comes fully equipped with all of the Pots, Pans, dishes, and flatware you need to take care of any meals during your stay.
---
Dining Room Space

A dining room with seating for six is located between the Kitchen and Living Room. You also have additional seating at the bar / island located in the kitchen making plenty of room for all to dine together in your very own suite.
Master Bedroom

The 2 Bedroom and 3 Bedroom Suites have a Master Suite with a large, King size bed, dresser and a flat screen tv.
Master Bath

The Large Master Bath has a granite top sink, large Jacuzzi Suite and a walk-in shower.
Outdoor Space – Private Balcony

Each of the Suites have a private balcony with table and chairs to enjoy your morning coffee or any other time of the day.
Laundry
You might not want to think about doing Laundry on vacation but it sure is nice to have your own Washer and Dryer in each Suite if you need it.
Second and Third Bedrooms

The extra bedroom in the 2 Bedroom suite and the 2 Extra Bedrooms in the 3 Bedroom Suite both come with 2 Full Size beds and a Flat Screen TV.
View of the Buildings

There are many views at the Floridays Resort. Each of the 6 story building that house the 2 and 3 Bedroom Suites are placed to give you the viewing options you are looking for. If you are looking for something more quiet, ask for a lake view. If you have kids and want to be near the pool, ask for a pool view room.
View of Fireworks

The Floridays Resort in Orlando Fl is close enough to Disney World to see the Fireworks in the distance but they are a good ways off. Be sure to ask for a room facing the Disney Parks and on the upper floor if you want any chance of seeing them.
RESERVATIONS
Floridays Resort Orlando