The Four Seasons Orlando Restaurant and Lounge selection are superb. Each of the dining and bar options is some of the best in the Orlando Fl area, and you really can't go wrong. In fact, people from outside the Four Seasons will visit just for the cuisine that is available at this resort. The Lounges and Bars are a great place to mingle in the evening as well and set the tone for a more adult evening together. Fireworks can be seen from the Capa Rooftop Restaurant, and the Capa Bar is a great place to watch while enjoying your favorite beverage.
Restaurants at the Four Seasons Orlando Fl
You can't go wrong with the Four Seasons Orlando Restaurant you choose to dine for Breakfast, Lunch or Dinner. There are a total of four (4) Restaurants at Four Seasons Orlando, and each of them has their style and type of food preparation. Did you know that the Capa Steakhouse is a Rooftop Spanish inspired experience? This is a perfect place to dine with friends and family while overlooking the landscape of the Orlando region. When you are here, you are family! This can only mean one thing, no, not Olive Garden but the Ravello Restaurant. You have not had Italian until you have tried the cuisine that they offer. The information on the Four Seasons Orlando Restaurants a shown below. There are a couple that you can book online and others that you will need to call in your reservations.
Capa Rooftop Restaurant
Dining at its finest at the Capa Rooftop Restaurant is sure to be a memory that you will never forget. This is an upscale dining experience, and while you are fine to bring the family, this might be a good night to get a sitter. The Contemporary Spanish Cuisine is served in a gourmet form, and the wait staff is sure to make this a great night to remember.
Quick Facts
Rooftop Dining on the 17th Floor
Open for Dinner: 6 pm – 10 pm
Indoor and Outdoor Seating
Dress: Smart Casual
Reservations Recommended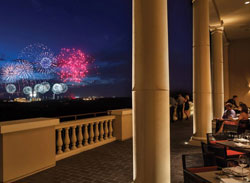 Ravello Italian
Italian Dining the way it was meant to be at the Ravello Four Seasons Orlando. While it might not be the standard Italian you are used to having, this upscale Italian Dining is sure to fit the bill with a "live-action" kitchen to view your meals prepared for you. Serving Breakfast and Dinner, this is an experience for the whole family.
Quick Facts
Style: Modern Italian
Open for Breakfast: 6:30 am – 11 am
Open for Dinner: 5:50 pm – 10 pm
Location: First Floor
Indoor and Outdoor Seating
Dress: Smart Casual
Reservations Recommended
The Pool Bar & Grill (PB&G)
It is exactly as it sounds. When you are spending a day out by the pool, you don't even have to get dressed to go to one of the indoor restaurants, the PB&G is everything you need for fresh American dining with a Southern Flare.
Quick Facts
Style: Southern American
Open for Lunch and Dinner: 11 am – 9 pm
By the Pool
Outdoor Seating
Dress: Casual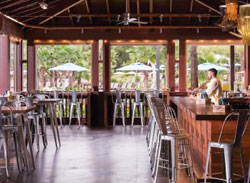 Plancha
If the best views are what you want while dining, the Plancha, Cuban Restaurant at the Golf Clubhouse has some of the best views at the Resort.
Quick Facts
Style: Cuban American
Open for Lunch and Early Dinner: 11 am – 6 pm
Location: Golf Clubhouse
Dress: Casual
Reservations Recommended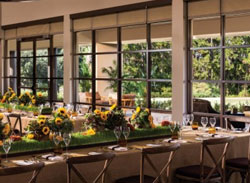 Lounges and Bars
The Lounges and Bars at The Four Seasons Disney World are all first class and do not cut any corners. Whether you are looking for the perfect place to get your morning cup of coffee or have an adult evening with your honey or a group of friends, the lounges at the Four Seasons will set the perfect mood for you. While the Bars are not designed for the family, they are a perfect place to meet new people while enjoying your favorite Adult beverage. The Capa Restaurant offers a more sophisticated experience while the Lobby Bar is a more casual setting. If a more family setting is what you are looking for, the Lickety Split is the perfect location to get something for the kids while you enjoy your favorite coffee.
Capa Restaurant Bar
Beauty and Elegance is what you will find at the Rooftop Capa Bar located in the famous Capa Restaurant. This is a perfect place to be during the Disney World Fireworks since there is a rooftop terrace to enjoy drinks with friends and watch the beautiful lights from afar.
Quick Facts
Rooftop Location
Indoor and Outdoor Seating
Dress: Smart Casual
The Lobby Bar
Sleek and Stylish design with clean corners make the Lobby Bar a great place to meet up with friends or have that late-night conversation with your special someone. Serving Appetizers and Sweet delights, this bar set offers much more than just drinks. The atmosphere is welcoming, and you do not have to have a reservation to get in.
Quick Facts
In the Hotel Lobby
Indoor and Outdoor Seating
Dress: Smart Casual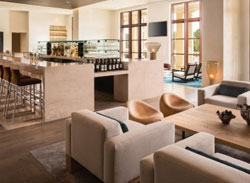 Lickety Split
While the Lickety Split is not a Bar at all, it is a perfect place to lounge around if your favorite drink is coffee or espresso. You will also find your perfect pastries and sweet delights. This is a great place to visit if you have your kids with you as this is family friendly.
Quick Facts
In the Hotel Lobby
Indoor and Outdoor Seating
Dress: Casual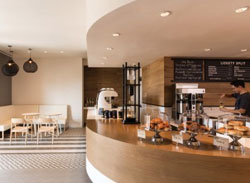 In-Room
Even though it is not considered a Restaurant at the Four Seasons in Orlando Fl, it is sometimes the best way to dine. Order your meals through room service and spend an evening on your private balcony enjoying the sights around you with no distractions.
Best Dining around
As you can see, the Four Seasons Orlando Restaurant Selection can meet the dining needs that you desire while you visit. You are also near other great restaurants in the Orlando area if you are looking for anything beyond what they offer.
RESERVATIONS
Four Seasons Disney World