Is there a Nickelodeon Universe Florida?
Nickelodeon still has a presence in Orlando Florida, if you know where to look. There is not a Nickelodeon Universe Florida location at this time. If you have young kids who want to get up close and personal with SpongeBob SquarePants, Patrick, and some of the other characters in the Nickelodeon sphere, and you are visiting Orlando Fl, Universal Studios is your best option.
Universal Orlando and Nickelodeon
Universal Orlando is filled with adventure and fun. As it continues to expand, the Universal Theme Parks and Resorts are certainly giving Disney some competition. Fans of Nickelodeon will be excited to find out that there are some Nick Adventures to be had when they enter the gates of Universal Studios.
Universal's Superstar Parade™
Character Party Zone
Shopping at SpongeBob StorePants
Line the Streets for Universal's Superstar Parade™
There is nothing more exciting for the little ones than a parade of fun, colorful characters at Universal Studios. Keep an eye out for the start of the parade and get in position to dance and sing when your favorite Nickelodeon Characters come by. The SpongeBob SquarePants float has a life-size SpongeBob waving to your kids from the front of his Pineapple home. Patrick is not far behind and adds whimsical expressions and fun. Continuing the Nick character fun, you will also see Dora the Explorer, Boots, and more. The delight on your child's face adds to the fun as you make memories together at the Superstar Parade™
Character Party Zone
Memories are made when you have pictures taken of your kids or family on trips together. Adding in the Nickelodeon Characters in these photos expands the fun and enhances the memories. Characters you might see at the Party Zone:
SpongeBob SquarePants & Patrick
Dora the Explorer and Diego
Despicable Me Characters, like the Minions and Gru
The Character Party Zone takes place at the corner of Hollywood Boulevard and Sunset Boulevard, just in from of Mel's Diner. The Characters that meet at this location have a set time and you can find this time on the Universal Orlando App or the daily park map. This is one you don't want to miss.
SpongeBob StorePants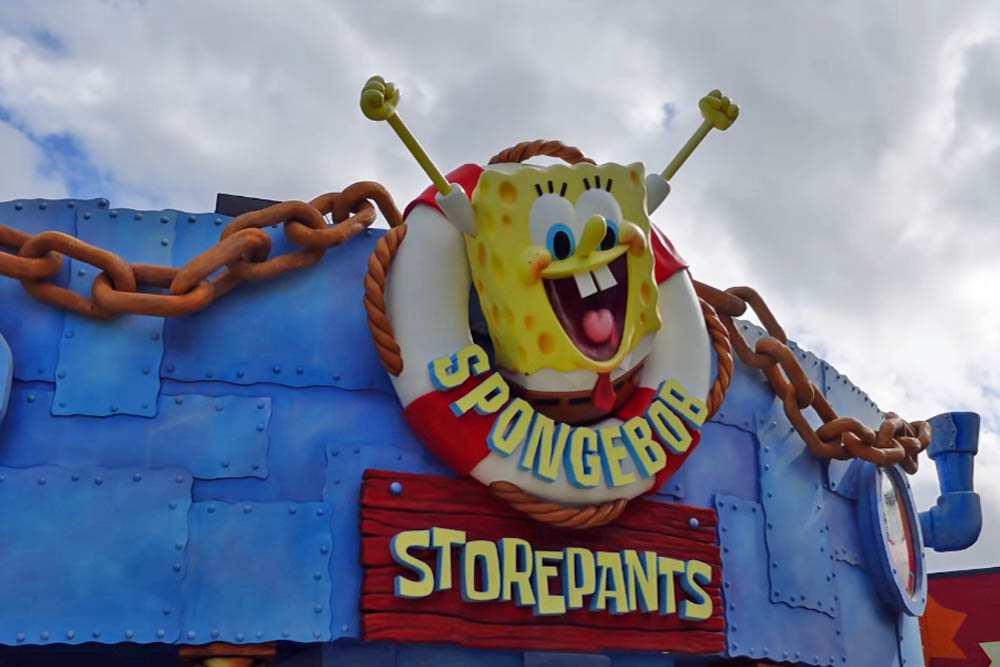 Take home something special from under the sea at the SpongeBob StorePants store in Universal Studios Orlando. The SpongeBob Store is located at the entrance to the KidZone section of Universal Studios in Orlando. If you are looking to get a picture with SpongeBob or Patrick, this is also a great place to find them walking around. Entering the world of SpongeBob is a great experience for the kids but is also amazing for the adults. Take in the colorful characters and locations throughout the store. Take pictures in front of the Pineapple House that SpongeBob calls home or Squidward's Tiki House. Be sure to look for Gary, he will show up somewhere in the shop.
Once you have looked at all of the fun areas in the store, this is also a great place to get your Universal Souvenirs. Walk around the park with SpongeBob shirts or get a coffee mug to take home. Your kids will easily find something they want to purchase as a way to remember the trip at SpongeBob StorePants.
So, what is Nickelodeon Universe?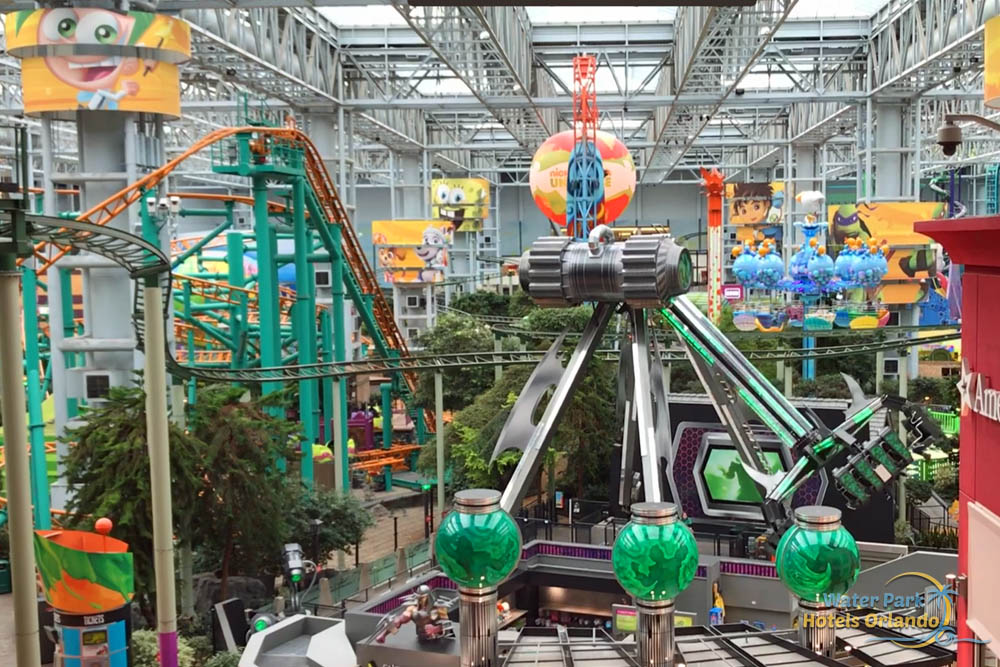 Nickelodeon Universe is an indoor amusement park. Currently, they have locations at the Mall of America in Minnesota and American Dream in New Jersey. Having an indoor park guarantees great weather conditions and climate control. Fun rides can be purchased by tickets or an unlimited ride wristband. Not only will you experience thrill rides and fun kids rides but there are great family adventures. Minigolf is great for everyone and the adventure course is a blast. Be sure to check out these Nickelodeon Adventures the next time you are near them in New Jersey or Minnesota.