Nickelodeon Hotel Orlando Closed

It has now been a number of years since the Nickelodeon Hotel Orlando Closed, but people continue to search for it. It just made sense that there would be a Resort in Orlando built around a Nickelodeon theme. The Nickelodeon franchise is the next biggest kids programming next to Disney. So many great shows have come from Nickelodeon, like;
SpongeBob SquarePands
PAW Patrol
Peppa Pig
Rise of the Mutant Ninja Turtles
and the list goes on and on…
With such a heavy fan following, and the excitement brought to the TV screen with Green Slime, it is not surprising how many people are still searching for this hotel. It is still a shock to most people searching that the Nickelodeon Hotel in Orlando, is no more!
So much fun at the SpongeBob Hotel in Orlando
For over 10 years, the Nickelodeon Hotel in Orlando was a great place to bring the kids. Pure delight was shown across their faces as they came face to face with some of their favorite on-screen characters. Imagine being able to hug SpongeBob SquarePants and Patrick. The pictures alone were worth the reservation price. If you did not get a chance to experience SpongeBob walking across the Resort, it was truly a sight to behold. Kids would look in awe as they saw one of their favorite cartoon characters walking in front of them.
A Great Waterpark for the Kids
Other than the Nickelodeon Characters, the waterpark was one of the main reasons it was such a great family hotel. Multiple water slides shoot off from the climbing zone of the kid's splash park. Watch out for the water from above. A 400-Gallon water bucket drenched anyone in its path without giving notice. The family would also enjoy the large lagoon pool and plenty of seating around the edges. It was unfortunate and saddening to so many that this themed part of the Hotel ended on May 31st of 2016 and it closed on April 18, 2018.
From the Nickelodeon Hotel to the Holiday Inn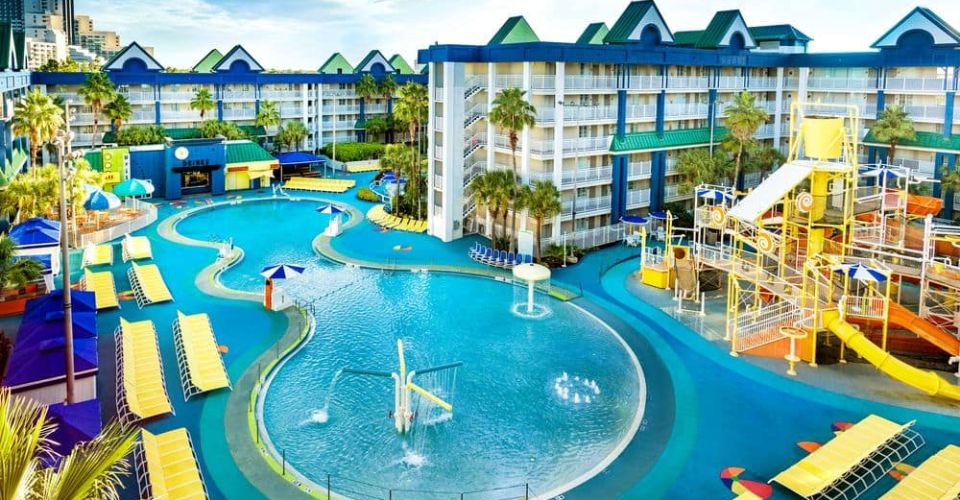 IHG must have had a great vision about this property and felt it was worth the continued investment. It was purchased by IHG and turned into the Holiday Inn Resort Orlando Suites Waterpark. IHG took the Hotel through a 30+ Million Dollar remodel and reopened it as a premier location for families to visit. Gone are all of the Nickelodeon characters. Gone is all of the colorful, bright green and orange theme. And the biggest upset was the removal of the buckets of green slime. The Holiday Inn changed the theme and the colors but updated the 777 rooms and suites and kept the fun pools, water slides, and kids splash zone.
So, what happened?
It is purely speculation, but many people think that when Nickelodeon teamed up with Karisma Hotels, it changed how and where the Nick Resorts would be located. It is still pretty exciting that you can stay at a Nickelodeon Resort, you just won't find one in Florida, at least for now. If staying in Nickelodeon branded hotel is what you are interested in, check out the one in Punta Cana and another one at the Riviera Maya in Mexico. While these new locations are really amazing, they are still not in the US and many guests miss the ability to see their favorite Nick characters when they visit Orlando Florida.
Book a stay at the new Nickelodeon Resorts
If you are interested in finding out more about the Nickelodeon Resorts, please check out the links below where you can book through Hotels.com.
Will there ever be another Nickelodeon Hotel in Orlando?
That is a really great question and one that can only be answered by speculation at this time. If Nickelodeon ever does come back to Orlando, it will probably be a huge hit. In fact, it will likely be so large of an event, we will know well in advance of its opening day. Stay tuned! If anything does happen, we will be updating as soon as it does.