Surfari Water Park Grand Opening in 2018
Coming very soon, in 2018, The Grove Resort Orlando Surfari Water Park is going to take this property from great to fantastic. Adults and kids alike, look forward to vacation and while staying in one of the more spacious Grove Resort Suites is a real treat, the fun you will have at the Surfari Waterpark is going to add a whole new level of excitement. The adults who want a little more peace and quiet can still head over to The Springs Pools when they want but come back to the Waterpark when you are looking for that extra excitement.
Surfari Waterpark Information:
Water Park Hours: Not Listed – Opens in 2018
Towels: Towels are provided at the Water Park
Notice: Surfari Water Park hours can change without notice. Always check the daily schedule at the Resort for the updated hours to the pools and any events.
Water Slides: 2 Large Water Slides at the Waterpark. A couple of smaller water slides at the Kids Splash area. 1 water slide at the Springs Pool.
Lazy River: There is a 700 foot Lazy River with Waterfalls, Cannons and a long bridge that spans over the top.
Kids Splash Park: A Kids Water Playground with Zero-entry, areas to climb and small water slides
Zero-Entry: multiple areas with Zero-entry, safe access to the Water Park
Cabanas: Cabanas are available at The Springs Pools
Who: The Pool and Amenities are for guests only.
Lifeguards:

No Lifeguards
Indoor Pool
There is not an Indoor Pool at the Grove Resort in Winter Garden (near Orlando).
---
Water Slide
At this time you will find a small Water Slide at the Springs Pools but when the Water Park opens in 2018, you will have a couple of very large slides to enjoy.
Quiet Pools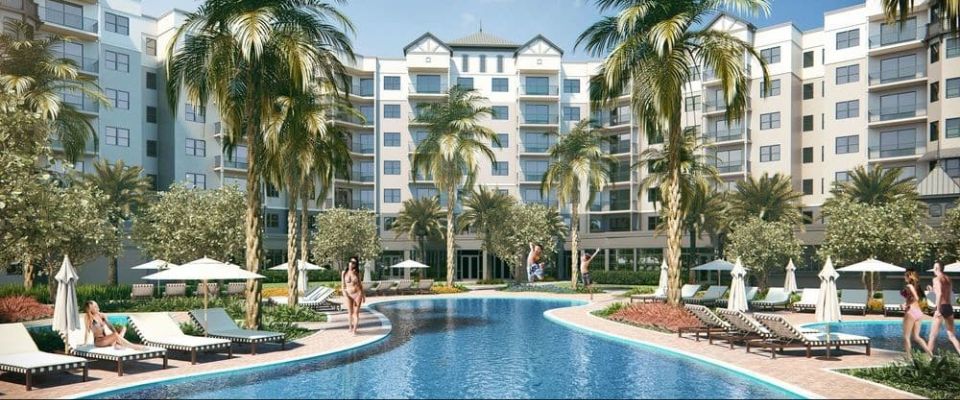 The Springs has 3 Lagoon style pools and is a much more quiet place designed for the adults to have an Oasis to enjoy.
---
Kid's Splash Pad
The Grove Resort Water Park will have a separate play area for the smaller ones. Zero-entry access surrounds the water play yard with a couple of small water slides, shallow water and plenty of sprinklers.
---
Lazy River
The Lazy River spans the length of the entire water park at about 700 total feet in length. Travel under bridges and waterfalls on your very own supplied inner tube.
---
Surfing Wave Simulators
Why else would they call it the "Surfari Waterpark"? This is going to be the first Resort in Orlando showcasing a dual Wave Simulator for showing off your Surfing and Boogie Board skills.