Disney World Hotels with Lazy River
Did you know, there are only a couple of Disney World Hotels with Lazy River in Orlando Fl? Although there are many Disney World Resorts with Water Slides, it comes as a shock to most families who visit Orlando, so few Disney World Hotels with Lazy Rivers even exist.
Disney World Lazy River Resorts
Would you expect that all of the Disney World Deluxe Resorts would have a Lazy River? You might think so, but that is not the case. In fact, the only Disney World Hotels in Orlando with Lazy River are the Disney Beach Club and Yacht Club Resorts. Since these two properties "share" the amenities provided by Stormalong Bay, it might be worth taking a deeper look.
Elegant, New England Style Beach Resort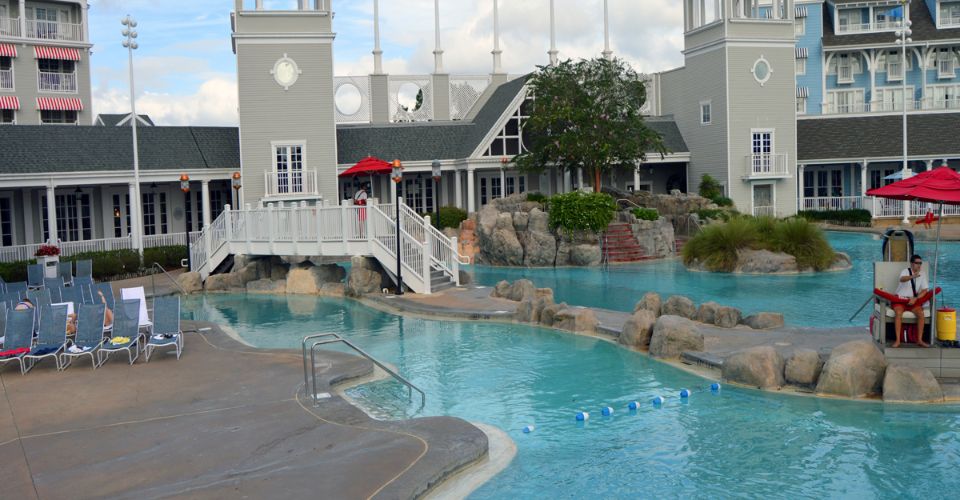 The Disney Beach Club and Yacht Club Resorts are sister properties. This means that they are located near each other and share the fun and amenities between them. This is great because Stormalong Bay is so much fun and is considered the best water park for a Disney World Resort.
Stormalong Bay with Lazy River and Water Slide
Is Stormalong Bay large enough to accommodate all of the guests from the Disney Beach Club and Yacht Club Resorts?
Considering, the Stormalong Bay Water Park covers 3 full acres, it is plenty large for everyone. Stomalong Bay has a massive 230-foot Water Slide that starts from the beach and ends up inside the park. Most guests agree it does not get overcrowded. Three (3) large pools take up a majority of space with one very unique sand-bottom pool.
Take a look at everything Stormalong Bay offers by looking at the Yacht Club Pool. This will give you all of the information you will need. Just outside of Stormalong Bay you will also find a large strip of sandy beach along the shores of Crescent Lake. Water Sports like Pontoon boats and SeaRay Raycers are available for rent to take out on the water and check out the rest of the resort. Oh, and on top of that, this is a perfect place to watch the fireworks.
Quiet Pools?
Staying in one of the Disney World Hotels with Lazy River is nice but these resorts also offer Quiet Pools as well if you are looking to get away from the commotion at the Water Park.
Other Hotels with Lazy River in Orlando
You might find it a little limiting when looking for Disney World Hotels with Lazy River but if you are willing to be on the outskirts of the Disney World property, there are a number of Lazy River Hotels Orlando near Disney World to choose from.
All of the Disney World Hotels with Lazy River