Blizzard Beach Water Slides
Well rounded fun for everyone in your group is what you will find at Disney's Blizzard Beach Water Slides in Orlando. Considering, there are three (3) different age-appropriate sections, you will find something for all ages. There are large water slides for the thrill-seekers, family tube rides, and a Kiddie Play area for the youngest ones. Often times you will have kids somewhere in the middle. Blizzard Beach has done a great job of creating a perfect section just for them as well.
Big Water Slides at Blizzard Beach
If you are looking for the most thrills around Blizzard Beach, your first stop will have to be the Summit Plummet. Summit Plummet is one you can't miss as you enter the Blizzard Beach water park. You might look up at Mount Gushmore and be very surprised at this water slide. What's the big deal, you might ask? Well, Summit Plummet was designed to look like a ski jump. Until you get up closer, it appears that anyone coming down, will fly right off of the edge of a ski slope, and drop a hundred feet to the ground.
Summit Plummet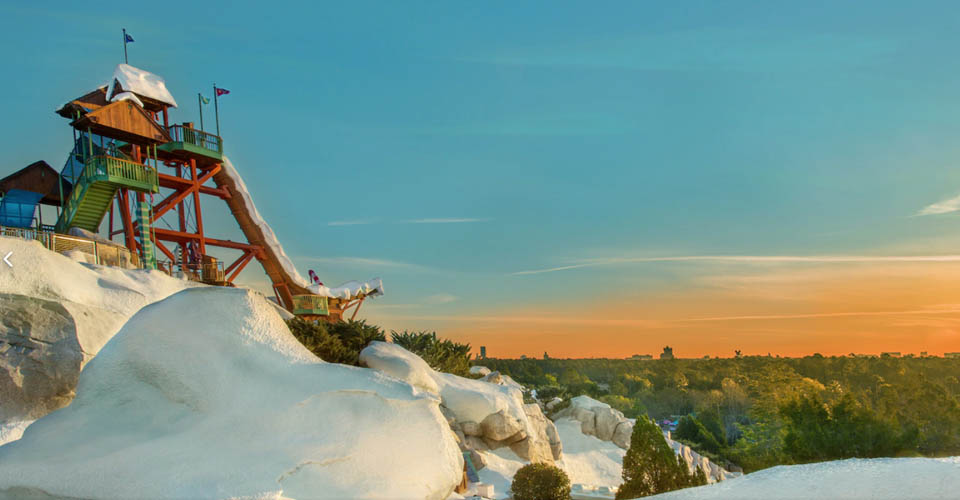 The Summit Plummet water slide is one of the biggest Speed slides around. You have to climb up 12 stories before you get to the start where you will drop through a dark tunnel. Anyone looking for the biggest Water Thrill ride in Orlando must give Summit Plummet a try.
120 Foot Drop
It would be like sliding down the side of a 12 story building
360 feet in total length
Free fall Body Slide
Some say this is the scariest ride in all of Orlando
Part of the drop is in total darkness while shooting through a tube
This ride looks like a ski jump from the bottom
Digital Stop Clock Shows your speed at the bottom
Slush Gusher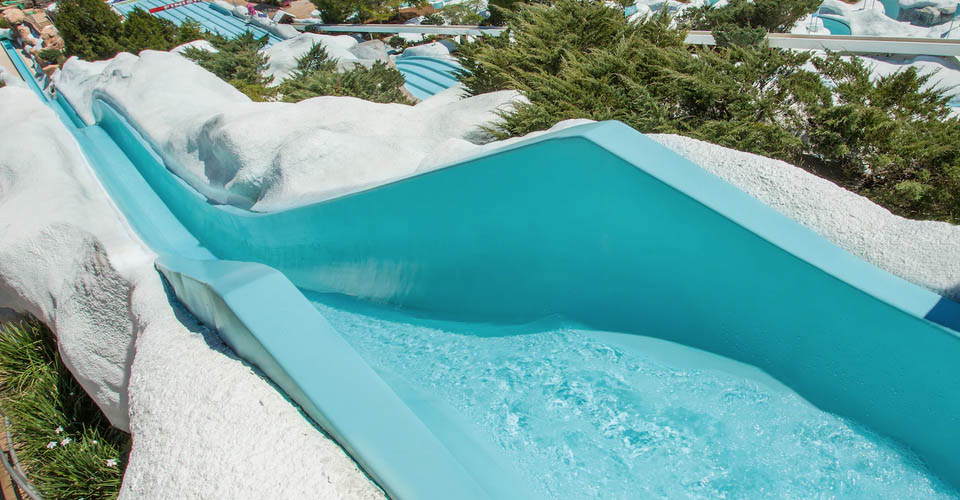 There is also another large, very different Speed Slide at the same location, the Slush Gusher. If you are not sure if you want to drop straight down 120 feet right away, this is a great ride to get your feet wet. The Slush Gusher is still a speed slide but it breaks up the drops with 2 mounds along the way. What a unique design. You actually feel weightless before you flow over the top of each drop. Slush Gusher is a great water slide and most everyone will want to give this one a try.
90 Foot Drop
Still, 9 Stories is pretty high
Travel along 2 Rolling Hills to keep the speed down but also has multiple drop points
If you look at Summit Plummet and feel you are not quite ready, try this one a couple of times first
You will catch "air" as you go over the 2 hills
Height Requirement – 48 inches
Teamboat Springs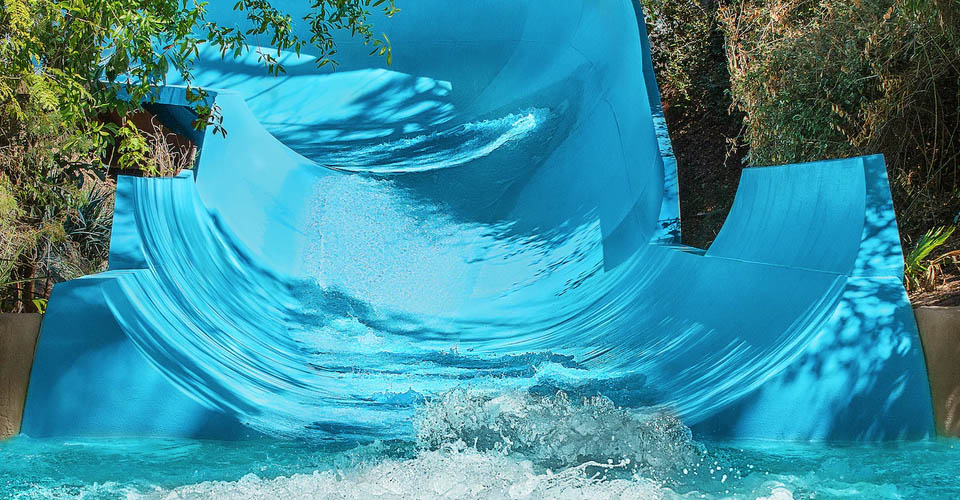 For a great Family Water Rapids ride, you can't beat the Teamboat Springs. You have probably been on these family raft rides before but this one is a little different because you can fit up to 6 people in each one of the large rafts. Each time you add another member, it changes the weight in the raft which in turn changes the way that you ride down this 1,200-foot behemoth of a rapid ride. Most of us feel more comfortable riding with people that we know but the more you have in your raft, the more fun Teamboat Springs becomes.
1,200 Feet of Wide Water Rapids
Rafts designed for up to 6 people – Be prepared to take on extra people if your party is smaller than 4 – This is done to keep the ride moving at a better pace and keep the lines down
Raft Rolls up on Banks to create sprays of water
Height Requirement – Any Height can ride
Downhill Double Dippers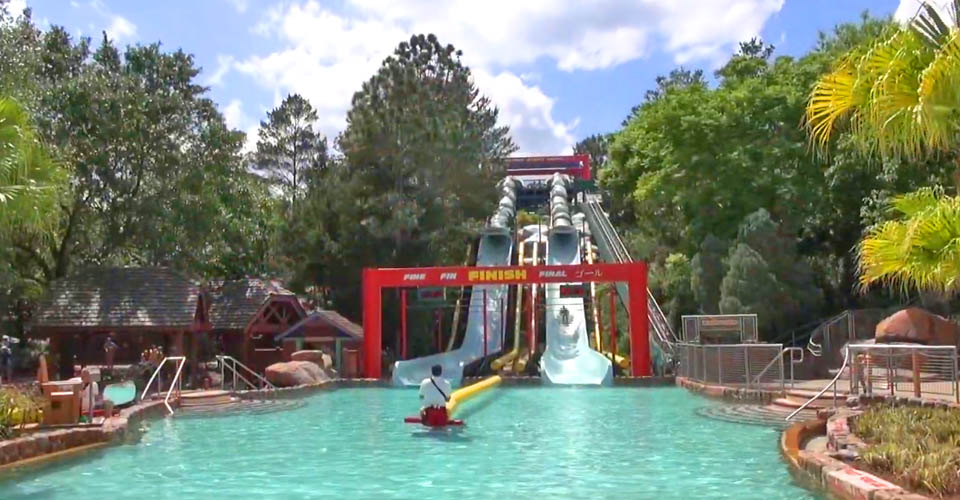 Interested in competition? There are 2 different water attractions that allow you to race others, whether they be family, friends, or just for fun. The Downhill Double Dippers is fun for 2 racers side by side.
Start 50 Feet high on the side of Mount Gushmore
Each Slide is Identical
200 Foot Long Course
Reach Speeds of 25 mph
Part of the course is enclosed and the last part is open
Digital Stop Clocks at the end to determining the winner
Compete against your friends and family
If you have a larger group take them over to the Toboggan Racers where 8 can race at a time.
Downhill 8 Lane Racing Slide
250 Feet in Length
3 Fun Dips on the way down – Catch some "air" off of each dip
True Racing – Wait for the signal and win by being the first one to the bottom
The Start is one of the most important parts if you like to win
Runoff Rapids uses a tube to slide down any one of the 3 single or double water slides. Each one of these water slides are different so you will want to try them all to get the full experience.
Each Water Slide is very different so you will want to try them all
Single Rider or Dual Rider Tubes allowed on this ride
600 Feet of Downhill Twisting Fun
The Center Slide is a Single rider only slide with Darkness Surrounding you all the way to the bottom.
Height Requirement – Any Height Can Ride
There is also the Snow Stormers where you lay flat on your stomach riding a mat that looks like a toboggan down 3 different winding water slides.
350 Foot of Winding Water Slide Fun
Water Slides built deep into the Snow
Water Spraying Towers look as if they are creating snow
Toboggan Style Mats to ride on your stomach down the twisting water slide
Height Requirement – Any Height Can Ride
Ride all 3 – They are all different
Wow, there is a perfect water slide for everyone who comes to Disney's Blizzard Beach. Try them all and compare which ones you like the best.
Water Slides for Tweens at Blizzard Beach
The Ski Patrol Training Camp is the perfect place for kids around the ages of 5 to 12 years of age. Normally this age group is still a little leery of getting on some of the larger water slides so this entire area is geared just for them. Having a total of 5 Water Slides, larger kids can experience rides like Twin Water Slide Racers that dump 2 riders into the main pool area. If you want to try inner tubes give the Cool Running's Water Slides a try. This twin slides snake along the snowy trail side by side dumping out into their very own small lagoon. You can even drop through a small water slide tunnel into the main pool for additional splashing fun.
Frozen Pipe Springs

Single Enclosed Short Tube to drop into the pool area
Get ready for a drop into the water

Cool Runners Water Slide

2 Twin Curvy Inner Tube Slides
Single Riders on Each Side
Ends in a small pool sectioned off from the main pool

Snow Falls Water Slide

2 Straight Downhill Water Slides
Body Slides – No Tubes

Height Requirement – Guests of any Height
Kids love the Kiddie Water Slides
Many of the young families have toddlers that they will bring to the Water Park and Blizzard Beach has you covered. There is a full area, Tike's Peak, designed for safe play at these younger ages. There is also no reason for them to be left out of all of the fun. The youngest ones can find their own fun riding along 5 different slides in the section of the park. If they are really small, they will have a great time sliding down 2 of the really small slides are built into an area that is like a small water playground. If your young one wants to step up to something a little bigger, there is a body slide that they can ride a winding path or a tube slide for a single rider that offers additional fun. Want to race? There is even a small racing slide that allows for 3 small racers at a time.
Made for the smaller kids in the group – Toddlers and Preschoolers
1 Fun Inner Tube Slide -Single Rider Only
1 Racing Downhill Slide with 3 Lanes
2 Small Playground like Water Slides
1 Twisting Body Slide
Height Requirement – Under 48 inches
Water Ride
If you have kids in many different age ranges, the Water Slides at Blizzard Beach might be the best option for you and your family. All of the different age ranges are covered at this park from the Toddler to Tweens to Teens and Adults. Most Water Parks offer an option for the Older Kids and the Toddlers but this one also has an offering that meets the needs of those stuck in the middle. Take your family to this unbelievable adventure and see how exciting it can be for the whole family.