Disney Typhoon Lagoon Map
Nestled in the heart of the Walt Disney World, you can see on the Disney Typhoon Lagoon Map that it is close to all of the other main attractions in Disney World. If you are driving on Interstate 4, the main road used to access all of the attractions in the Orlando area, you can take off on the Epcot Center Drive exit, turn on to E Buena Vista Dr and you will be at Typhoon Lagoon. Looking at this location from a map view you can see that it is located almost directly across from Downtown Disney. This makes it really convenient to head over to Downtown and do some shopping or grab a nice dinner after spending an entire day at the Park. Even if you are in Orlando to enjoy Universal Studios, this is a great area to visit if you are looking for a unique experience to offer the family during your stay.
Another interest, while you are here, is to look at the Disney Typhoon Lagoon Park Map located below the Google Map. This will give you a good idea of the layout of the Water Park before entering. Look at all of the attraction locations to make sure you head for the most important ones first.
Overview with Disney Typhoon Lagoon Park Map
Click On the Map to Download a Printable PDF of the Typhoon Lagoon Park Map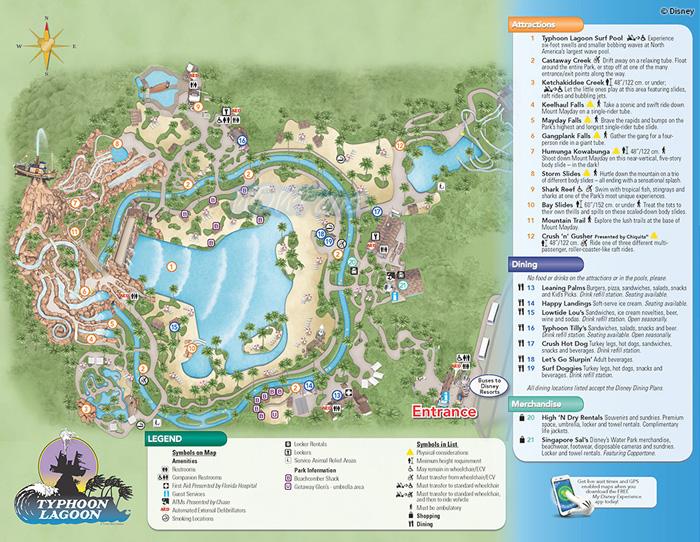 Google Map of Disney Typhoon Lagoon