The 302 Fantasy World Villas Orlando Fl are very large indeed. Each of these condos are two stories and have plenty of space to accommodate up to 6 guests very comfortably. All of the Fantasy World Villas Orlando have the exact same layout and design but you can ask for different views. If you have kids who want to play at the large Outdoor Water Park, you might ask for a room near the Family Pool. If you are looking for something quieter, the more private pool location might be a better option.
2 Bedroom Villas at Fantasy World Resorts
A great layout with plenty of room for a family in each of the Fantasy World Club Villas makes this a potential destination on your next Orlando trip. Since each of these condos have the exact same layout, you will find the full size kitchen, with large appliances on the first floor, along with the living room, dining area and a big screened in patio. On the second floor, a Master Bedroom with Queen size bed and a 2nd bedroom with twin beds gives you privacy during your visit. A laundry room with washer and dryer are included on the second floor as well.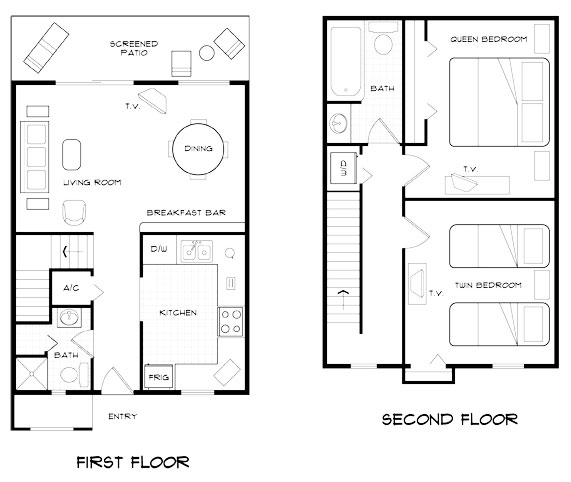 A full list of the room amenities are in a quick list format at the Fantasy World Resort Facts.
Special Note:
At last check, this resort has done renovation on the Kitchens in the Condos. There are a number of complaints about the bedding not being very comfortable. You might want to check with the front desk when booking to see if there are any full updated Villas when booking.
All of the latest and updated reviews can always be found at the TripAdvisor Reviews on Fantasy World Resort in Orlando Florida.
Balconies
There are no balconies at any of the Villas at Fantasy World Orlando but they all have a screened in patio on the first floor. This is a perfect place to start the day with a cup of coffee.
RESERVATIONS
Fantasy World Resort