When you thumb through all of the Fantasy World Resort Pictures it is truly amazing all of the Amenities and fun things they have to do on their property. A nearly full-size Water Park with Slides, Lazy River, and a Kids area are just a few of the water fun items but there are also plenty of things to look forward to outside of the water park as well. Pictures speak for themselves so let's take a look at all of the Fantasy World Resort Pictures.
Fantasy World Resort Water Park Pictures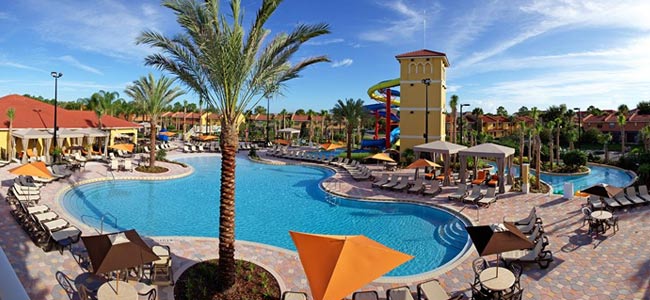 The Pictures at Fantasy World Resort in Orlando point out all of the features that make this a prime vacation spot. Starting with the main Pool, you will notice Zero-Entry access at one end and the curved outline allows for a lot of seating. The Cabana's shown on the right are available to rent daily but there are not many of them so check with the front desk as soon as you can to get one reserved.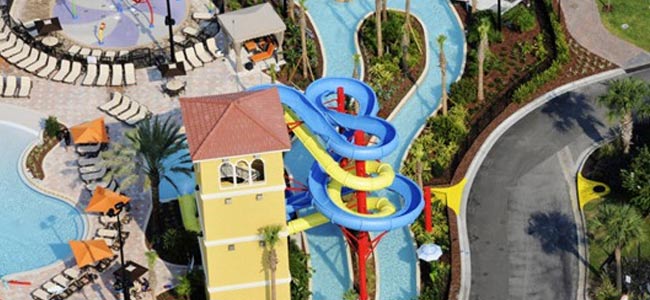 Kids and adults alike will love the Water Slides and Lazy River. There is one enclosed body water slide and one open flume water slide. You must be at least 48″ tall to ride on these. The 750-foot lazy river floats you across the entire back section of the water park. The Fantasy World Resort Pictures above show the entire water park.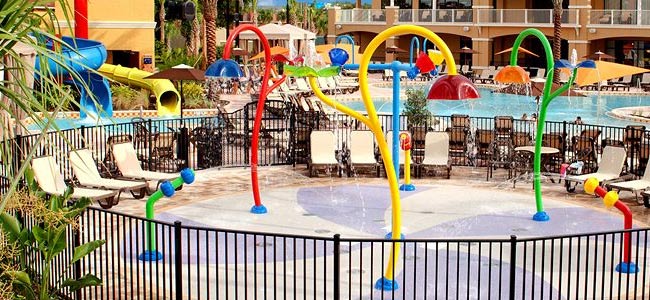 Young children also have an area just for them with sprinklers and small water jets to run under and keep them cool all day long. There is no deep water in this area so they can play and you can rest assured that they will remain in a safe environment.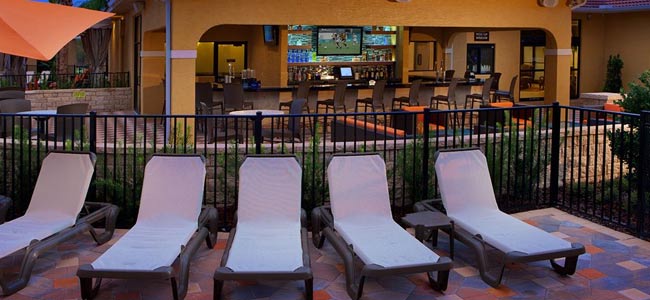 Plenty of seating around the family pool with additional lounge chairs on the sundeck. Close by is the outdoor bar where you can get your favorite frozen adult drink to enjoy by the pool.
---
Quiet Pool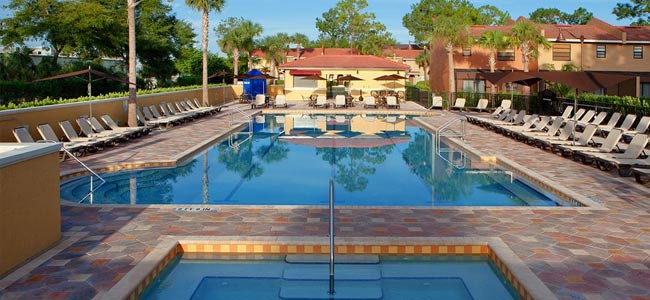 Looking for some peace and quiet? You won't find it at the main family pool and water slides but there is another option. A beautiful, heated, quiet pool with Outdoor Hot Tub is available in this resort for relaxation on a different level. Take your favorite book to read and enjoy the tranquility.
Great Activities at the Fantasy World Resort
18 Hole Miniature Golf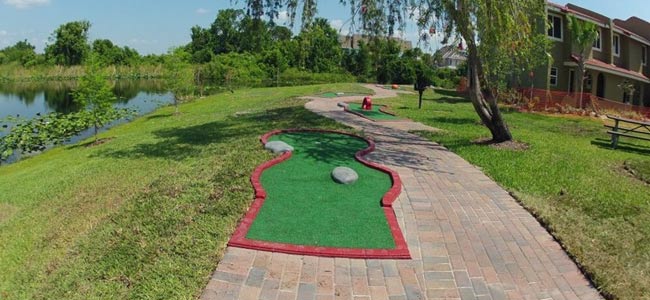 Not many resorts have an 18 hole miniature golf course on the property but the Fantasy World Resort does. Look at the picture and you will see how lush the grounds are around this course. This is a perfect way to spend quality time with your kids.
---
Basketball Court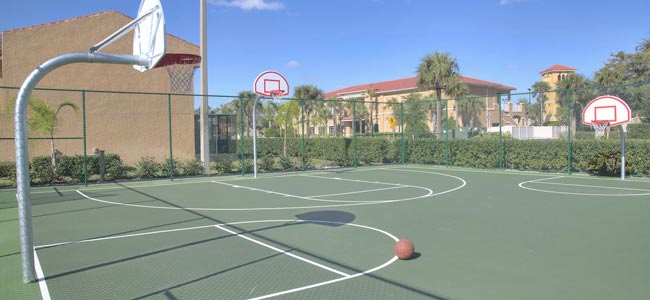 While not a full Basketball Court, you can get a couple of pick up games going or just shoot some baskets with the kids.
---
Tennis Court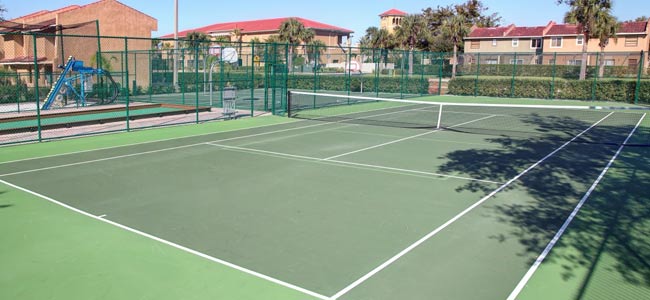 A nice outdoor Tennis Court is on the property for you to enjoy a match with friends or family. Did you happen to notice the batting cage beside the Tennis Court? There is batting practice for baseball or softball.
---
Shuffle Board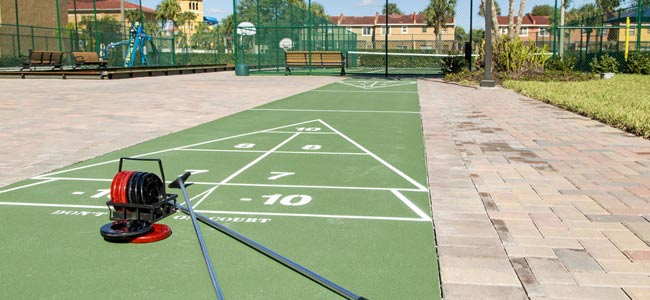 A fun family game with some friendly competition is waiting at the Shuffleboard court. This court is located beside the Tennis court.
---
Bocce Ball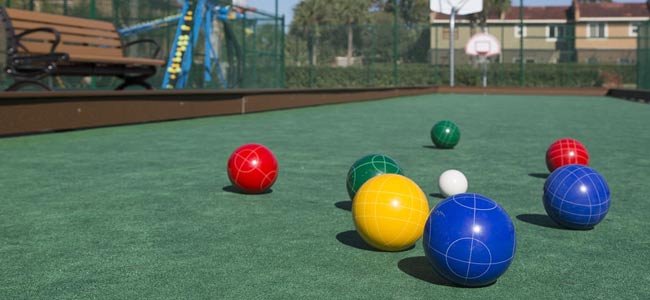 If you have never played Bocce Ball, now is the time to give it a try. This is a great family sport and allows for some really great, friendly competition.
---
Fitness Room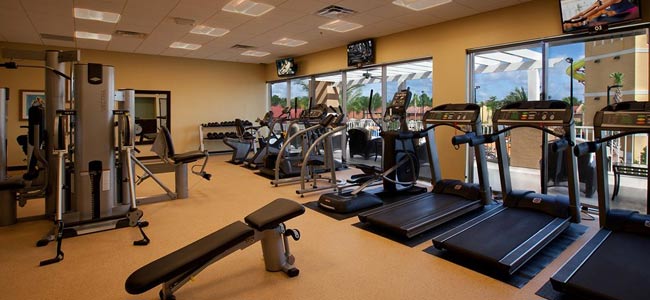 The Fitness Room at the Fantasy World Resort in Orlando is full of up to date equipment with Elliptical, Treadmills and even Free Weights.
---
Outdoor Playground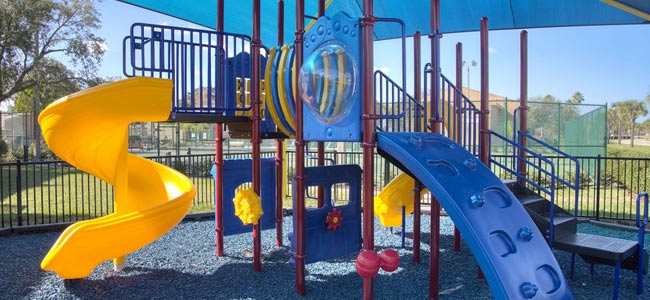 Most children love to run around and play. The undercover playground is a perfect area from kids to climb, slide and run around without getting too much sun.
---
BBQ and Picnic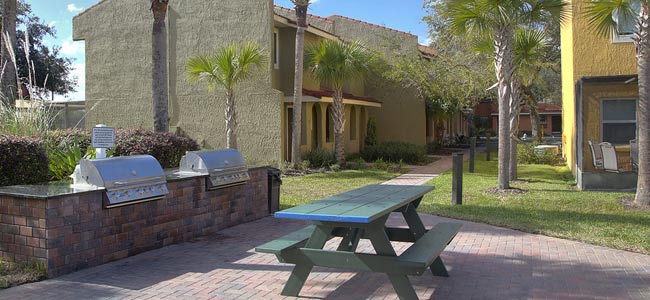 Everyone loves a good BBQ and just look at the Grills in this Fantasy World Resort Pictures with a couple of outdoor grills and even a picnic table. Just be prepared to see guests walking by drooling because of the aroma put off by whatever you are grilling. Check with the front desk to reserve this space for your outdoor picnic.
Look through all of the Fantasy World Resort Pictures and you can see all of the wonderful things available to do without even leaving the grounds. Take a look a quick list of available amenities at the Fantasy World Resort Orlando Facts
RESERVATIONS
Fantasy World Resort