Island H2O Live Lagoon Wave Pool
Adventure is ready for all at the Island H2O Live Lagoon Wave Pool. Kids can play at the entrance of the Live Lagoon as the wave gently laps on the gently sloping entrance. Adults will want to get out to the deep end and get ready for the action as the wave start crashing down.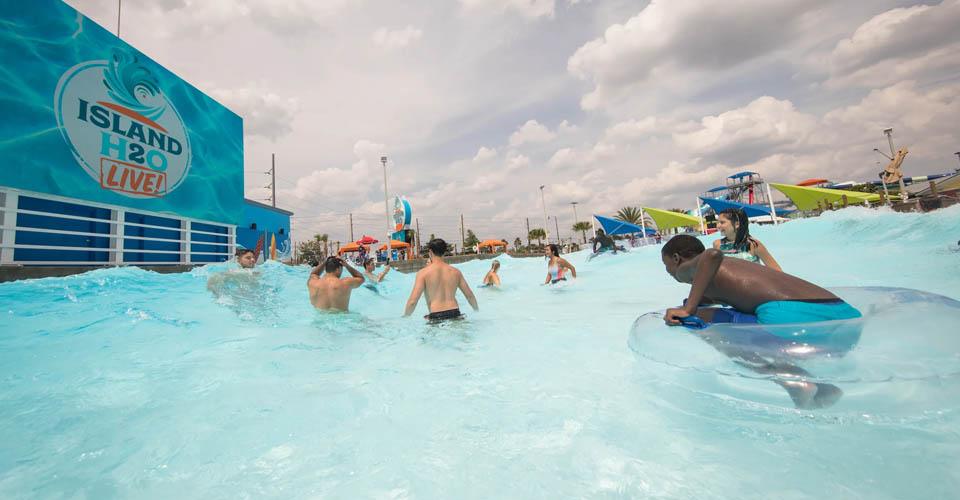 Families love the Live Lagoon Wave Pool at the Island H2O Water Park in Orlando. There is plenty of seating around the wave pool, but you will want to get there early to mark your spot. To guarantee a location, you can always rent a Cabana near the Live Lagoon.
One thing you will not see at the Live Lagoon is sand. This certainly will help with keeping sand out of the pool area but kids sure do love playing in the sand. Something you will see is tubes. You are allowed to use tubes to bob around on the waves as they come crashing through.
Large Screen
The large screen is used at times to show movies in the evening. Watching a movie by the water is a great way to end the day and wind down before you have to leave. Check with Island H2O Live for the times and movie appearances.
Live Lagoon Wave Pool Information
24,000 square foot Dual Beach Wave Pool
Marquee Video Screen
Surrounded by plenty of seating
Cabanas located around the Live Lagoon
Zero-entry at both entrances/li>
Deepest point: 6 feet
Tubes are allowed
Life Vests are available for free around the entrances
Lifeguards stationed at multiple vantage points for safety
Such a great experience and a place that all ages can enjoy. Be sure to check out the Island H2O Live Lagoon Wave Pool.