Island H2O Live Technology
When you look at the Island H2O Live Technology used, it stands out from all of the other water parks. When you enter the Island H2O Water Park you are given a wrist band. This wristband is your key to unlocking so much of your adventure while having a great day at the Island H2O Live.
Mobile App
If you have a smartphone, you will want to download the H2O Live Water Park App before you show up to the park. This will save you some time and the Island H2O Water Park App is free.

Each wristband is unique to each person. Once you download the App to your device, create a profile and link your "Smart Band" to the app. Tip: when you open the Island H2O App on your phone it will ask if it can have access to your camera. Allow this and you can simply scan the QR Code on the Smart Band to add it to your profile.
So, what do you get with the download of the Island H2O App:
Wait Times for rides
Find Family Members & Friends in the Park
Earn Points
Set Music Preferences for Rides
What if I don't have a SmartPhone?
If you do not have a smartphone to set up your profile, there are many kiosks in the park to get you set up.
How do I use the Smart Band?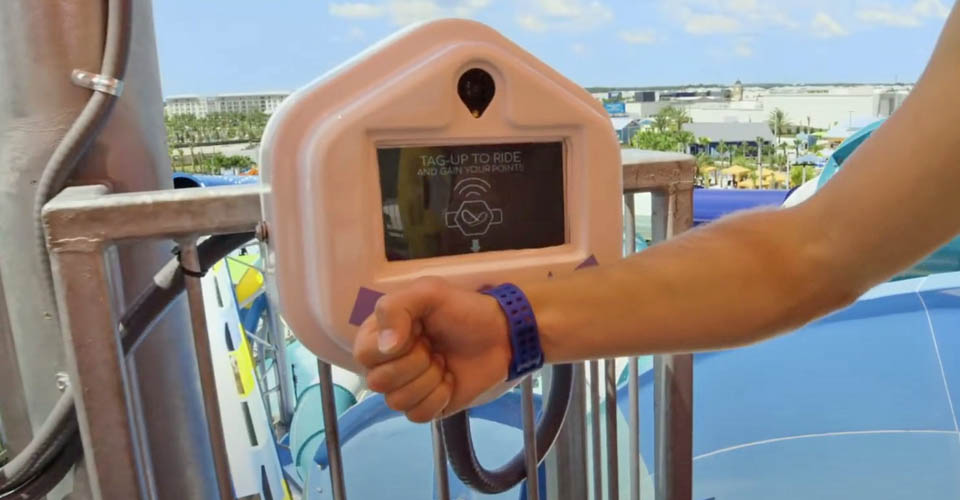 After you have set up the Island H2O Live App, created a profile, and have bound your Smart Band, it is time to have some fun. Around the Island H2O water park, you will find "Tech Stations" with the H2O Live icon shown on them. These stations allow you to tap your wristband to gain points, set your lighting and music preferences, and more. Once you tap your Smart Band, a screen is displayed to walk you through each process.
Sharing your experience
Since the Island H2O Live Water Park is geared towards Social Media, part of the fun is sharing your experiences with others. The Smart Band along with the Island H2O Live App allows you to do this. Some of the rides take a video of your experience and once you complete a ride, you can share your video with friends and family around the world on your favorite platform.