Deluxe Rooms at the JW Marriott in Orlando
For many guests, a stay in one of the Deluxe Rooms at the JW Marriott in Orlando is sufficient for any needs they might have. The comfort of the Deluxe Rooms at the Orlando JW Marriott and quiet stay make for an enjoyable time, whether it be a family trip or a business outing. These large rooms offer plenty of space with a desk, large flat-screen television, and a luxurious marble bath. A balcony with incredible views of the resort or different areas around Orlando can make each space unique and inviting. Some of the rooms will have views of the Golf Course, Lake and even the Oasis Pool with Lazy River. For even more space and better views, take a look at the JW Marriott Suites.
Deluxe King Room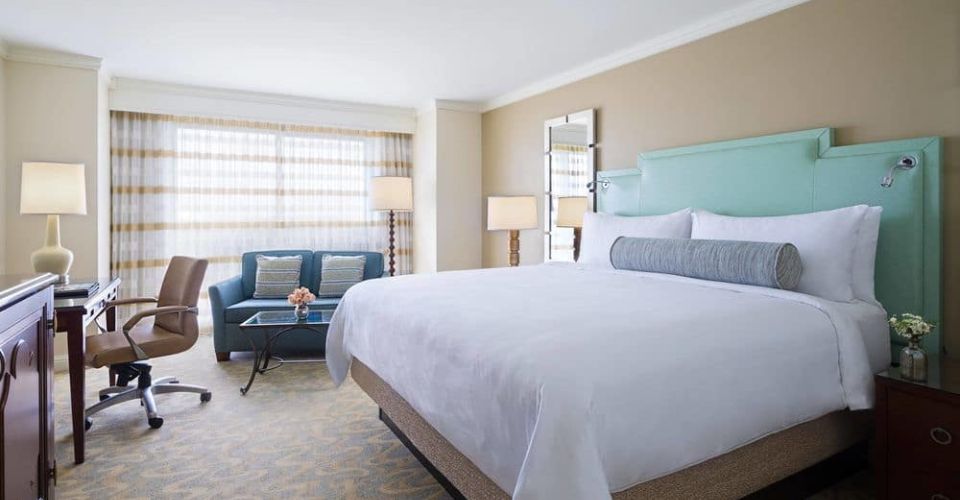 The Deluxe King Rooms are very spacious and offer a large king bed, perfect for a business trip or the romantic stay. The comfortable, luxurious bedding is sure to give you a good night sleep.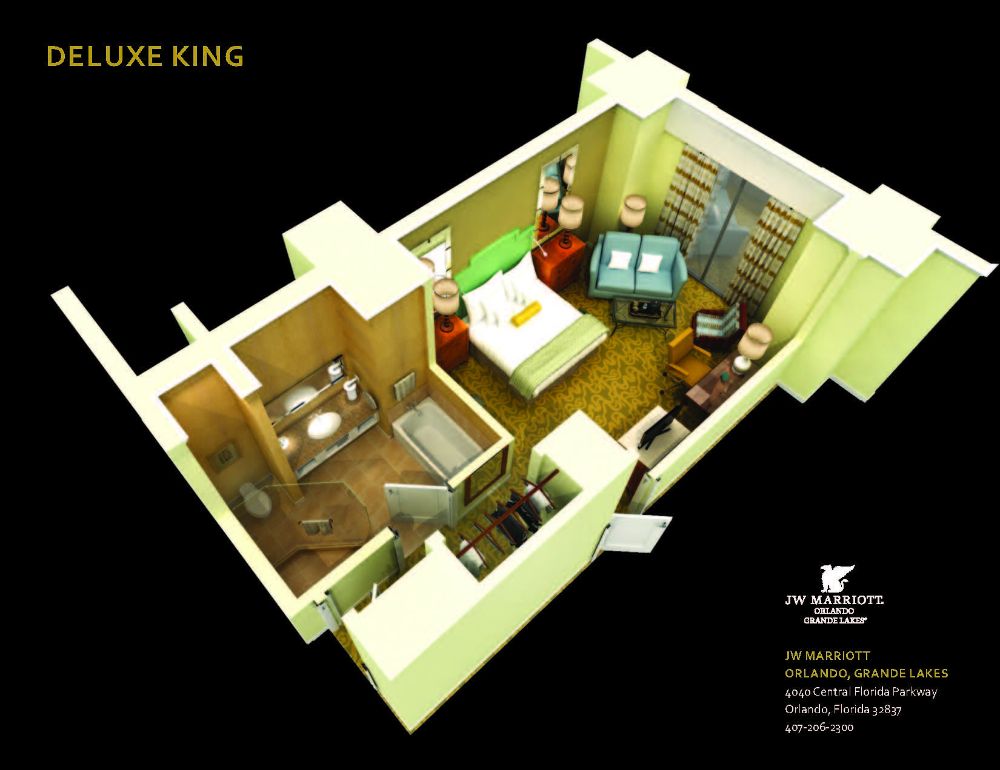 Size: 420 Square Feet
Sleeps: 2 Guests
Internet: WiFi is available in guestrooms for an additional nightly fee
Bedroom: 1 King Bed, Flat Screen TV, Desk, loveseat
Bathroom: Sink, Standing Shower Unit - some units have a separate shower and bathtub
Additional Amenities: Bathrobes, Hair Dryer,Iron and Ironing Board, Safe, Mini-fridge, Coffee Maker
TV's: 1 large Flat Screen
Outdoor Space: Balcony is available in some guestrooms - be sure to request a balcony if this is something you would like
Deluxe Double Room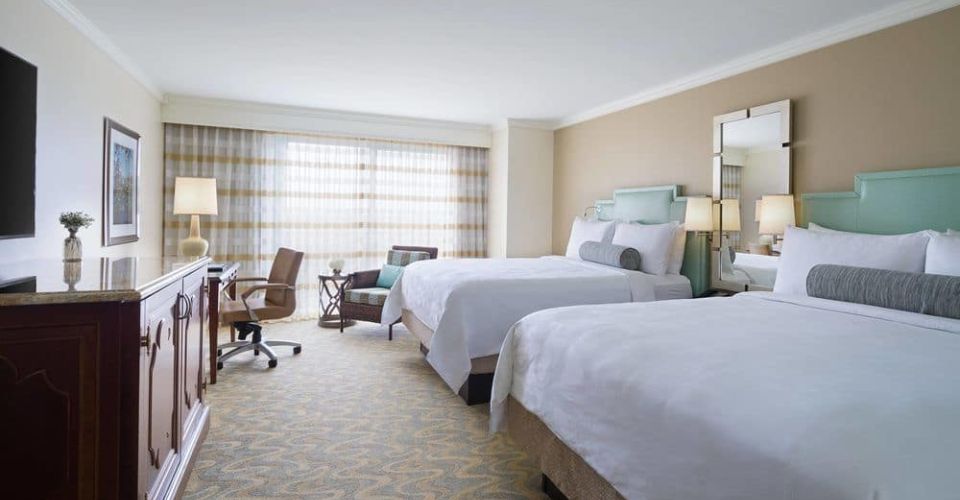 The Deluxe Double Rooms give you additional bedding if you need to sleep up to four (4) guests. Perfect for families on a budget or for those times where you know you will be running a lot and will not be in the room very much. The bedding is perfect to give you that great night of sleep to tackle your day.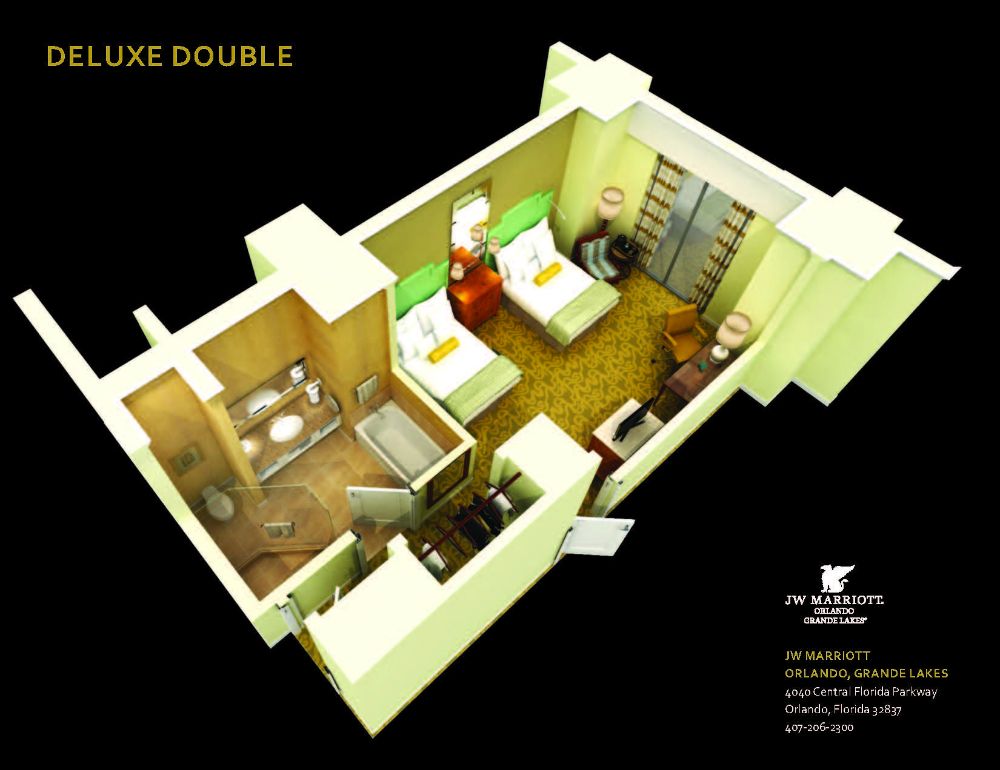 Size: 420 Square Feet
Sleeps: 4 Guests
Internet: WiFi is available in guestrooms for an additional nightly fee
Bedroom: 2 Queen Beds, Flat Screen TV, Desk, loveseat
Bathroom: Sink, Standing Shower Unit - some units have a separate shower and bathtub
Additional Amenities: Bathrobes, Hair Dryer,Iron and Ironing Board, Safe, Mini-fridge, Coffee Maker
TV's: 1 large Flat Screen
Outdoor Space: Balcony is available in some guestrooms - be sure to request a balcony if this is something you would like
RESERVATIONS
JW Marriott Grande Lakes