Add a more at home feel to luxury and you get the Omni Orlando resort ChampionsGate Villas. Situated directly beside the Omni Orlando at Champions Gate, the magnificent Villas have spectacular views of the Driving Range and Golf Course on one side and the Quiet Pool on the other. These 2 and 3 Bedroom Units come with all of the comforts you come to expect from a 4 Star Hotel in Orlando. Given that the Villas are part of the Omni Orlando, it just stands to reason that booking a Villa, gains access to all of the Amenities and Pools with Lazy River and Water Slide.
Something you do not get at the Omni ChampionsGate Villas
Well, almost everything! There is one great amenity you get at the Hotel that you do not get if you book a Villa, the ability to bring your Pet. So, if you are interested in bringing your Dog or Cat along on the trip, you will have to book a Room at the Omni Orlando at ChampionsGate instead.
Villas at the Omni Orlando Resort in ChampionsGate
Two Bedroom Villa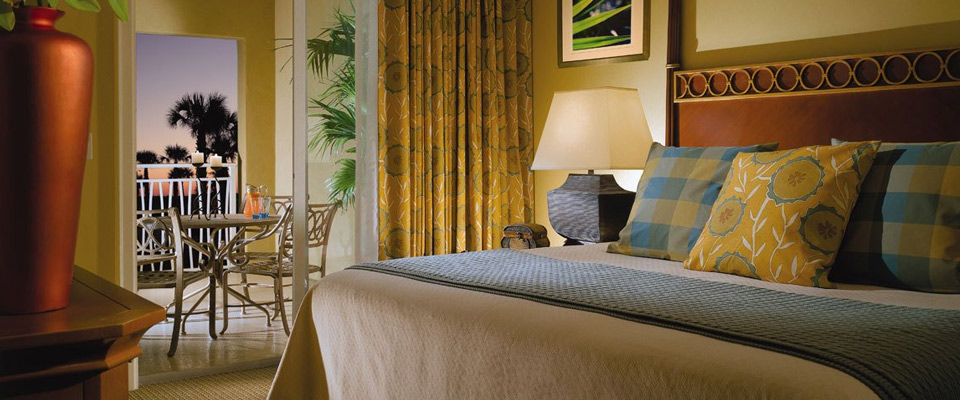 Each of the 2 Bedroom Villas will easily sleep six (6) guests but can accommodate up to 8 with the Sleeper Sofa. Having 1,543 – 1,620 square feet per unit, you will not have any problem staying out of each other's way.
The Master Bedroom is inviting and comfortable with a private bath and flat screen TV. The Full Size completely equipped Kitchen has everything you need to prepare your meals and save some money while enjoying the Resort.
2 Bedroom Villa Amenities:
Size: 1,543 – 1,620 Square Feet
Sleeps: 6 – 8 Guests
Internet: WiFi
Master Bedroom: King Bed with Flat Screen TV, Private Balcony
Master Bathroom: Roman Style Jacuzzi Tub with Stand Up Shower Unit
2nd Bedroom: 2 Doubles, 1 Queen or 2 Twin Beds, Flat Screen TV
2nd Bathroom: Tub / Shower
Kitchen: Oven, Large Refrigerator, Dishwasher, Microwave, Coffee Maker, Pots, Pans, Dishes, Glasses and Flatware
Additional Amenities: Hair Dryer, Iron and Ironing Board
TV's: 4 Flat Screen
Laundry: Stack-able Washer and Dryer Units
Housekeeping: Daily
Outdoor Space: Private Balconies makes a great start to each day
---
Three Bedroom Villa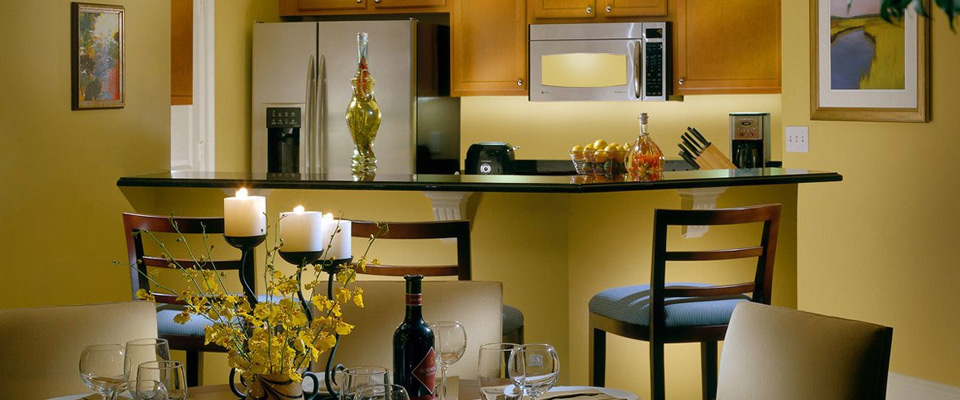 If your group is a little larger, consider one of the Three Bedroom Villas at the Omni ChampionsGate. With the facilities to provide accommodations for up to 10 people with a Master Bedroom and 2 Bathrooms for additional privacy, these 3 Bedrooms Condos make it feel just like home. The kitchens are complete with everything you need to prepare your meals, and the full-size appliances help you store and cook anything you desire.
3 Bedroom Villa Amenities:
Size: 1,832 – 1,971 Square Feet
Sleeps: 8 – 10 Guests
Internet: WiFi
Master Bedroom: King Bed with Flat Screen TV, Private Balcony
Master Bathroom: Roman Style Jacuzzi Tub with Stand Up Shower Unit
2nd Bedroom: 2 Doubles, 1 Queen or 2 Twin Beds, Flat Screen TV
2nd Bathroom: Tub / Shower
3rd Bedroom: 1 Queen Bed with Flat Screen TV
Kitchen: Oven, Large Refrigerator, Dishwasher, Microwave, Coffee Maker, Pots, Pans, Dishes, Glasses and Flatware
Additional Amenities: Hair Dryer, Iron and Ironing Board
TV's: 3 Flat Screen
Laundry: Stackable Washer and Dryer Units
Housekeeping: Daily
Outdoor Space: Private Balconies makes a great start to each day
RESERVATIONS
Omni Orlando Resort ChampionsGate