Rooms at the Sheraton Lake Buena Vista Resort
In the heart of the Orlando attractions with Complimentary Shuttle Service to the Disney World Parks, a stay in one of the Sheraton Lake Buena Vista Resort Suites or Standard Rooms could be a good option if you want to stay just outside of the Walt Disney Resorts. Each room is expansive with a total of 486 rooms covering 6 floors and all have a balcony to enjoy the outdoors while starting your day.
---
Standard Room Layout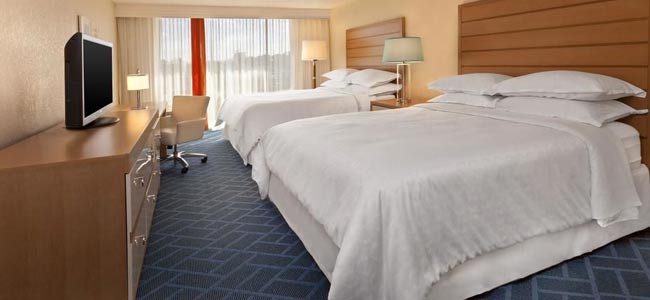 The Standard Hotel Room option has all of the amenities you would expect with 2 Queen Beds, a desk with chair, and a long Dresser with Flat Screen TV. All of the Rooms and Suites at the Sheraton Lake Buena Vista Resort come with the Signature Bedding you expect when staying at a Sheraton. WiFi is available in all of the rooms.
---
Deluxe Room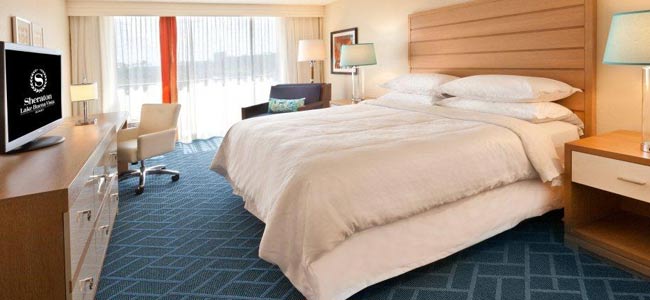 For a more inviting stay, booking one of the Deluxe Rooms is a great option for that Romantic getaway for 2 or even a Business Trip. These rooms come with a single King size bed with upgraded linens for that additional comfort at night. A nice chair sits in the corner while you still get the desk, chair, and Flat Screen TV. Each of these rooms have their own private balcony as well.
---
Florida Parlor Room – Suite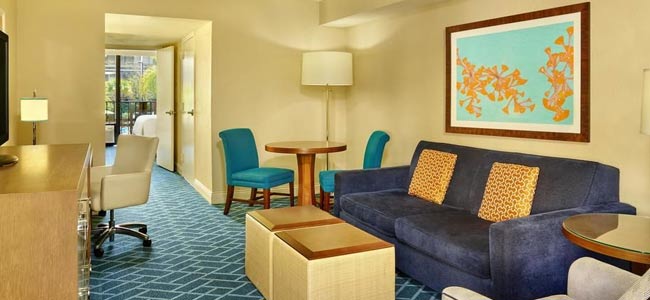 The Florida Parlor Suite gives you plenty of additional space, spreading out the comfort into 2 large rooms. The separate bedroom will give you some privacy, while the living space has plenty of room to relax and enjoy some family game time or watch some TV. A sleeper sofa is also available to split up the group if you would like.
Laundry:
There is no in-room laundry option in any of the rooms or suites. The Sheraton does provide a community laundry facility and you can ask housekeeping to take care of any dry cleaning you might need.
---
Family Suite with Bunk Beds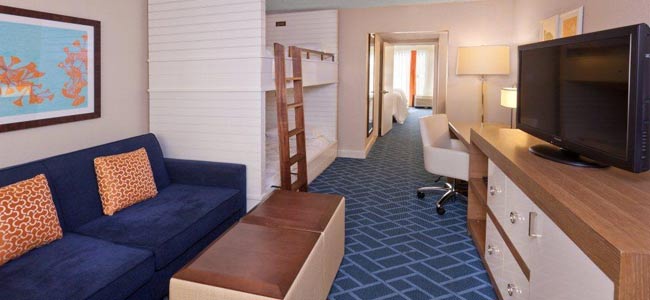 If you are visiting for a week-long Family Vacation, the Family Suite with Bunk Beds at the Sheraton Lake Buena Vista Resort should be considered. The space of this suite is large enough for up to 8. The Bedroom comes with an option of 1 King or 2 Double Beds while the Living area has a Sleeper Sofa and Bunk Beds. If you have a family of 6 or less, I would highly recommend the 1 King room to get some privacy when you need it. Each of the Family Suite Rooms has a Private Balcony.
Room Amenities
Full information on the Room and Suite Amenities can be found at the Sheraton Lake Buena Vista Room Facts.
RESERVATIONS
Sheraton Lake Buena Vista