Outdoor Pools at the Bonnet Creek Wyndham Resort
As a rule, you expect to have a nice pool when staying at any property in Orlando, so; How does the Wyndham Bonnet Creek Resort Pool rate? Considering your options of 5 Outdoor Heated Pools, 2 lengthy water slides, 2 long lazy rivers, and a couple of Kids Splash areas to enjoy, you have a lot of water fun throughout the entire Wyndham Bonnet Creek Resort. For this reason, most guests would consider this to be a Water Park Resort in Orlando even though all of these amenities are not in the same place. This can actually make it nice if one pool you go to is overcrowded, there are 4 others (making a total of 5 outdoor pools) to try out. Some of the Pools are considered quiet pool areas and do not have a Lazy River or Water Slide.
Pool and Water Slide Information:
Pool Hours: Daily 8am – 10pm
Water Slides: 2 Large Water Slides
Outdoor Pool: There are five (5) Outdoor Pools around the Resort
Indoor Pool: You will

not find an Indoor Heated Pool

at the Wyndham Bonnet Creek Resort
Lazy River: 2 Lazy Rivers
Kids Splash Park: 2 Kids Splash areas
Zero-entry: Zero-entry access is at a couple of the pools
Towels: Located around the pools
Cabanas: Cabanas are available for an additional fee. Be sure to book yours early.
Notice: Pool hours can change without notice. Always check the daily schedule at the hotel for the updated hours to the pools and any events.
Who: All of the Pools are available only to guests of the Wyndham Bonnet Creek Resort and the Wyndham Grand Orlando at Bonnet Creek
Lifeguards: There are

no Lifeguards

at the Pools or Water Slides.
---
Water Slides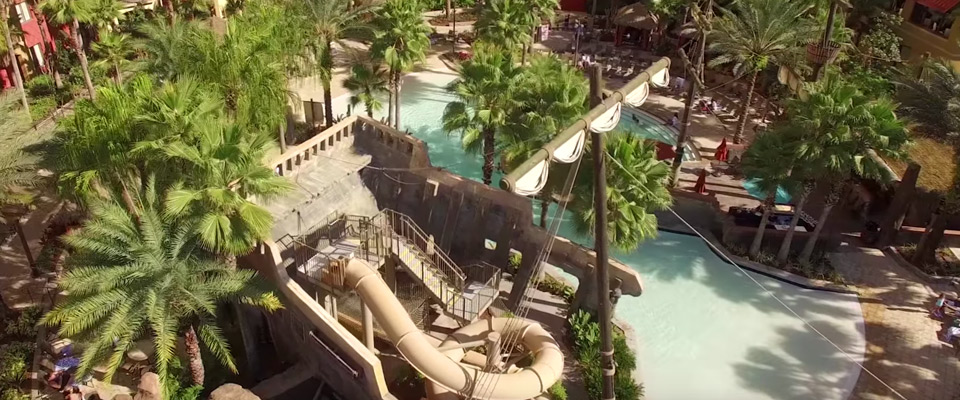 Kids and adults will equally delight in the 2 Water Slides located at different areas of the Wyndham Bonnet Creek Resort. Probably the more enticing would be the 110 foot enclosed slide at the Pirate Ship Pool. Just as fun and possibly a little less crowded is the Open Flume Figure 8 water slide near Tower 3. This water slide is only about 70 feet long but with all of the twists and turns on the way to the splash zone, it seems longer. (Visitors have to be 48″ or taller in order to make use of the water slides).
---
Lazy Rivers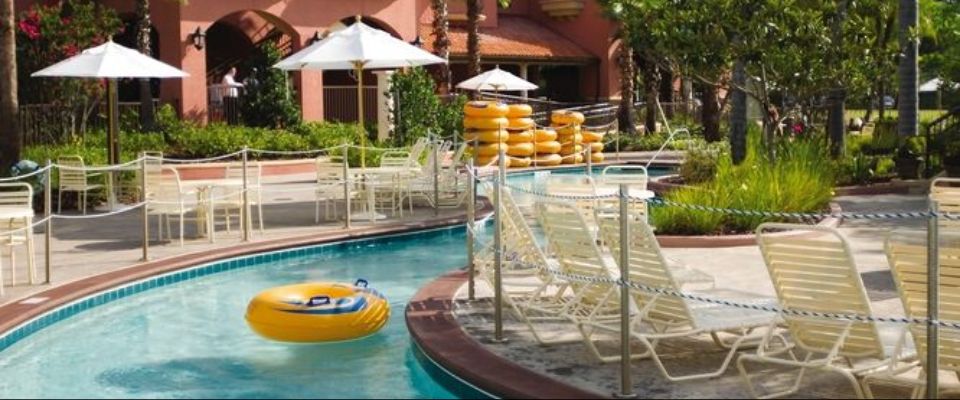 Not all properties have a Lazy River but it is very rare that you will find 2 Lazy Rivers but this is precisely what you will find at the Wyndham Bonnet Creek Resort. The largest of the two is located at the Pool near Towers 4 and 5. This lazy river is about 380 feet long and has a wide, zero-entry point making it very easy for even the little ones to get in and out. At the Lobby Pool, you will find another impressive lazy river that spans about 260 feet. This lazy river connects to the main pool and also has a couple of entrance and exit points along the way. Tubes are provided at each of the Lazy Rivers but you can also bring your own water toys if you would like.
---
Kiddie Splash Zone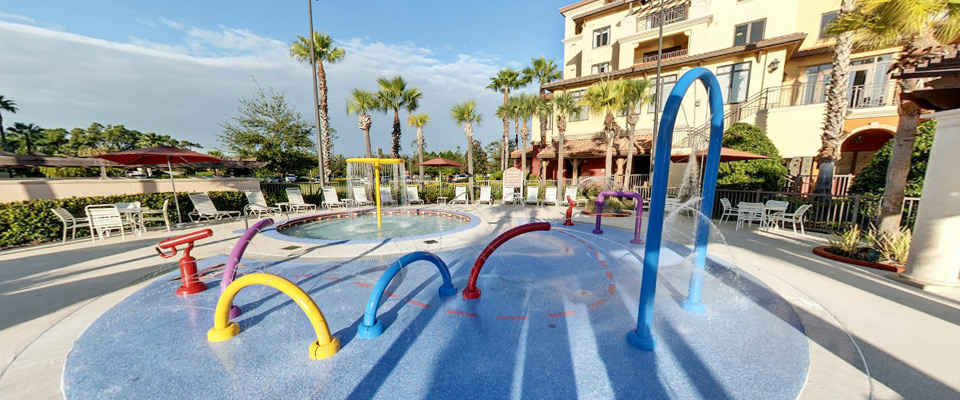 The largest, by far, kids shallow splash fun is located at the main lobby pool beside the Lazy River. This play place is full of fountains and sprayers where kids can keep cool while having a blast playing. At the Pool between Tower 2 and 3, another small kids pool is found with a single raining umbrella.
---
Zero-Entry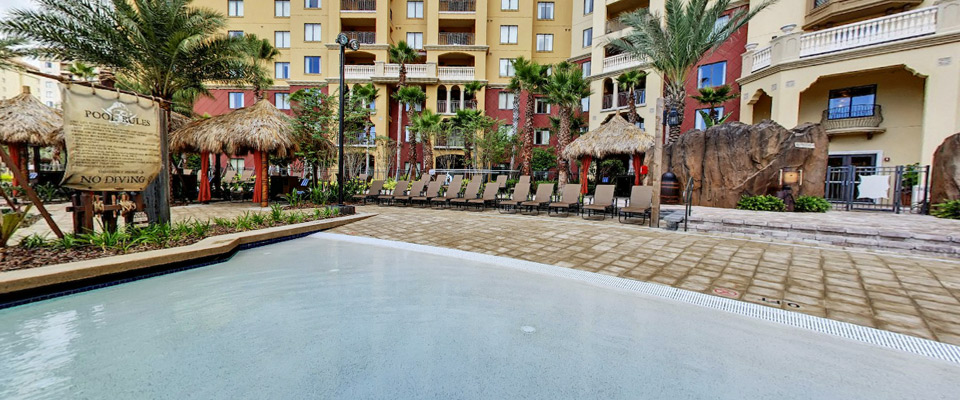 Almost all of the Pools at the Bonnet Creek Wyndham Resort have a gentle sloping or zero-entry point. The Pool at Tower 2 and 3 is an exception having only steps that lead in to the pool.
---
Hot Tubs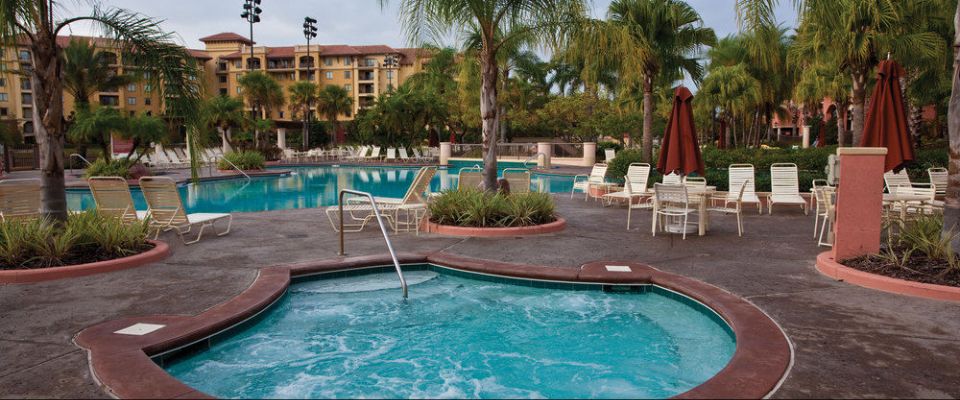 Sink in and indulge yourself in the bubbling waters of not 1 but a total of 8 hot tubs located at different pools around the resort.
---
Cabanas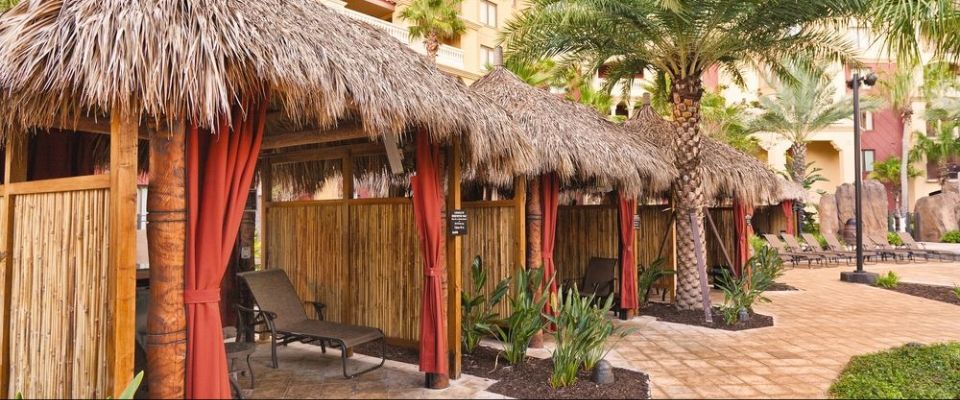 There are a couple of options when renting a Cabana at the Wyndham Bonnet Creek Resort. The Tiki Hut style or a more traditional and elegant design located at the Wyndham Grand Orlando pool. The Cabanas are not free but they do offer additional amenities like, comfy furniture, fans and a mini-fridge.
---
Beach
Surprisingly enough, you will not find a beach area at this resort.
---
Lake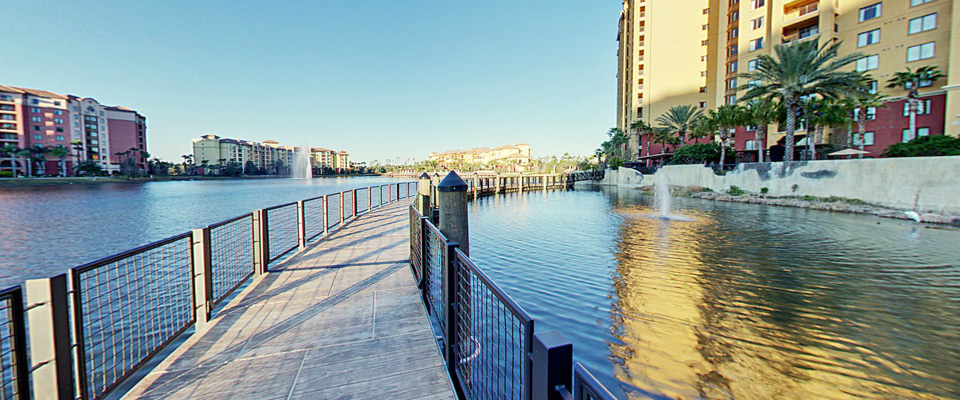 Each of the Towers has stunning views of the lake that rests in the center of the Wyndham Bonnet Creek Resort. The Boardwalk spans from Tower 4 to Tower 5. There is not a Marina on the Lake nor can you rent any watercraft to paddle around.
---
Pool Bars and Dining
There are Pool Bars at the Wyndham Grand Orlando Pool, Pirate Ship Pool and the Lobby Pool.
Frequently Asked Questions: Wyndham Bonnet Creek Resort Pool
How much do the tubes cost for the Lazy River?
Bright yellow tubes are complimentary for guests and normally found all around the 2 Lazy Rivers. When the Resort is busy, some guests use there own if all of the tubes are in use.
---
Are there Lifeguards at the Pools, Water Slides, Lazy Rivers?
It might come as a surprise but the Wyndham Bonnet Creek does not have any Lifeguards. Because of this, be sure to keep a close eye on your smaller children as they play.
---
Are Pool Towels provided?
Yes, towels are provided at each of the Pool locations. No need to bring your own.
---
Is there a height restriction for the water slides?
Yes, to safely use the Water Slides, your child should be at least 48" tall.
RESERVATIONS
Wyndham Resort Orlando Bonnet Creek