Regardless of whether you stay in the Northern Courtyard or the Southern Courtyard, the Cabana Bay Beach Resort Pool, Lazy River and Water Slide are available for all of the guests that stay there. As a matter of fact, a Swimming Pool with gentle sloping or Zero Entry awaits at either end of the resort. At both locations there are many places to sit and get comfortable for the day where you can take in the rays of the sun while the kids are off playing.
---
Water Tower Slide

The main focus of the Giant Swimming Pool in the North Courtyard would have to be the Huge Dive Tower structure. This 4 tier tower has cascading Water Falls from the very bottom and top tier keeping all who make there way underneath nice and cool during those hot Florida days. As you look at the exit for the Twisting Water Slide, which empties at the base of the tower, you might think that it starts at the top of this tower unit but it actually begins to the side of it. The Water Slide is a fun feature in this Pool area and it is fun for all who decide to ride it.
---
Gentle Sloping entrances
The swimming pools at both courtyards offer a section the is Zero Entry. This makes it very easy to watch the little ones enter and exit the pool without worry that they will have to walk down steps or climb in and out from one of the sidewalls. The Northern Yard pool even has bubbling water fountains to play in at the shallow water.
---
Just Floating along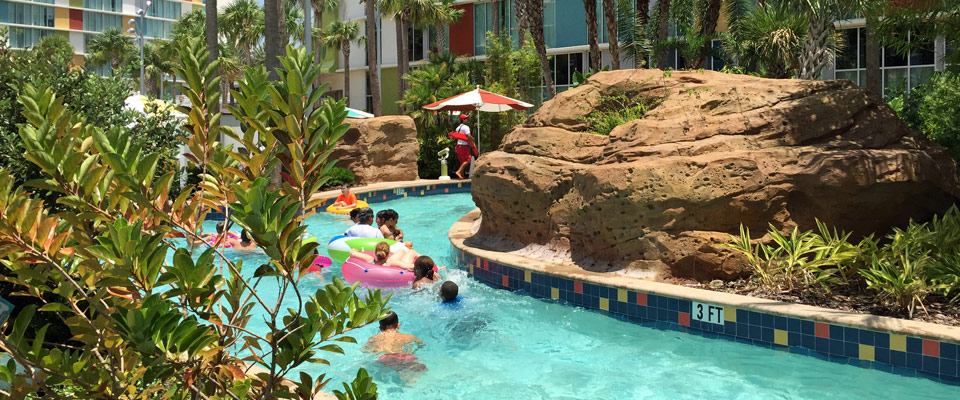 On the other side of the resort, you not only have another nice size pool but there is a large lazy river to gently carry you around on your own private tube. Kids really enjoy spending time here and the parents like it because it is so relaxing.
---
Hot Tubs
There are not any outdoor hot tubs at this resort.
---
Cabanas

Cabanas are available for rent and will give you that additional pampering that everyone deserves on their vacation. Understand though that they do have a rental fee and if you really want one, you should book it early because they go pretty quick.