If the ultimate Rock 'n Roll experience is what you are looking for during your vacation, look no further than the Hard Rock Hotel Universal Orlando Amenities to meet all of these desires. The Orlando Hard Rock Hotel displays life stories and mementos of artists, past and present, so much information, you will feel as if you know them so much better after your stay. The art work is fantastic and is definitely Rock inspired. You will feel like picking up a guitar and writing your own lyrics by they time you leave because you will be so inspired by your stay.
View a full list of Hard Rock Hotel Accommodations, Amenities and Dining
Pool, Water Slide and Fun for all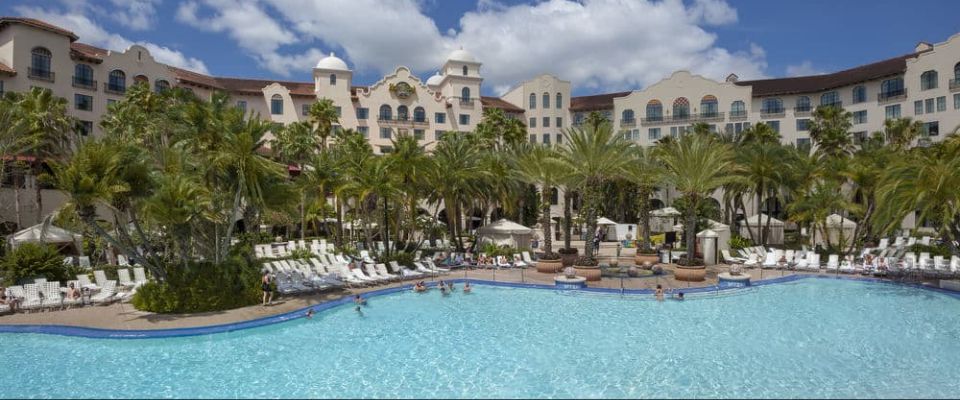 It will be hard to keep your kids away from the Swimming Pool after they have investigated outside and see how large and inviting it is. The younger ones will feel safe when entering using the Zero-Entry while the older kids (and probably the adults as well) will have a wonderful time going down the long 260 foot Water Slide and splashing in to the end section of the pool. Adults will also enjoy the hot soaking whirlpool nearby and can relax while the kids are off playing around the pool area.
---
Body Rock Fitness Center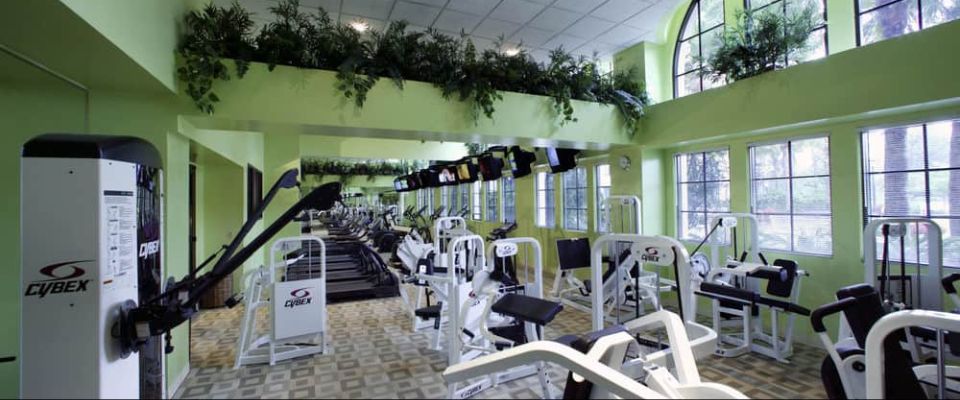 Get the best workout at the Body Rock Fitness Center with the most up to date Training Equipment and Cardio. Get a refreshing steam in one of the Steam Rooms or heat up in the Sauna.
---
Arcade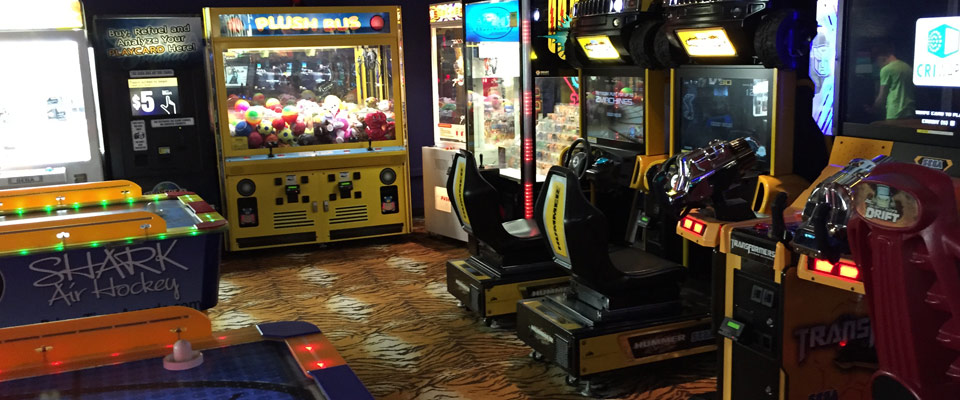 Open from 8am until midnight, stop by the Hard Rock Arcade and play some of the best games out today.
---
In-room Guitar Rockin' experience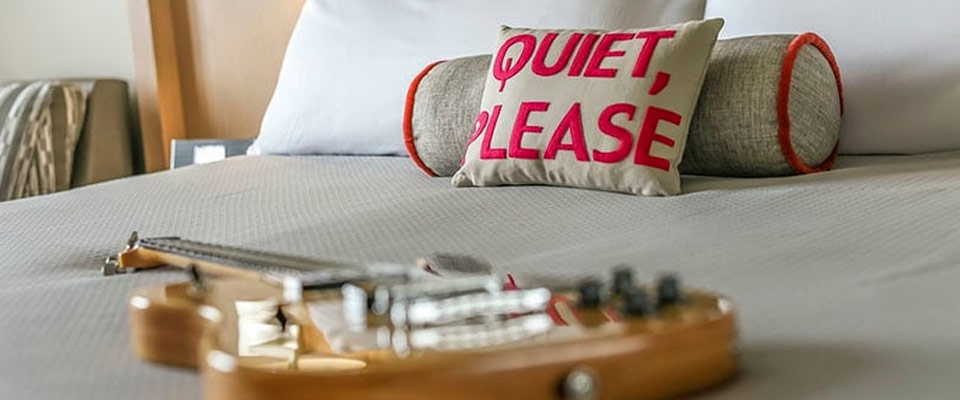 Have your very own Fender Guitar brought to your room or suite and rock out to your favorite hits. Where else can you have this done? You will get your very own amp and a set of headphones (of course) so you don't blow out your neighbors at all hours. A deposit is required but what a great feeling.
---
Walking and Jogging Paths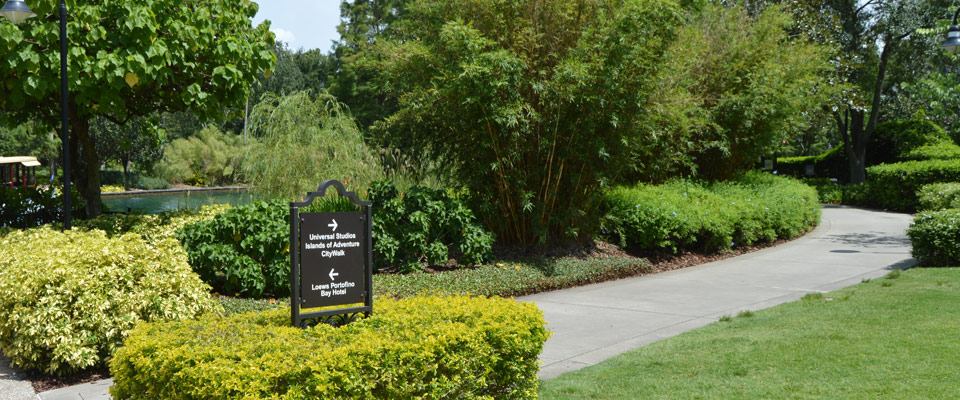 Take a leisurely walk through the resort or a jog for miles between the resorts and the Theme Parks. The Walking path travels through the Hard Rock Hotel Orlando property but also spans along the waterway between each of the other Universal resorts. This is a great way to take some time and scope out the sights in Universal Orlando.
---
Kids Camp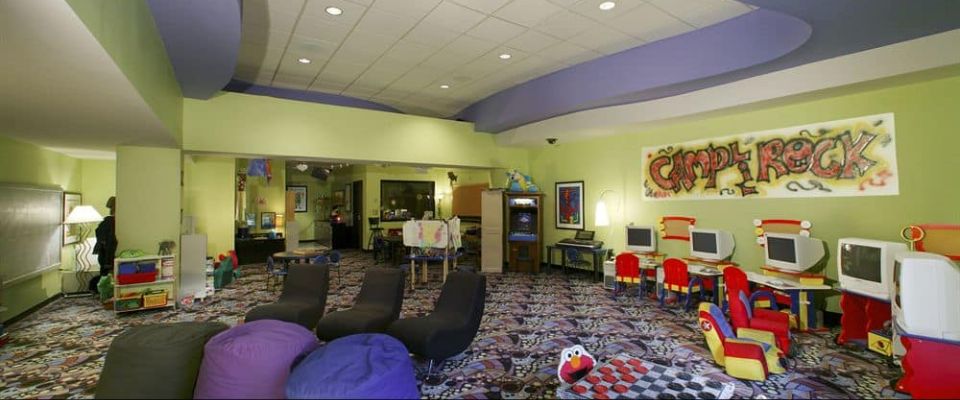 Do you need a little private time or just some special time alone? Consider the Hard Rock Hotel Orlando Kids camp where your child will have a supervised, amazing time away. They might like it so much that they want you to spend more time together. There is an additional hourly fee for this service.
---
Hard Rock Dining
Having on-site dining is a wonderful experience, especially when you have had a full day at the pool. The last thing you want to do is spend a lot of time getting ready and trying to find just the right place to eat. Not a problem at the Hard Rock Hotel, there are 3 main dining locations on site and if you are wanting to do something extra fun with the children, take them to the Emack & Bolio Ice Cream Parlor. They are going to love spending time at this part of the resort. If you can't find just what you are looking for on the property, climb aboard a water taxi to City Walk and enjoy one of the many dining pleasures that they have.