Christmas at Disney's Animal Kingdom Lodge Resort
Ready for something different at Christmas time in Disney World? Staying at the Disney Animal Kingdom Lodge is a real treat and at Christmas, the decorations come out and they are nothing like what you will find anywhere else on the Disney properties. All of the Christmas trees, ornaments and decorations are uniquely crafted to fit with the African theme of the Animal kingdom Resort. One of a kind, hand made animals and toys will amaze as you walk through the grand entrance but be on the lookout for something special as you walk around. Find all of the hidden Christmas treasures when you visit the Animal Kingdom Lodge.
Everything Christmas at the Animal Kingdom Resort
Christmas Trees
The largest Tree at the Animal Kingdom Lodge is located at the Jambo House 6-story lobby. This Christmas tree is huge with amazing African inspired hand-made ornaments adorning the entire tree. As you stand in the lobby, look around and you will see garland on many of the vertical posts and stretched along the handrails above linking to each of the floors.
Gift Shop
Be sure to make your way into the main gift shop off of the Lobby in the Jambo House as this is a main focal point at Christmas. The decorations are very special indeed.
Gingerbread House at the Animal Kingdom Lodge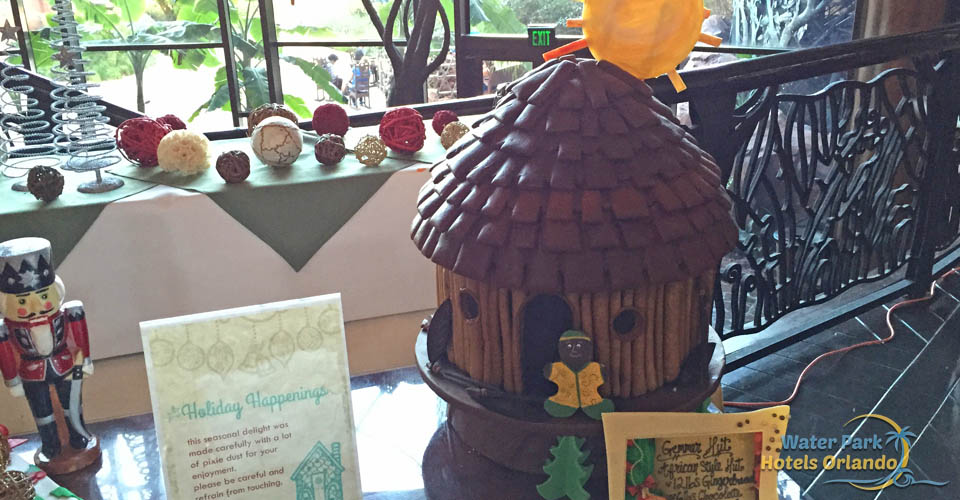 While you will find a unique Gingerbread design at the Animal Kingdom Lodge, it might not be what you would expect. At the other Disney World Deluxe Resorts you will find massive displays of Gingerbread but the Animal Kingdom Lodge has something much smaller. Check out the little hut put together on the table in the back of the Jambo House lobby.
RESERVATIONS
Disney Animal Kingdom Lodge