Dining at the Animal Kingdom Disney World Resort
As you sit down to have a meal at any of the Restaurants in the Animal Kingdom Resort, you will feel as if you have been whisked away to a faraway African adventure. Different dining experiences await at the two (2) different houses; Animal Kingdom Jambo House and the Animal Kingdom Kidani Village. At the Jambo House sit down and dine in style at Jiko or have a more casual experience with the Counter service offerings at The Mara. At the Kidani Village, pull up a chair for a real feast at Boma and experience an all you care to eat buffet filled with African delights.
List of Restaurants at the Animal Kingdom Resort in Disney World
Jiko - The Cooking Place (Jambo House)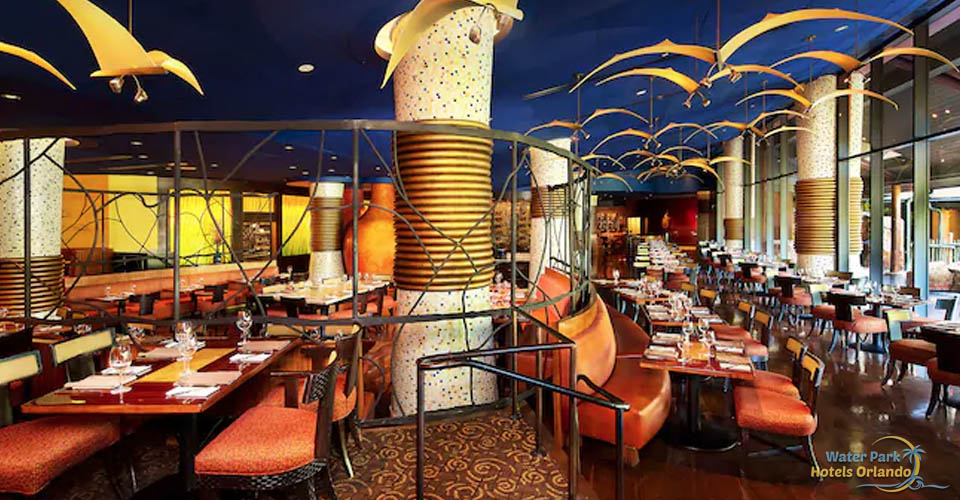 Great African, Indian and Mediterranean inspired dishes are prepared for Dinner each day at Jiko, located at the Animal Kingdom Jambo House section of the Animal Kingdom Lodge. Jiko is located downstairs and has great views of the resort. Each dish is prepared specially to bring out the flavors of far-reaching places and bring them to your plate. Each season, the menu and change with offerings of Steak, Chicken, Seafood and even Vegetarian and Vegan options.
Open from 5:00 PM to 9:30 PM
Reservations are recommended and can be made up to 180 early
Casual Attire
Table Service
Boma (Jambo House)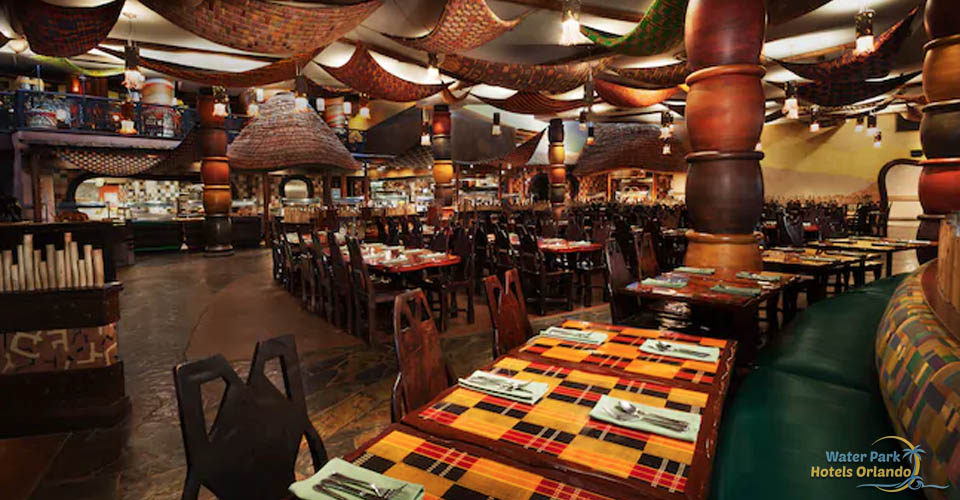 If you have never had African food before, a great place to start is the Boma Restaurant on the bottom floor of the Jambo House in the Animal Kingdom Lodge. Breakfast and Dinner are served in a buffet-style allowing for you to try a little bit of everything offered at one time. This table dining option is met with African colors and a thatch roof for an authentic feel of Africa.
Breakfast - Open from 7:30 AM to Noon
Dinner - Open from 5:00 PM to 9:30 PM
Casual
Table Service
Sanaa (Kidani Village)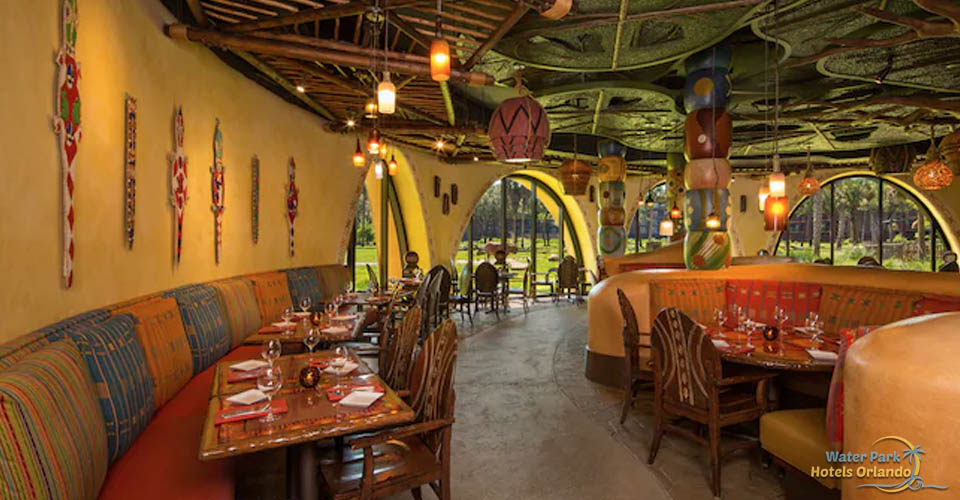 Dining throughout the day with Breakfast, Lunch and Dinner are supplied at the Sanaa restaurant located at the Kidani Village in Disney's Animal Kingdom Resort. The African painted chairs along with the beautifully crafted columns add life and color to this amazing dining experience. Pay close attention to the details in the room and also be sure to look up while dining. Trees with a full canopy cover the entire area. The food is fantastic with many different flavors to cover the different areas in East Africa.
Breakfast at Sanaa
Breakfast is served from 7 AM - 10 AM each morning and the restaurant changes from Table service to quick-service for this time of the day. Get your Sausage, Eggs and Bacon or grab something and head out on your adventure.
Breakfast - Open from 7:00 AM to 10:00 AM
Casual
Quick Service
Lunch & Dinner at Sanaa
The rest of the day, Sanaa is a Table Service restaurant serving East African cuisine with Indian flavor. Wonderfully prepared dishes are ready for order with options like Durban shrimp and other meats. A favorite to get you started might be the sampler to give you an overall taste of the flavors so you know what you will like through your stay. Kids will have plenty of options as well with burgers, pizza and chicken.
Lunch - Open from 11:30 AM to 3:00 PM
Dinner - Open from 5:00 PM to 9:30 PM
Casual
Table Service
Unique views of the Savanna
Dining while watching the animals pass by your window is a special event and tables by the windows can be reserved but be sure to get this set up as early as possible.
Dining with the Animal Specialists at Sanaa
Disney cast members are brought in from all over the world to give you insight and information you cannot get just anywhere. Sit down and have a meal with an African animal specialist during a 4-course lunch at Sanaa. These meals sell out quickly so get your reservation set up as soon as you book your stay.
Breakfast - Open from 7:00 AM to 10:00 AM
Casual
Quick Service
The Mara (Jambo House)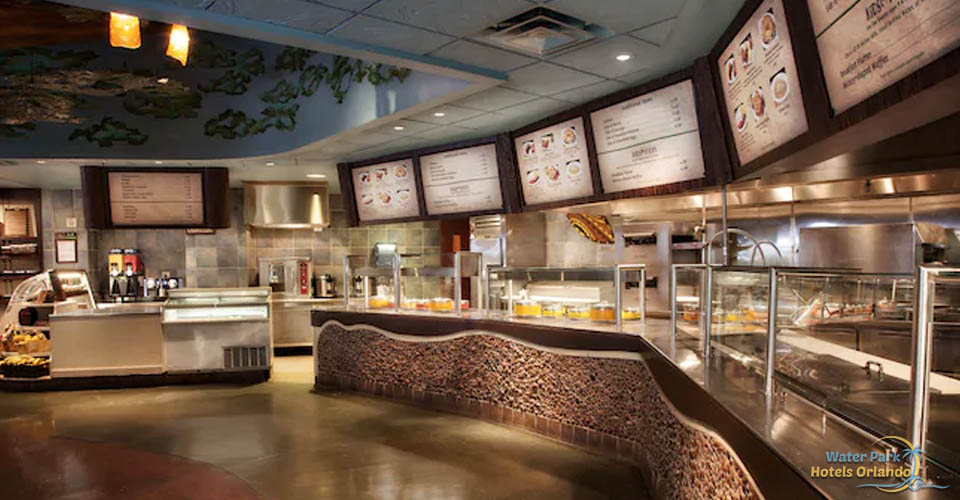 The Mara is a great setting with indoor and outdoor seating near the Animal Kingdom Uzima Pool at the Jambo House. Walk down the stairs or take the elevator to the Mara and enjoy some easy access dining options with burgers, flatbreads and half-chicken dinners. The desserts in the showcase all look appetizing and you might find it difficult to choose just one. Eating outside near the pool is a fun place to be.
Breakfast, Lunch and Dinner
Open from 7:00 AM to 1:30 AM
Casual
Quick Service
Maji Pool Bar (Samawati Pool - Kidani Village)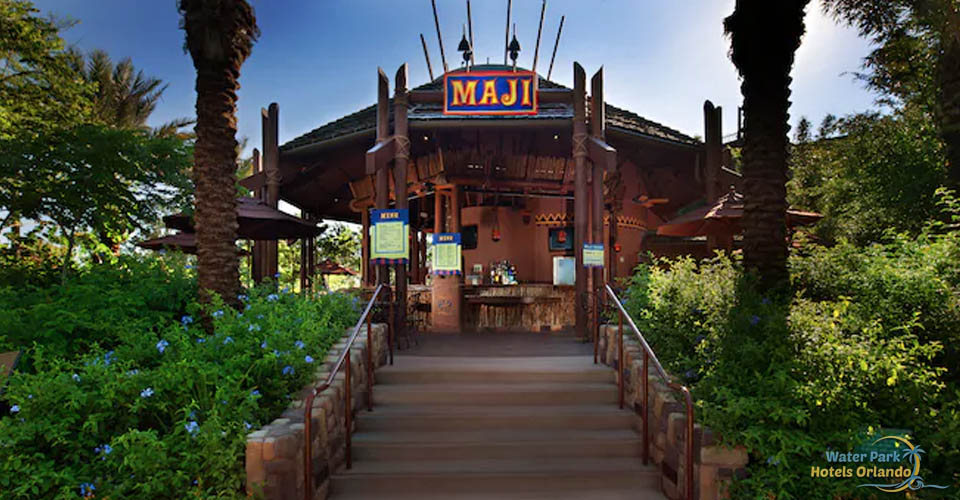 Spending a day at the Animal Kingdom Lodge Pools is a real treat and at the Sumawati Springs Pool, you will find a 128-foot water slide and kids splash park. Plenty to do for the entire day! What is also great is that the Pools at the Animal Kingdom Lodge Pools have a bar with great drinks for the adults as well as lunch options so you never have to lose your place beside the pool. So, sit back, relax and order what you want from the Maji Pool bar and let the kids have their fun.
Lunch and Dinner
Open from 11:00 AM to 10:00 PM
Casual
Quick Service
Uzima Springs Pool Bar (Jambo House)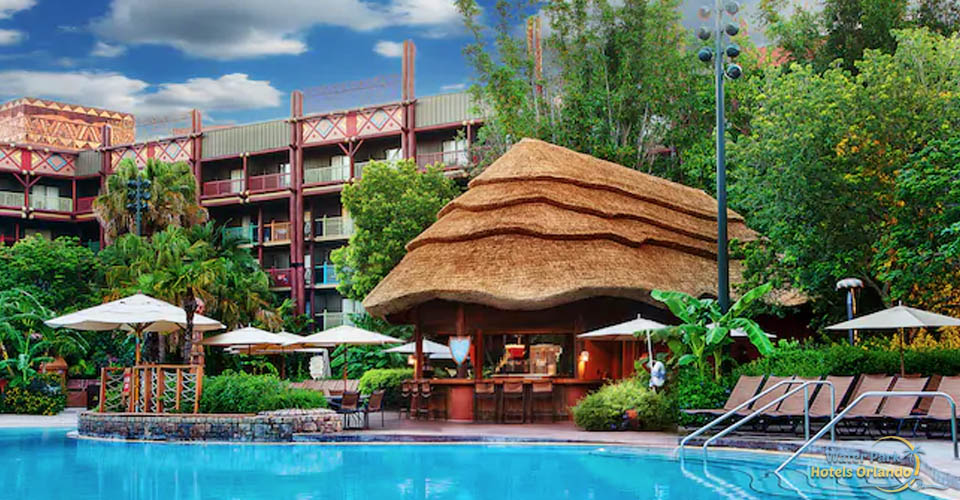 The thatch roof of the Uzima Springs Pool Bar really stands out as a beacon of refreshment at the Animal Kingdom Lodge Uzima Pool. Don't worry about losing your spot by the pool, just order your lunch and stay put for the day in the sun and relax while the little ones play in the pool and water slide.
Lunch and Dinner
Open from 11:00 AM to 9:00 PM
Casual
Quick Service
RESERVATIONS
Disney Animal Kingdom Lodge