Disney Blizzard Beach Wave Pool Melt Away Bay
Almost everyone will spend some of their time at the Disney Blizzard Beach Melt Away Bay Wave Pool. Melt Away Bay is not only a central point at Blizzard Beach, it is a very relaxing place to sit while watching the kids play.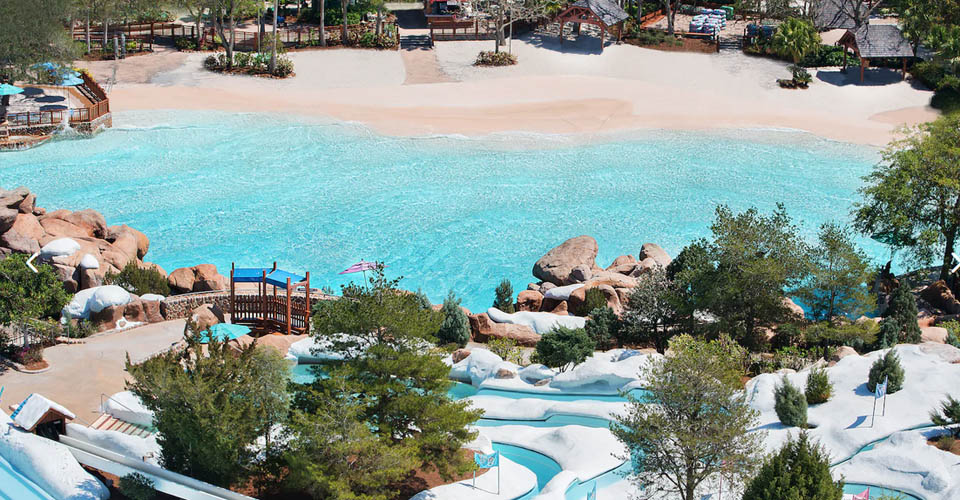 Melt Away Bay has a big Lagoon area that is designed like a beach with Zero-Entry access to the full water area. Once you get out to the deeper parts, the anticipation grows as you wait for the swell of water to build into a large wave and carry you closer to the shallow section of the pool. Melt Away bay is not what most people would consider a typical wave pool. Melt Away Bay is a full 1-acre wave pool that works a little differently than other wave pools you might have experienced. There is not the typical settling of the water, waiting for the Big One to hit. What you will get is a constant, more gentle, bobbing wave motion that keeps you moving up and down the whole time you are in the water.
If you are wanting the most intense experience available at this park, make your way out to the walls closest to where the wave motion is created. This will draw you back and forth with the full power that is used to create the waves. Don't get me wrong, this pool is a lot of fun and really makes it much easier for the smaller kids to relax and enjoy their surroundings. Just don't expect it to knock you off of your feet.
Looking for a bigger Wave Pool?
If one of your biggest pleasures in visiting a Water Park is fighting against some really big waves, you really should consider visiting the Wave Pool at Disney Typhoon Lagoon. This unbelievable wave pool was created as a one of a kind attraction back in the '80s and is still the largest of its kind in North America. What makes it so unique is the ability to make waves that are designed to curl just like the ones you see in the ocean. In fact, looking at the waves crash on the beach, you would swear they were not man-made. When you are out in the pool, you will be waiting for waves up to 6 feet in size. This is big enough to ride all the way in to the bank. The other crazy feature about this Wave Pool is, you can sign up for Surfing lessons with a Professional Surf Instructor. All of this happens before the park opens and there are only a limited number of slots available so you will want to reserve early if you are interested in Surfing. There are many attractions at Blizzard Beach that have Typhoon Lagoon beat but in my opinion, the Wave Pool is not one of them.
Blizzard Beach Melt Away Bay Wave Pool Information
One Full Acre of Water Bobbing Fun
Beautiful Rock Wall Enclosures
500 Feet Wide and about 450 Feet Long
Gentle Waves Continually Created in a Bobbing Motion
More Intensity can be felt further out where the Waves are created
Fed by the Melting Snow off of Mount Gushmore (as legend tells)
Zero Depth Entry points
Large Relaxing Beach Area with plenty of Shade Trees
Refreshing Waterfalls along the rock edges
Lifeguards stationed at multiple vantage points for safety
This Gentle rolling Wave Pool at Blizzard Beach is a great treat for all that visit. It creates waves that are fun enough to enjoy without knocking you over with really large waves. It might not be quite as fun for the adults and older kids but it will be well suited for all of the younger kids at the park.