Disney Riviera European-Style Resort Studios
Elegant and refined, the Disney Riviera Resort Studio is perfect for guests who are more on the go. The Deluxe Studio is able to accommodate up to five (5) guests with a pull-down sleeper sofa murphy style bed and a single pull-down bed. A kitchenette provides a space for putting together small items for breakfast and the views can be wonderful, overlooking the grounds, pool, or even the Lake. The Tower Studio is a very unique space indeed designed for the light traveler. Tower Studio's have space for 2 guests and the bathroom space is nearly as large as the living/sleeping space. Take a look and see if one of these more compact spaces is a good fit for your next trip.
Studios at the Disney Riviera Resort
Deluxe Studio
Open the door to your large, Deluxe Studio at the Disney Riviera Resort and be prepared for a very comfortable stay. As you enter, to your left you will find the Bath with a large sink and tub/shower unit. The kitchenette offers an area with a counter, coffee maker, small refrigerator, and a microwave. Elegant design throughout, with crown molding to frame in the flat ceiling and gorgeous carpeting to accent all of the furniture, a comfortable night sleep awaits. A special designed, pull-down sofa, leaves the old sleeper sofa style behind giving you a much more comfortable night sleep for all 5 guests. Views of the Courtyard, Lake, Pool, and even the Disney Skyliner are available to some of the Deluxe Studios.
Deluxe Studio Amenities:
Size: 423 sq ft
Sleeps: 5 Guests
Views: Courtyard, Lake, Pool and Disney Skyliner
Internet: WiFi
Main Space: 1 QueenBed, Pull-down Murphy Style Bed integrated with the sofa, Single wall pull-down bed, Flat Screen TV, Desk, and seating area
Living Room:Murphy Bed Sofa, Single pull down bed, Entertainment center, Chair
Kitchenette: Counter space, sink, small refrigerator, microwave, coffee maker
Bathroom: Tub/Shower unit, Sink, Closet
Additional Amenities: Hair Dryer, Iron and Ironing Board
Laundry: Not available in the Studio Villas
TV's: 1 Flat Screen
Outdoor Space: Balcony with table and 2 chairs
Tower Studio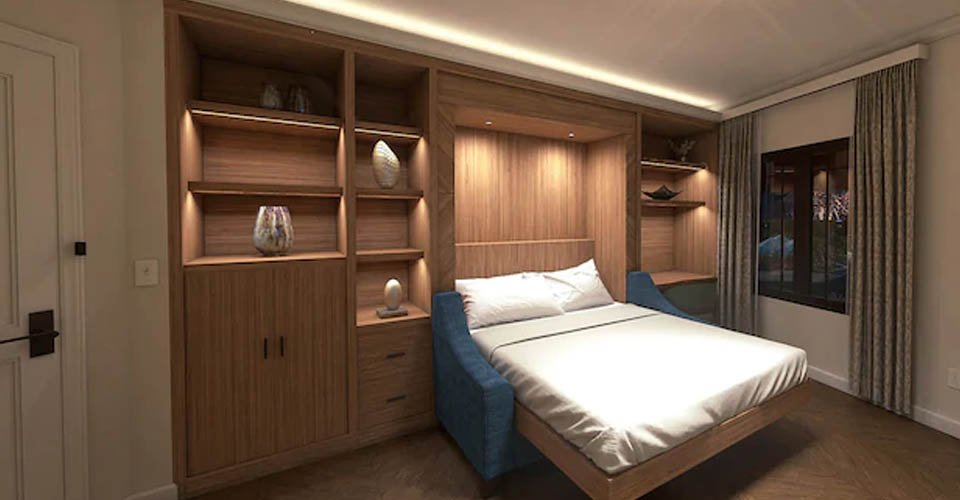 A different type of style and space for Disney is waiting for you in the Tower Studio at the Disney Riviera Resort. As you enter the main space, you are presented with a clean, comfortable area with a Sofa and spaces along the wall to place your things. The sofa is very special and is the new type of "Sleeper Sofa" coming to Disney resorts. The sofa does not open, it instead folds down when you pull the Murphy Bed down on the wall. This will give you the most comfortable night's sleep and allow you to have extra space during the day when you are not sleeping. The bathroom is almost as large as your sleeping area.
Tower Studio Amenities:
Size: 255 sq ft
Sleeps: 2 Guests
Views: Landscaping and Parking
Internet: WiFi
Main Space: 1Queen Pull-down Murphy Style Bed integrated with the sofa, Flat Screen TV, Desk, and seating area
Bathroom: Tub/Shower unit, Sink, Closet
Additional Amenities: Hair Dryer, Iron and Ironing Board
Laundry: Not available in the Studio Villas
TV's: 1 Flat Screen
Outdoor Space: no Outside spaces
RESERVATIONS
Disney Riviera Resort