What is Flamingo Crossings Town Center?
Flamingo Crossings Town Center is a Disney-owned area providing Hotels, Shopping, and Dining west of the Disney World bubble. Situated about a mile outside of the West entrance to Disney World, Flamingo Crossings is a great place to stay if you want to get outside of the chaos for a while. With multiple hotels offering standard rooms and suites, as well as a shopping center with a Target, Walgreens, and Starbucks within walking distance, Flamingo Crossings will be an appealing place to stay for many guests.
Why stay near the Flamingo Crossings Town Center?
Flamingo Crossings Town Center has been given the title of "Second Springs" however, there is a big difference between Disney Springs and this area. Disney Springs is designed as a tourist area with shops, dining, and places to stay in the heart of Disney World. Transportation is provided for guests of all Disney Resorts and visitors to the parks to Disney Springs. Flamingo Crossings is a place to stay outside of the chaotic vibe of Disney World but still be close enough to take a short drive to the parks and Disney Springs. Shopping and Dining are more like a beautiful campus providing the needs of those living in the area. While Disney Springs is an amazing place to visit, Flamingo Crossings is a wonderful place to consider if you are looking for some peace at the end (or start) of your days spent at the Disney Parks.
Reasons you might consider staying at Flamingo Crossings:
Get away from Disney World crowds
About a mile from the West entrance to Disney World
Walking distance to Shopping and Groceries
Starbucks, Five Guys, & Dominos closeby
What is Flamingo Crossings Village?
Passing by the Flamingo Crossings Village, you might want to stay in this community yourself. But, the Flamingo Crossings Village has been created as a place for people in the Disney Internship, Dinsey College, Disney International, and Disney Culinary programs. Staying at the Flamingo Crossings is like being in a huge Disney Resort with transportation provided for all who are working at Disney World.
What Hotels are available at Flamingo Crossings Town Center
There are multiple Hotels at the Flamingo Crossings Town Center. Offering standard rooms and suites up to 2 Bedrooms, there is a place to accommodate any size family for group getaway. Some of the Hotels offer great amenities like; free breakfast, wifi, parking (even some with a parking garage), and outdoor activities.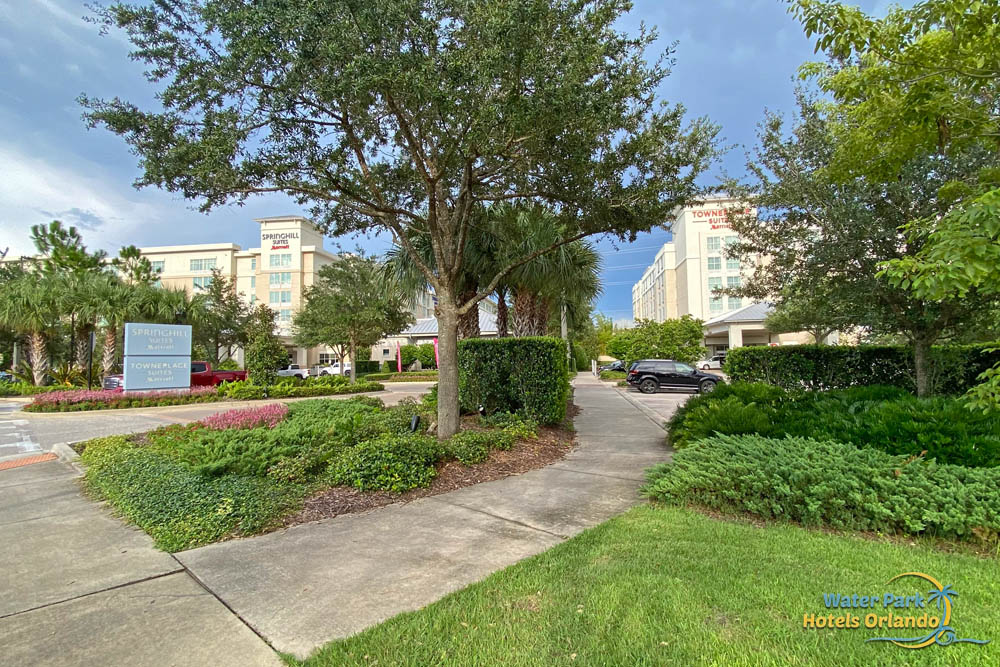 The pools are large areas and are a wonderful place to relax in the Florida sun while getting some downtime and peace from your typical Disney World crowds. Take a look at the Hotels at Flamingo Crossing and see if one fits your needs.
Flamingo Crossings Hotels:
Many of the guests staying outside of Disney World are looking for great amenities and savings along with the ability to get away from the crowds. Staying at one of the Hotels at Flamingo Crossings Town Center in Orlando can provide you with some of these options. With so many Hotels available, just outside of the Disney World west gate, the choice of a standard hotel room or 1 to 2 Bedroom Suite opens up a door with many possibilities. Take a look at each one of these places to stay and see if Flamingo Crossings is a good fit.
How far is Flamingo Crossings from Disney World?
It is great to know how far you are from the Disney Theme Parks, but, you might also want to travel out further and go to SeaWorld or Universal Orlando. Disney Epcot, Hollywood Studios and Animal Kingdom are similar in driving distance from the Flamingo Crossing Town Center. Since all of the Hotels and Flamingo Crossing Village are within this area, the distance will vary slightly but will be close to the numbers shown in this list. This can also vary depending on the path you take to each location.
Distance to Local Attractions:
Disney Tickets: 10.7

mi

Disney Springs: 6.7

mi

SeaWorld: 13.8

mi

Aquatica: 15.5

mi

Blizzard Beach: 3.7

mi

Typhoon Lagoon: 6.9

mi

Magic Kingdom: 6.4

mi

Epcot: 5.4

mi

Animal Kingdom: 6.2

mi

Hollywood Studios: 7.1

mi

Universal Studios: 27.7

mi

Islands Adventure: 27.7

mi
What Stores are at Flamingo Crossing?
As of the release of this article (in October of 2022), there are a few primary stores at Flamingo Crossing Town Center. Target is the staple to the group offering all of your grocery needs and is within walking distance from the Hotels at Flamingo Crossings.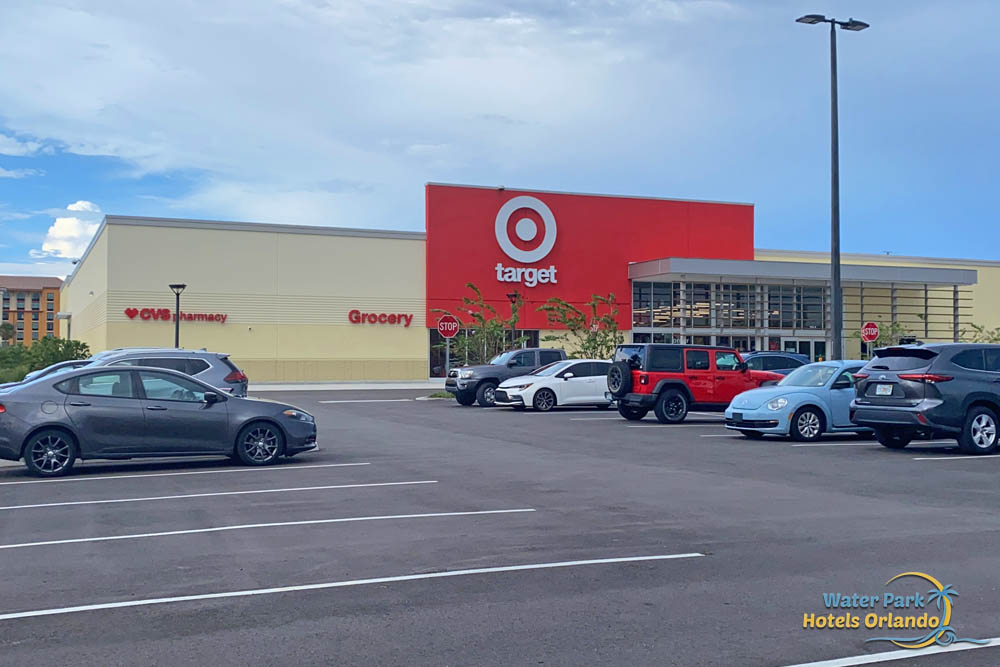 As you look at the Target store, it is easy to see that this is not a SuperTarget. Target in Flamingo Crossing is more like a Walmart Grocery Store. It is very convenient to grab groceries and take them back to your suite, especially if you have a suite with a full kitchen.
Across the parking lot from Target, on the corner of Hartzog Road and Western Way, is a Walgreens Pharmacy. Another great, money-saving store, just down from Target, is a Five Below.
Restaurants at Flamingo Crossing
Flamingo Crossings is still in the process of being built but as of October 2022, there are a number of restaurants available. Having restaurants near the hotel you are visiting is a huge benefit. Walking across the street to get something to eat is a welcome treat.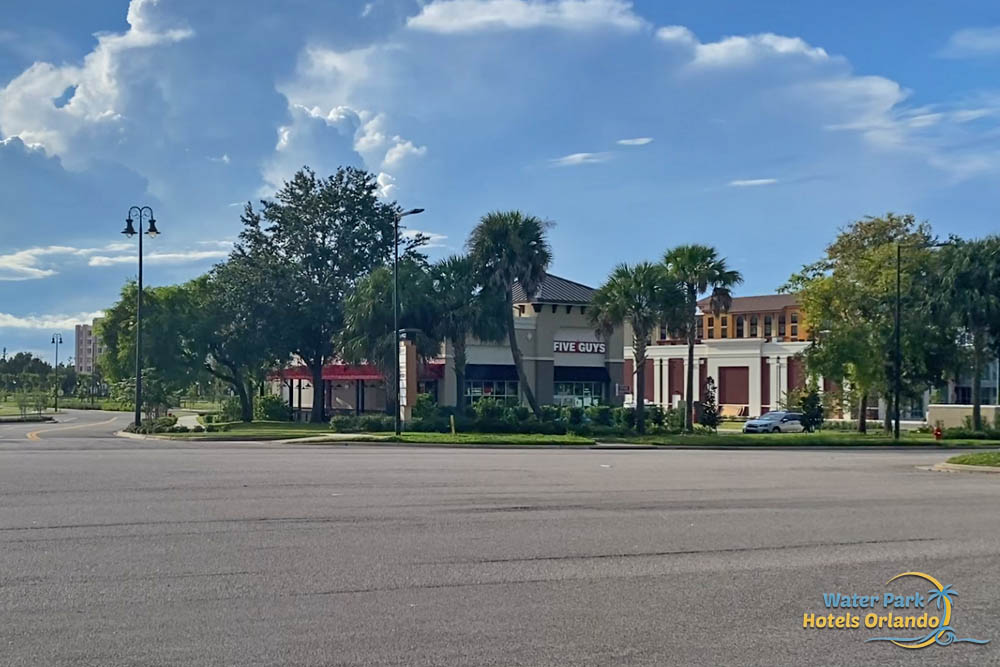 Here is a list of restaurants so far:
Dominos Pizza
Firehouse Subs
Five Guys
Pieology Piza
Starbucks
Google Map of Flamingo CrossingsFlamingo Crossings