Home2 Suites Hilton Orlando Flamingo Crossing Rooms
When you look at the Home2 Suites Hilton Orlando Flamingo Crossing Rooms, you realize that they are all suites. Even the Studio suite is a really large size space. All of the suites have a really clean, crisp feel. They also come with a kitchenette with a dishwasher, microwave, sink, refrigerator, counter space, and dishware. One thing the kitchenette is missing is an oven or a cooktop. While that would be very nice for cooking meals, it is wonderful to have this space for warming up food or having a simple breakfast.
Studio Suite with 1 King Bed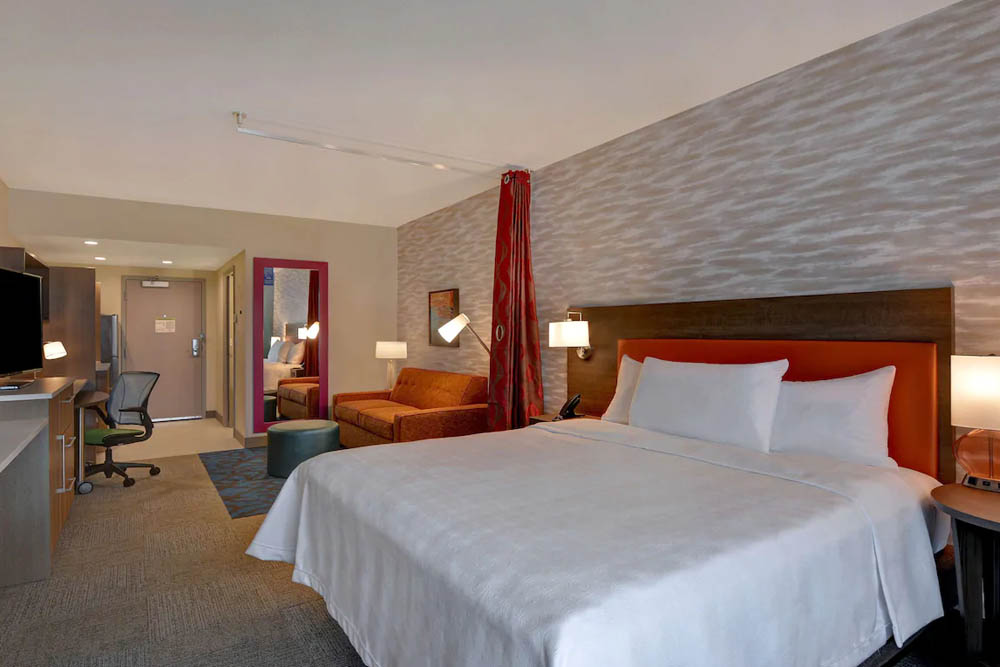 Are you looking for the least expensive stay at the Home2 Suites in Flamingo Crossing? That would be the Studio Suite. Still, the Studio Suite has most of the amenities guests need for a trip. A king bed is comfortable for 2 and the sleeper sofa adds enough space to sleep up to 4 guests. Having a kitchenette in this space makes the studio a great deal when visiting Orlando.
Studio Suite with 2 Queen Beds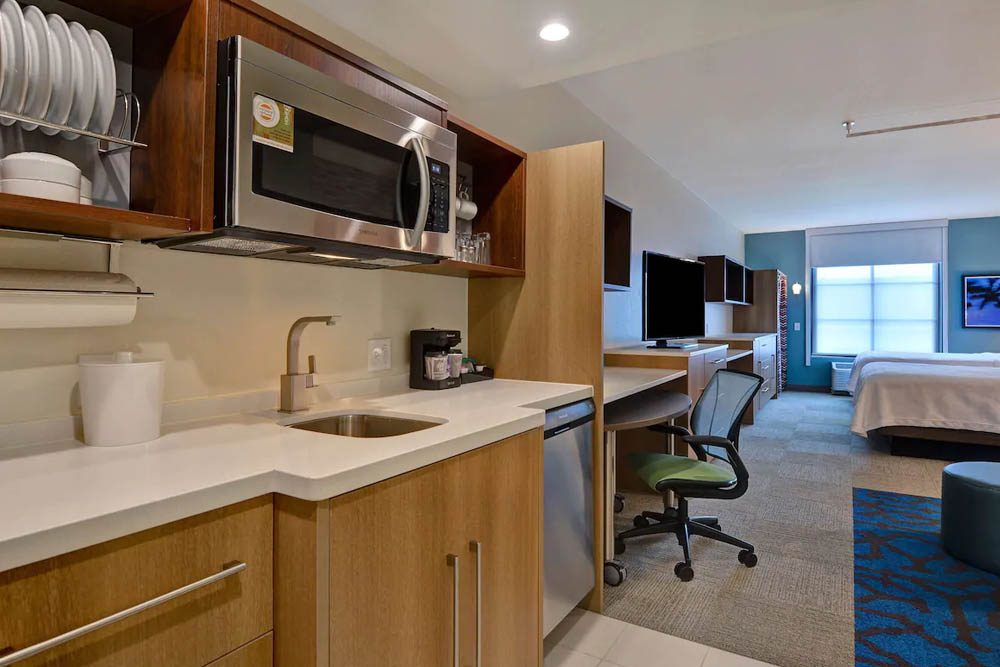 Staying in the Studio Suite with 2 Queen Beds can be very nice when you need additional sleeping space. In fact, this room is great for sleeping 4 guests comfortably having 2 separate beds. If you need to sleep 6, there is also a sleeper sofa in the room. This is also nice if you just want to sit in your living space and watch a movie together.
1 Bedroom Suite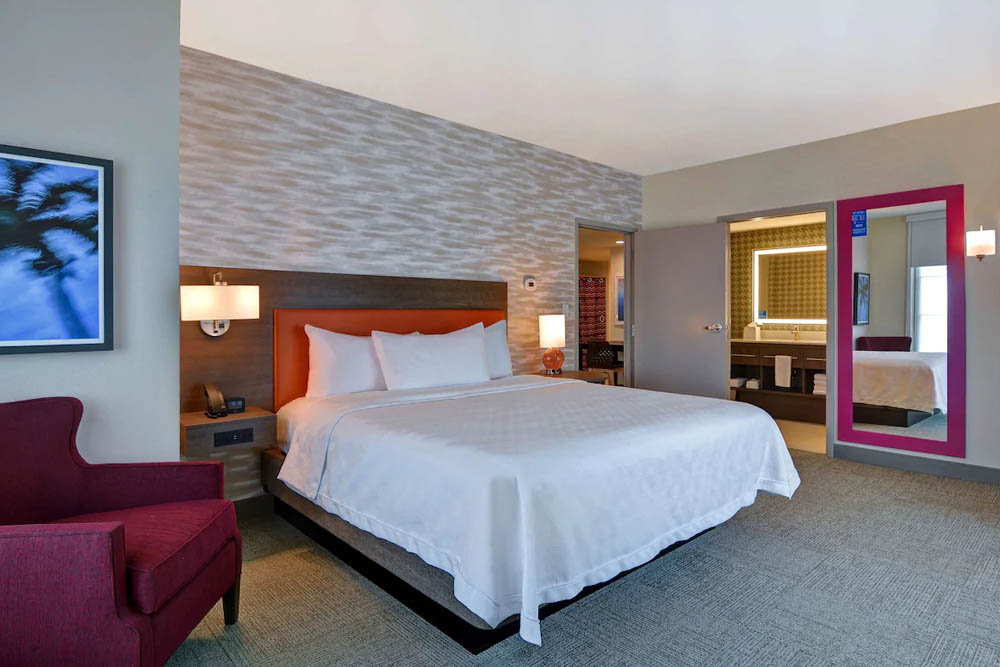 Privacy is a good reason to book the 1 Bedroom Suite at the Home2 Suites in Flamingo Crossing. Once you move away from the Studio Suite, a master bedroom is added. The Master with a comfy King bed, chair, and a flat-screen TV is a great way to finish out the evening. Traveling with kids is much more satisfying when you can take a break at the end of the day and each have your own space.
2 Bedroom Suite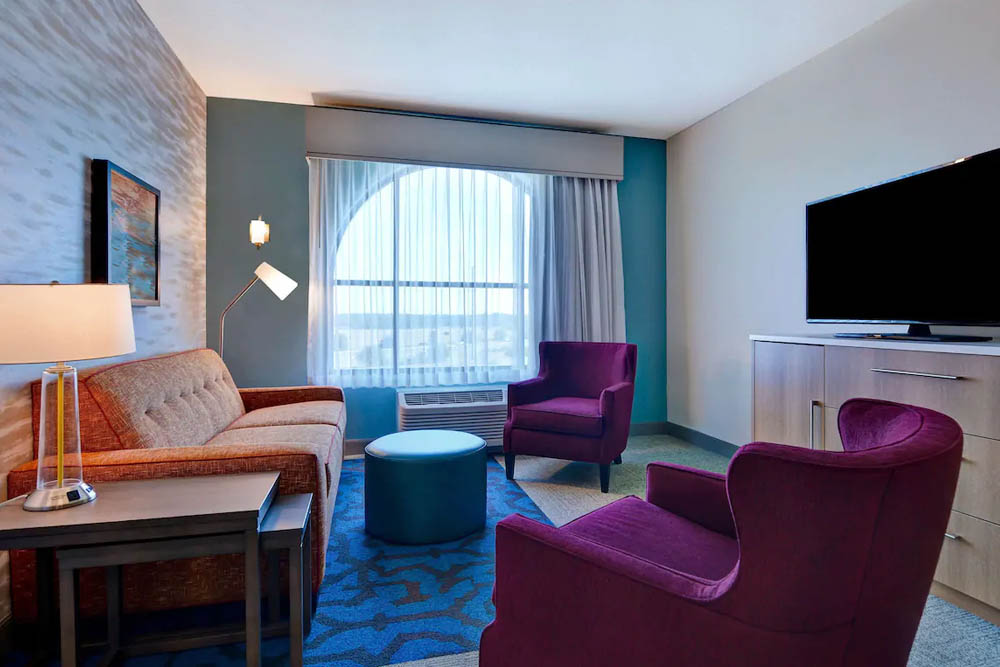 Sleeping 6 guests is much easier and give everyone much more privacy in the 2 bedroom suite. The master bedroom comes with a King bed and the 2nd bedroom has a queen. The additional sleeping space is made up in the living room with a sleeper sofa.
RESERVATIONS
Home2 Suites Flamingo Crossing