Some Peace and Quiet – Orlando Hotels with an Adult-only Pool
Let's face it, Orlando might not be the first place you think of if you are heading out on a Romantic adventure. However, there are many people who enjoy Disney World, Universal Orlando or many of the other attractions which do not have a family. That being the case, it could be nice to be able to go back to your hotel at night and relax around the Pool without 50 kids yelling, screaming and splashing around you. This is why you need to know, what are the Best Hotels in Orlando with an adult only pool?
See the Full list of Orlando Resorts with a Adult Only Pool now!
Fun when you want it
Whenever you want to get involved in more action and adventure, remember you are steps away from joining in a more playful area at most of the resorts that offer an Adults-only pool option.
Five (5) Star Resort with Adult only Pool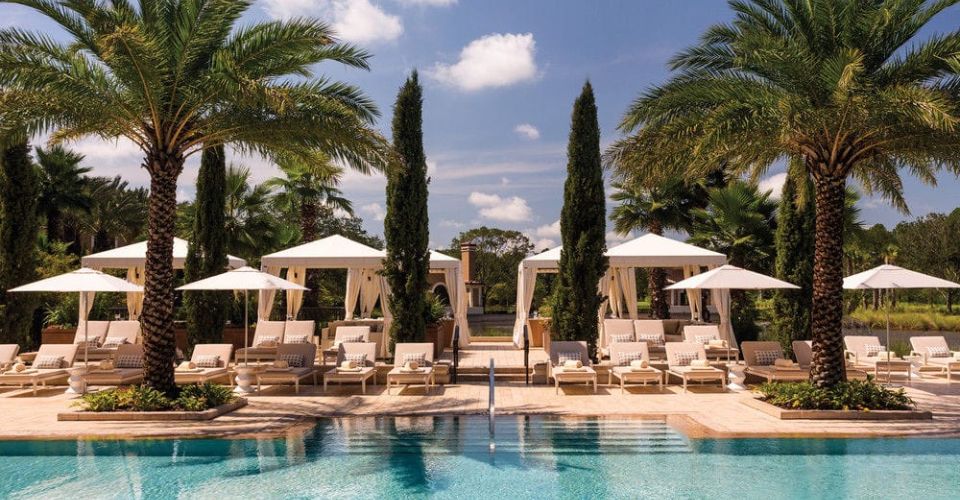 Elegance and Exclusivity! That is what comes to mind when you lounge by The Oasis, Adults-Only Pool. Surrounded by comfortable, upgraded lounge chairs and Cabanas, take this time to loosen up, unwind and collect yourself without the interruption of kids running and playing all around you. Sink deep into the more private whirlpool and have an adult beverage to enjoy.
Kids Camp at Four Seasons Orlando
Even if you have kids you can get the staff at the Four Seasons to take them off your hands for a while at the Complimentary Kids Camp. One of the perks of staying at this 5-star resort in Orlando is being able to use the camp for children ages 4-12. Kids will love it, and it gives you the ability to get away to this wonderful adults only spot without any guilt because trust me, your kids will not want to leave when you pick them up from camp.
Cabanas at the Four Seasons Adult Pool
You might as well live it up for the time you are away, and one way to do this is to rent one of the full-services Cabanas for the day. Cabanas are limited, be sure to get yours reserved as soon as you can.
Are you ready to get your Four Seasons Orlando Resort with Adult Only Pool Booked?
Sophisticated South Beach Adult Pool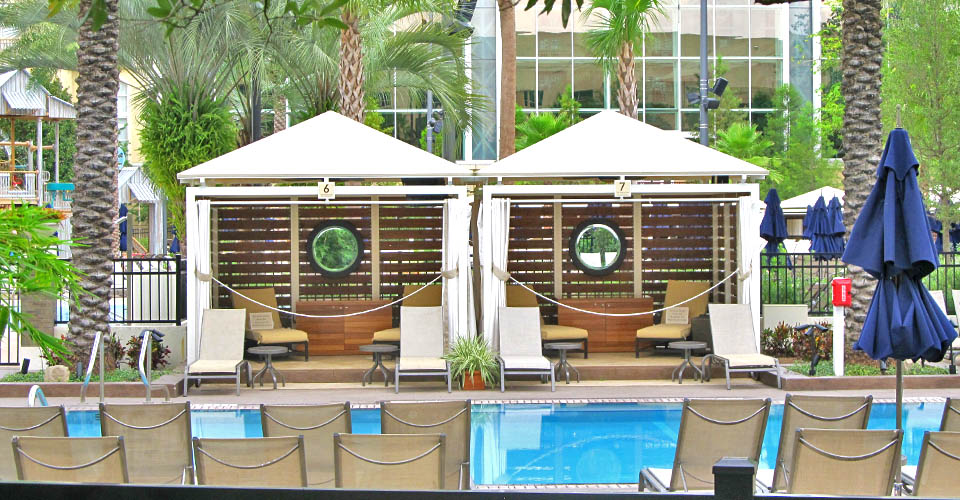 Like walking down the boardwalk at South Beach, the towering Palm Trees line the entire Adult Pool at the Gaylord Palms Resort in Orlando. Plenty of Lounge chairs can be found along all edges of the pool and multiple umbrellas are available for shade when you want it. No kids here, you must be at least 18 years old to gain access to the South Beach Pool.
Cabanas at the Gaylord Palms Adult Pool
A Few Cabanas are located at the South Beach Adult Pool but they are limited. Each Cabana is private and offers you the most comfort an convenience while you lay by the pool.
Get on the move and Book your Gaylord Palms Adventure with an Adult Pool.
Hillside Adult Pool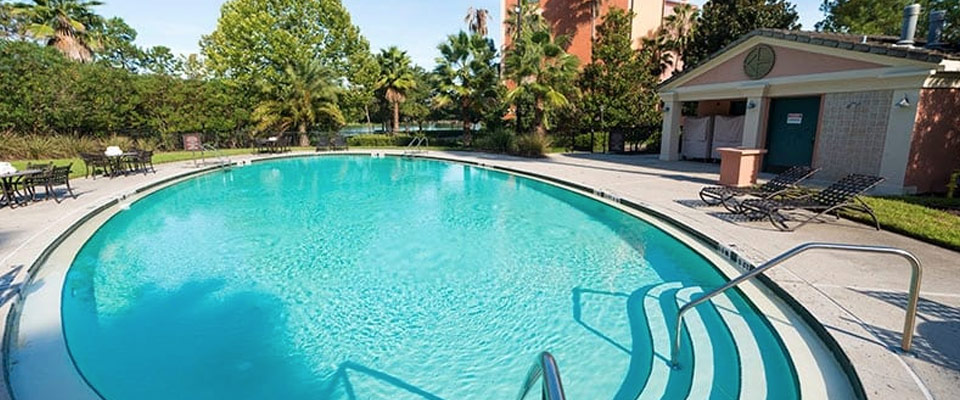 The Loews Portofino Bay Hotel is the only Universal Orlando Family Resort with an Adult pool. You can almost pass off the Villa pool as an adult pool because it is generally very quiet and not many kids are there because it does not have any fun Water Park features like the family pool. For a true Adults-only pool, head to the far end of the resort, away from everything else and jump in the Hillside Pool. No one under 18 is allowed in this area.
Take a closer look at the Universal Orlando Portofino Bay Resort with an Adult Pool.
Private Cabanas and a Huge Hot Tub – All for the Adults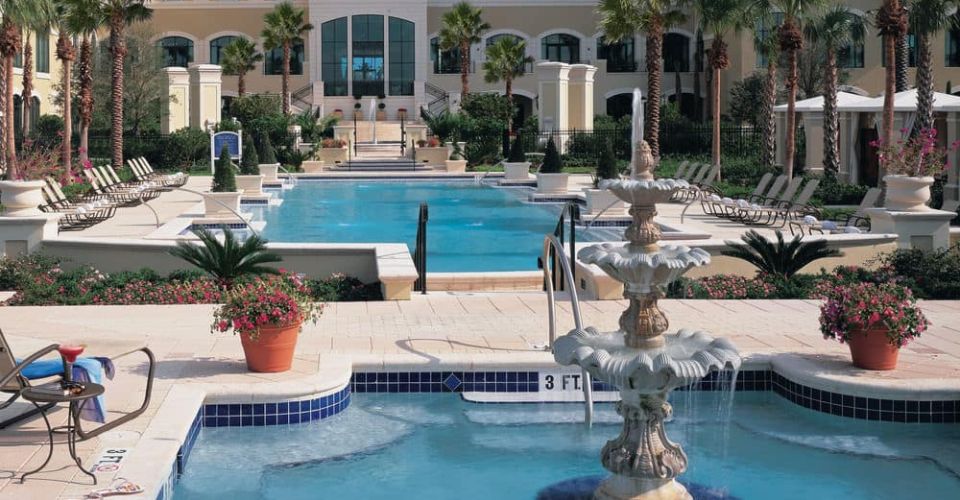 Lined with 8 Private Cabanas, the Adults-only pool at the Omni Orlando at Championsgate is the perfect getaway for couples who want some special time alone. Having only 8 Cabanas, you might want to book yours early to get the pampering you want on this trip. At the far end of the pool, enjoy a large Jacuzzi large enough for many guests. This area is only available to guests 18 and older.
Take a closer look at the ChampionsGate Omni Orlando with an Adult Pool.
Private Cabanas and a Huge Hot Tub – All for the Adults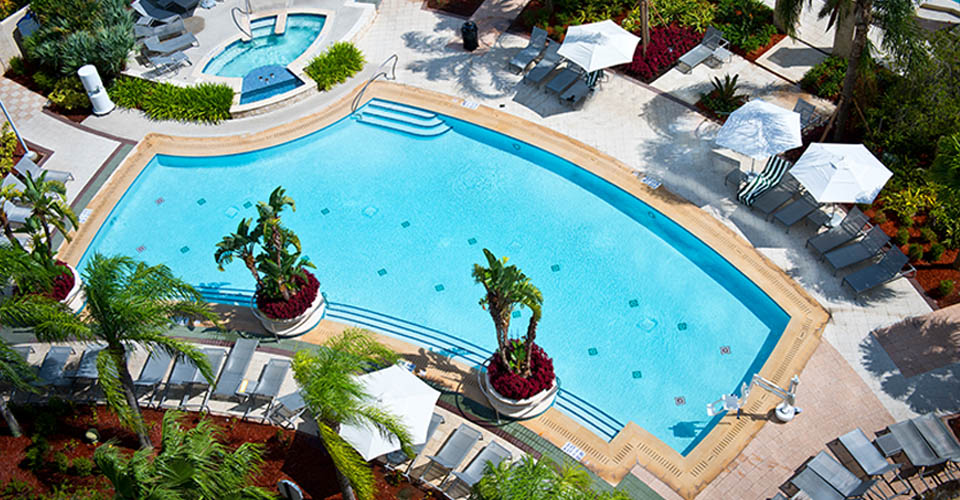 Separated from the other family pool locations, the Adults-only pool at the Hilton Orlando on Destination Parkway welcomes guests 18 years and older. Kids are not allowed in this pool area which makes a quiet space for better relaxation. Step into the Hot Tub and melt away your normal daily cares. It is time for something special just for you.
Take a closer look at the Orlando Hilton at Destination Parkway with an Adult Pool.
All Orlando Resorts with a Adult only pool