We all know that a family vacation is time for "The Family" to enjoy things together but there might be a time on your trip when everyone would like a little time to themselves. For these times, check out Camp Hyatt, the Hyatt Regency Grand Cypress Kids Club. You might have a difficult time leaving your kids to go out on that special Romantic dinner together, but know that they are going to be well taken care of. In fact, you might find that they do not want to go with you when you come to pick them up because of all the fun and activities they will have explored.
Camp Hyatt Important Information:
Times: Half-Day, Full-Day and Evenings
Dates: From Labor Day until Memorial Day Camp Hyatt runs 7 days a week. All other times of the year it is only available on the weekends.
Ages: 3 – 12 years of age – must be bathroom independent
Reservations: Reservations have to be made at least 24 hours in advance (Dial Ext. 4440 from your room phone)
Cancellation: If you need to cancel services after they have been reserved, please do so at least 4 hours before drop off time. If you do not cancel in time, you will incur a 50% charge for the time of your reservation.
Activities and Fun just for Kids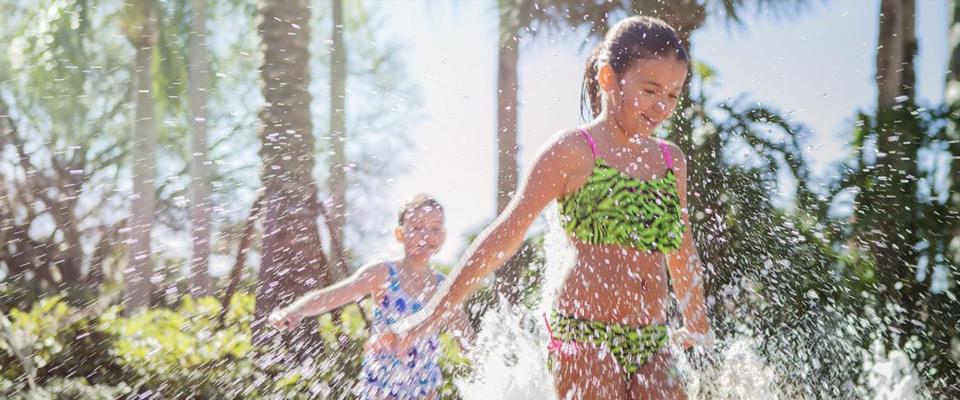 If you take your Kids to Camp Hyatt during the day, they will have so much to do. If the weather is nice, one of the favorites is spending time at the Huge Lagoon Pool, where your kids will splash through the many pop-up fountains. There is also a large, 124-foot water slide at the Lagoon Pool with fun for kids taller than 48″. Beach Games are a favorite with the kids and many of your children will want to go back just to enjoy time with all of the friends they have made.
List of Activities at Camp Hyatt:
Boats
Bikes
Rock Climbing
Crafts
Scavenger Hunt
Pool and Games on the Beach
Nature Trail Walks
Safe Kids at Camp Hyatt
The list goes on and on and the staff playing and working with your child through each day is well trained to make sure they are always safe but having fun.
Babysitting
Since Camp Hyatt is involved in activities designed for Kids 3 – 12 years in age, this is not the place to leave your Baby or Toddler. This will require a higher level of training from a sitting service. The Hyatt Resort Grand Cypress does offer Childcare Services so be sure to check with Guest Services to get this arranged if it is needed.
RESERVATIONS
Hyatt Regency Grand Cypress