Villas at One Orbit
The large and spacious Orbit One Vacation Villas 2 Bedroom Villa can easily accommodate up to 6 guests with 2 in the Master Bedroom, 2 in the Second Room, and 2 on the Sleeper Sofa in the Living room. It is so much nicer staying at a property with your own private bedroom and bath when you are away from home. It makes any time away more pleasant. Each Villa also has a fully equipped kitchen, dining area, and laundry facilities.
Villa Amenities, Layouts and Floorplans
Two Bedroom Villa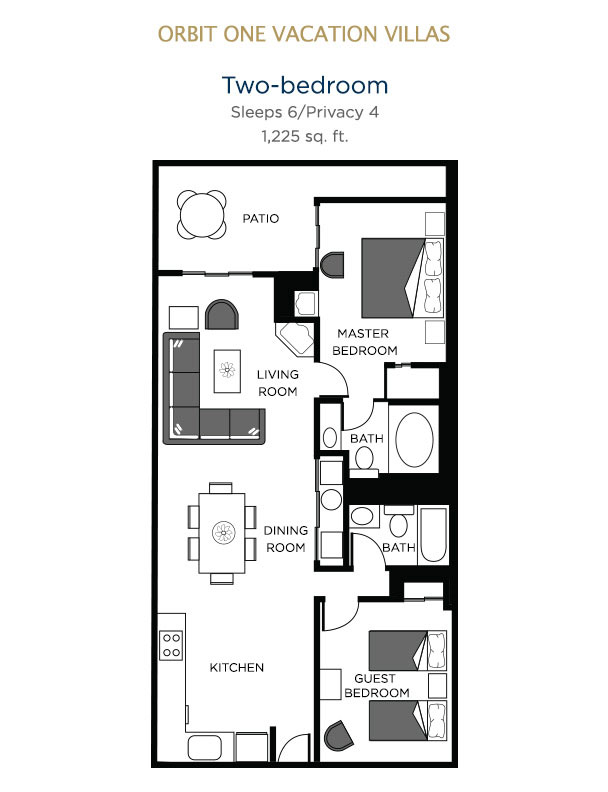 You won't be bumping into each other in this big, 1,225 square foot villa. The Master Bedroom has a King Size Bed and its own Flat Screen TV. Opening from the Master Bedroom is the Master Bathroom with a wonderful garden tub. This also makes this a romantic destination if you are going on that type of trip. The second bedroom has 2 twin beds and comfortably sleeps 2 more. The full Kitchen has large appliances and plenty of counter space. All of your dish and cookware is provided to make that perfect meal or just to grab breakfast as you walk out the door. The Dining Room offers seating for 6 and separates the kitchen from the large living space. Each unit even has its own balcony to overlook a different section of the resort.
Special Note:
If you have any difficulties climbing stairs, be sure to ask for a ground floor unit. There are not any elevators at the Orbit One Vacation Villas 2 Bedroom Villa buildings.
---
Full Size Kitchens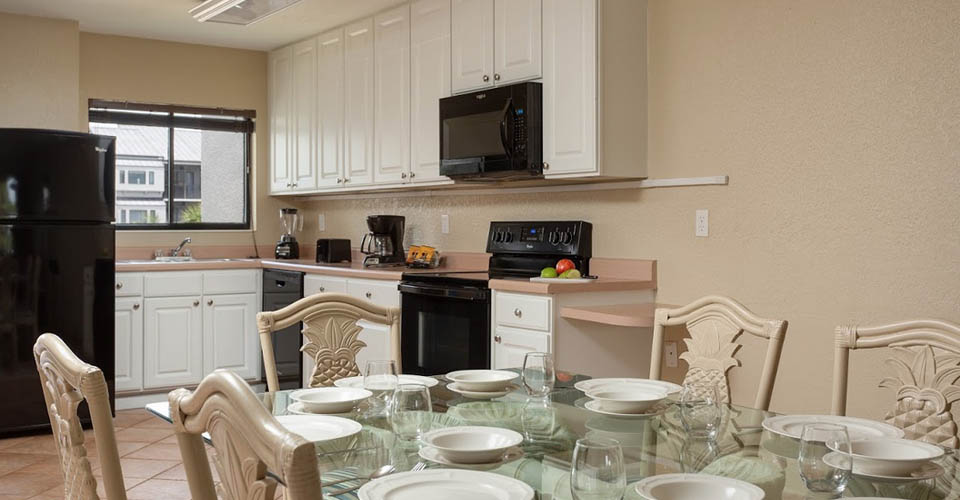 Each of the 2 Bedroom Units come with a Kitchen with large appliances, Oven, Refrigerator, Dishwasher and Microwave. All Dishes, Glasses, flatware, Pots and Pans are provided.
---
Master Suite with King Bed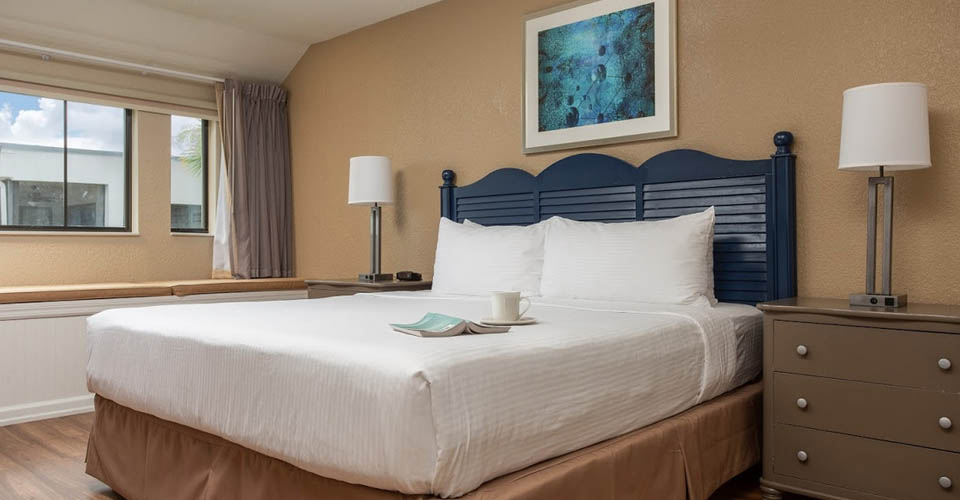 Privacy is what you will have when staying in your Master Suite with King Bed.
---
Second Bedroom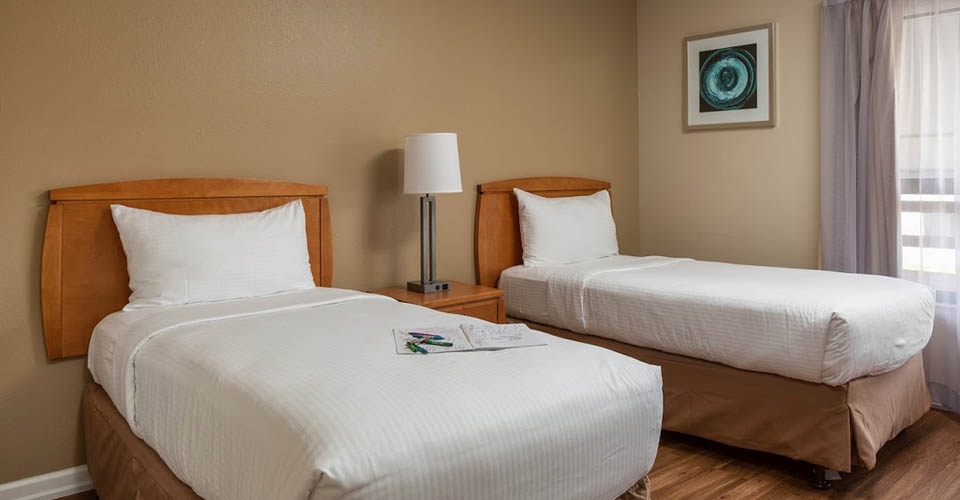 Two Twin Beds are located in the Second Bedroom.
---
Dining Area
The Dining Room is situated between the Kitchen at Living Room with a large table and seating for 6.
---
Living Room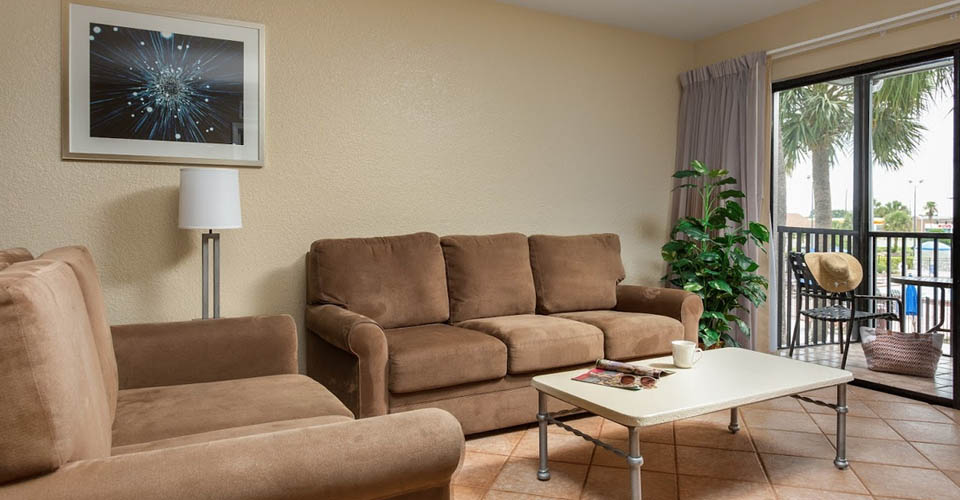 A Sleeper Sofa is found in the Sofa in the Living Room at the Orbit One Vacation 2 Bedroom Villas. An additional over-stuffed chair gives ample room for sitting around and enjoying your favorite show on the flat screen TV.
---
Bathrooms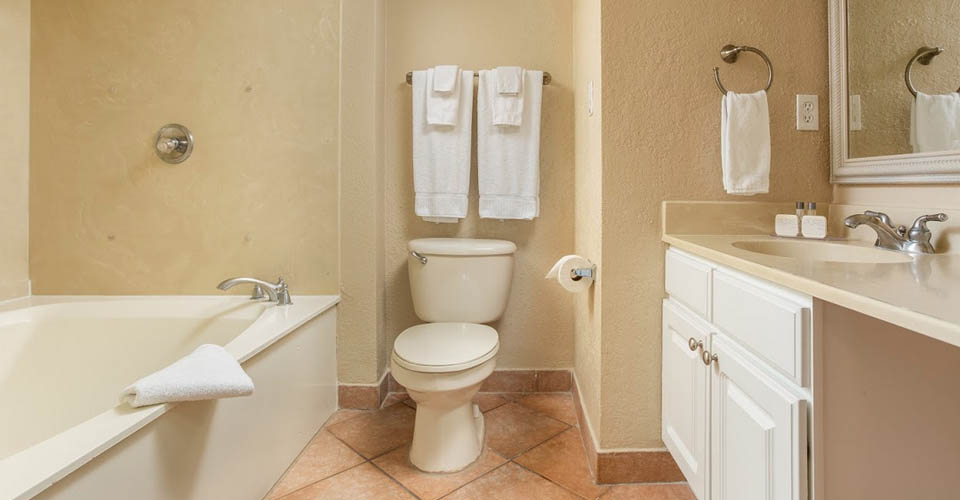 Each of the 2 Bedroom Suites come with 2 Bathrooms. The Master Bath has a large garden tub while the second bathroom has a tub and shower unit.
---
Outdoor Space – Private Balcony or Patio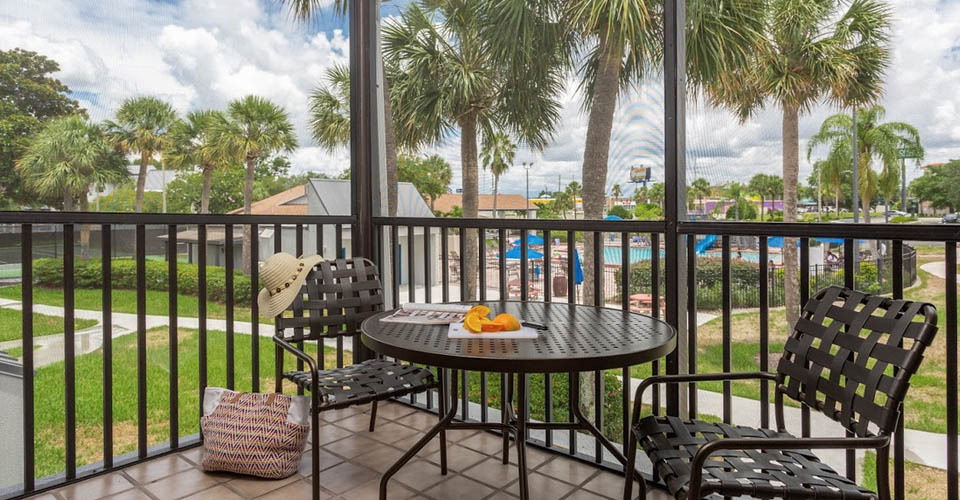 The ground floor Villas at Orbit One Vacation Villas come with a private patio while the upper units have a private balcony. Each of these outdoor spaces provides a table and chairs to enjoy your morning coffee or views at any time of the day.
---
Laundry
All of the 2 Bedroom Villas have there own Washer and Dryer.
---
Orbit One Vacation Villas Locations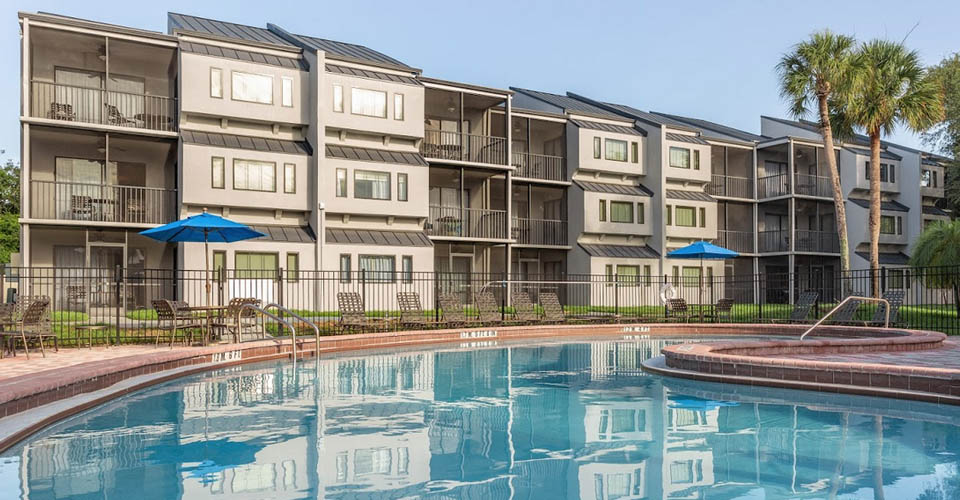 The Orbit One Vacation Villas in Orlando are broken up into two main areas. The 2 story buildings surround the family pool with 2 Water slides and is a good place to stay if you want your kids to be close to the pool. The 3 story buildings are located on the back of the property and the upper floors will provide a little more quiet space if that is what you are looking for.
---
View of Fireworks

Some guests mentioned that they could see the fireworks clearly from their Orbit One Vacation 2 Bedroom Villa screened porch. The Orbit One Vacation Villas are about 4.5 miles from the Magic Kingdom and 3.6 miles from Epcot as the crow flies.
RESERVATIONS
Orbit One Vacation Villas