Large Lagoon Pool with Zero-Entry Walk Through
It may only have one but the Sapphire Falls Resort Pool with Water Slide is sure to capture your Caribbean imagination with is massive 16,000 square foot size. This large resort pool adds to the island feel with waterfalls surrounding the perimeter and also the many big palms. The pool is also unique in the way that it has zero-entry access from opposite points. It connects the two sides of the pool by creating a large walkway right in the middle of the pool. A cave tunnel has been built into a rock formation adding an extra level of fun to the Sapphire Falls Resort Pool with Water Slide.
Water Park Information at Universal's Sapphire Falls Resort:
Pool Hours: Daily 9 am – 10 pm
Outdoor Pool: The Pool is huge and heated year round
Indoor Pool: There is

not an Indoor Heated Pool

at the Sapphire Falls Resort
Large Water Slides: One (1) water slide at the main pool area
Lazy River: There is

not a Lazy River

Kids Splash Park: A small splash area with pop-jets keeps kids cool
Zero-entry: Zero-entry access runs through the center of the pool making this a unique way to enter compared to other pools
Hot Tub: There is a large hot tub located beehind the Dhrum Club
Towels: Towels are provided at the pool area
Cabanas: Cabanas are available for an additional fee. Be sure to book yours early.
Notice: Pool hours can change without notice. Always check the daily schedule at the hotel for the updated hours to the pools and any events.
Who: The Pool are for all Guests at the Sapphire Falls Resort
Lifeguards: Lifeguards are on duty around the pools and the water slides
Water Slide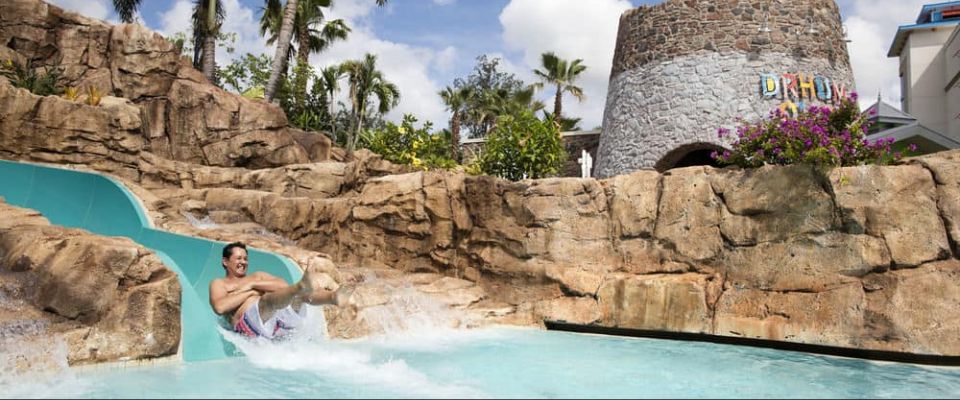 All ages love having additional water fun and the added 100 foot water slide is sure to please. This slide is perfect for the older kids and adults a like.
---
Kids Play area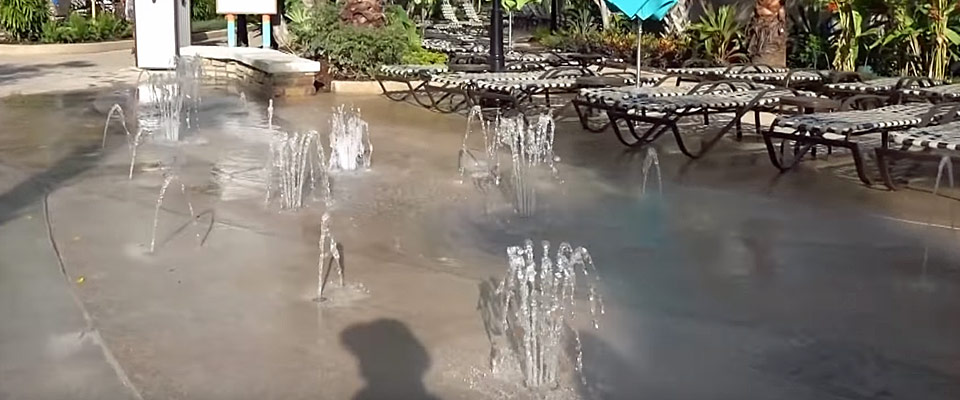 For the little ones, the zero entry access points make it easy for them to wade in at a comfortable level without making the parents anxious. A Kids Play area is also included with 24 Pop Jets to create hours of fun.
---
Sand Play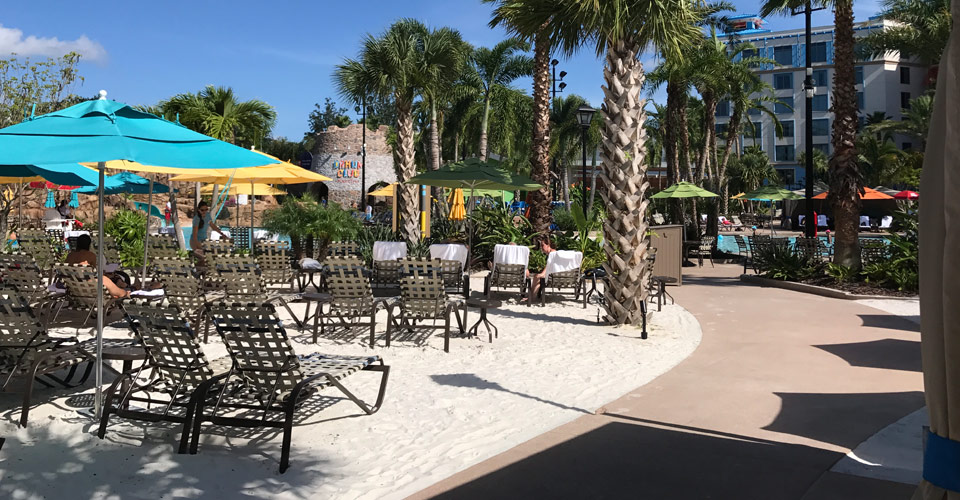 It wouldn't be the Caribbean without some sand around and the Sapphire Falls Resort Pool does not disappoint. You will find 2 large Sand locations near the pool. A total of about 3,500 square feet to be exact.
---
Outdoor Hot Tub
Enjoy soaking in a hot tub? If so, head over to the large 226 square foot Hot Tub located near the pool.
---
Fire Pit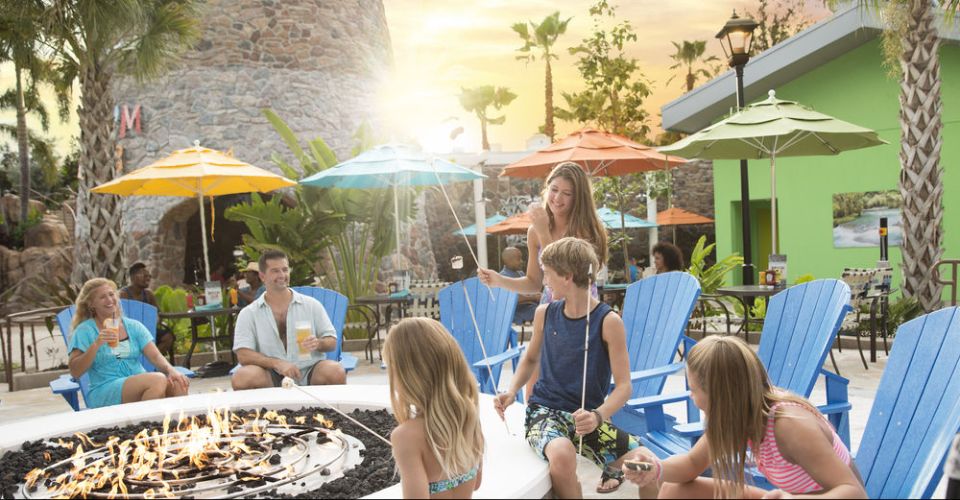 Spending family time is extra special around a fire and in the evenings, when it cools off in Orlando, sitting around the large fire pit near the pool makes for a cozy evening for story telling and just spending quality time together.
---
Cabanas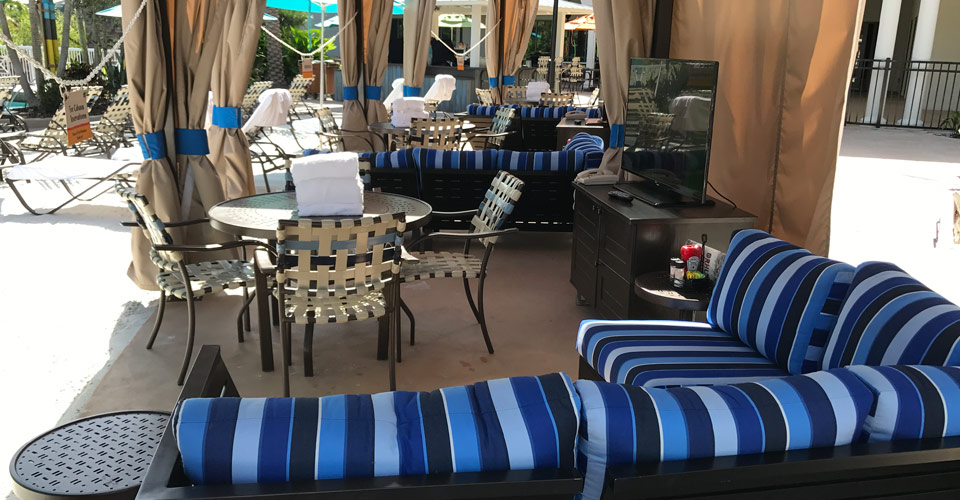 There is plenty of seating around the edges of the pool but if it is privacy and pampering you are looking for, be sure to check out the Cabanas for rent around the Pool. They are limited in number so be sure to reserve yours early.
---
Dining by the Pool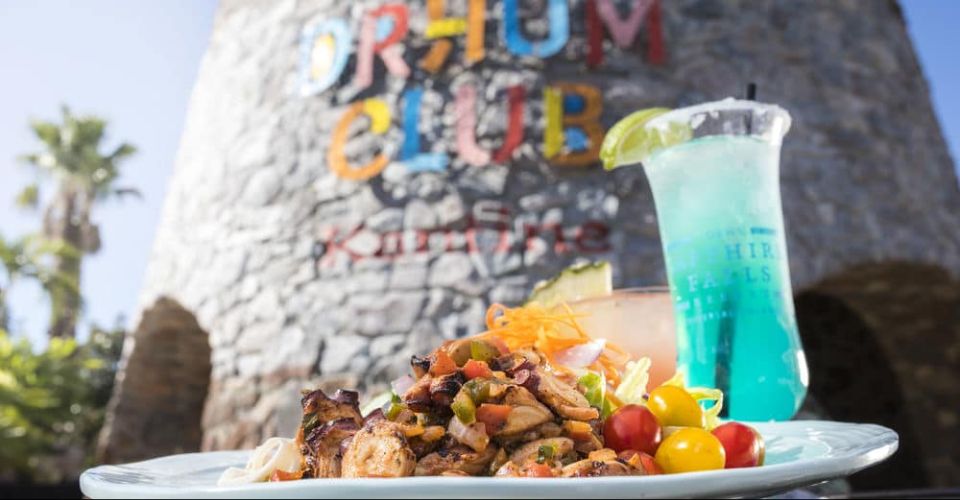 Just sit back and relax and let the Drhum Wait staff take care of your hunger and thirst. Sure you can go up to the Drhum Club and get your drinks and order food but what is the fun in that? You are on vacation, live it up a little. Gratuity is automatically added in so all you have to do is give your room key, and you are all set. The food is great, and they will even bring you cups of ice water throughout the day if needed. Be sure to take good care of them because they are there to take care of you.
---
Additional Pool Activities
Staff will be around throughout the days to add some more excitement to your trip and keep the kids occupied for a while. Sit back and relax while they take over and watch your kids in all of the fun and excitement.
Bingo
Ping Pong
Hula Hoop Contest
Poolside Movies
Frequently Asked Questions: Sapphire Falls Resort Pool with Water Slide
Are there Cabanas at the Sapphire Falls Pool?
Yes, there are Cabanas at the Sapphire Falls Resort Pool. They are very large and have great outdoor furniture a refrigerator and the service is amazing. The cabanas are not free so be sure to reserve your spot in one as soon as you check in. For the latest pricing, please check with the front desk.
---
Is the pool heated?
Yes, the pool stays a constant warm temperature. Remember, you are in Florida where it gets really hot so the water might not seem as warm on super hot days but it is certainly refreshing.
---
Are Pool towels proided?
Yes, there are plenty of towels in the pool area.
---
Is there a pool bar?
There is a pool bar, the Drhum Club. The wait staff is constantly coming by your location to check on you. You can order snacks, meals and your favorite drinks. It makes for an easy, fantastic day by the pool.
RESERVATIONS
Sapphire Falls Resort