Westgate Lakes 2 Bedroom Villa
Sleeping up to 8 guests becomes much easier when booking the Westgate Lakes 2 Bedroom Villa. Providing 1,200 square feet of living space, six guests sleep very comfortably with the King bed in the master bedroom and 2 double beds in the 2nd bedroom. Having a queen sleeper sofa in the living room expands to having up to 8 guests. Having a full-size kitchen also adds to the feeling of home you will have. Book your reservation for a 2-Bedroom Villa at the Westgate Lakes Resort and start your vacation with the space you need to keep your family happy.
More than just a typical place to stay
Hotel rooms just don't cut it anymore once you have stayed in one of the Villas at the Westgate Lakes. It is such a wonderful feeling to wake up refreshed from your comfortable bedding, slip into the kitchen and get the coffee going. Starting each day with a cup of coffee and sitting on the balcony is a fine way to begin. A walk around the resort is also nice to get some exercise and see all of the fun things available.
Villa Amenities:
Size: 1,200 sq ft
Sleeps: 8 Guests
Views: Views of the Westgate Lakes Resort
Internet: WiFi
Master Bedroom: 1 King Bed, TV, Desk with Chair, nightstands with lamps, Dresser, large jetted tub
Second Bedroom: 2 Double Beds, Flat-screeen TV, nightstand, Dresser, closet
Living Space: Queen sleeper sofa, loveseat, coffee table, dining table with 6 chairs, flat screen tv
Kitchen: Large counter space, sink, full-size appliances, refrigerator, microwave, coffee maker, dishwasher, oven, dishes, glassware, pots, pans and utensils
Bathrooms: 2 Bathrooms, one in the Master Bedroom and another off of the 2nd bedroom. Double sink in the master and single sink in the 2nd bathroom , Walk-in shower unit, and separate space for the toilet for additional privacy, the master bathroom has a jetted tub, large enough for two.
Additional Amenities: Hair Dryer, Iron and Ironing Board
Laundry: Private laundry included with a washer and dryer off of the kitchen
TV's: 3 Flat Screen
Outdoor Space: Master Bedroom offers a balcony with chairs and a table as well as Balcony access from the living room
Master Bedroom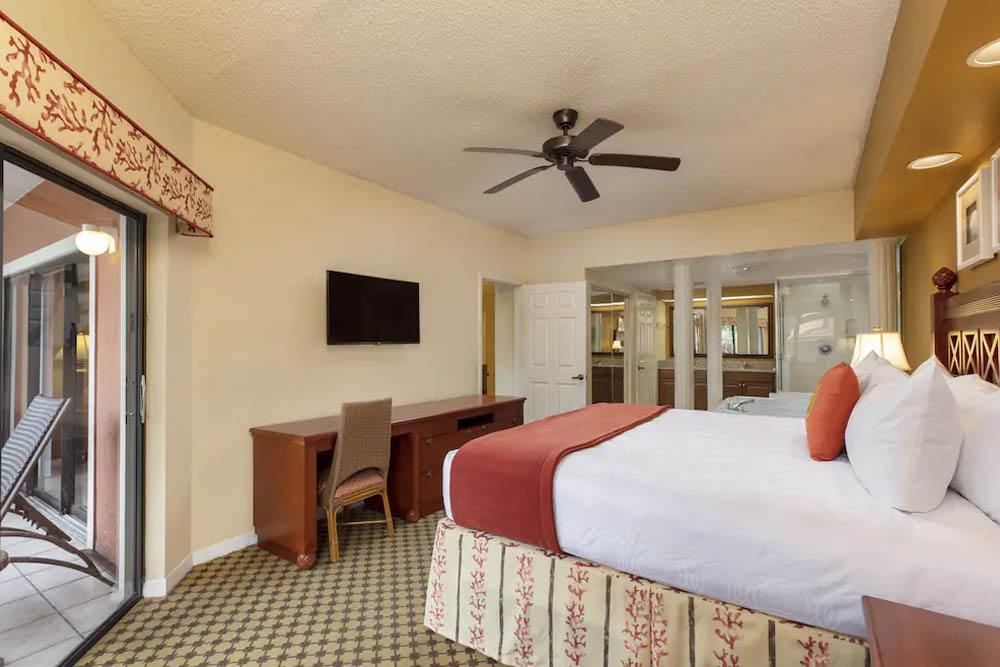 Come back to your own, private space and head to the master bedroom with a large 2-person jetted tub. Slip into the hot tub after a long day of walking and soak in the hot bubbles. After you are fully relaxed, take over the king bed and watch a favorite show on your own flat-screen tv. The Master bedroom has additional storage in the dresser to store your clothes and a nightstand with lamp on each side of the bed. Connected to the Master is a doorway to the patio/balcony. What a great way to start off your day.
Living Room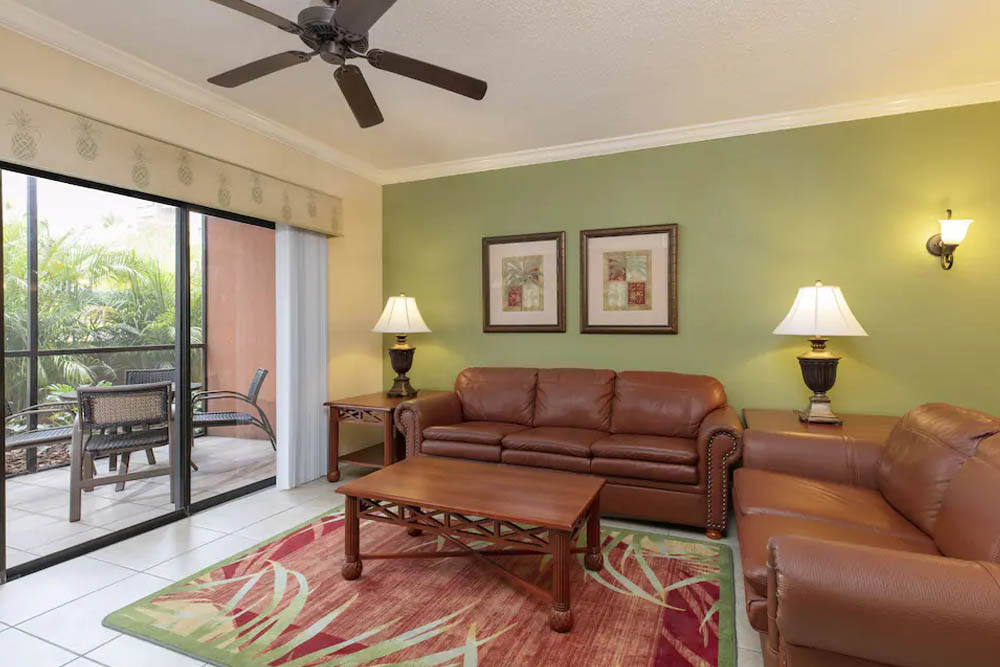 Have some wonderful family moments in the Living Room and at the Dining Room Table. Play games, share a meal and sit on the comfortable sofa and loveseat to share the excitement of your day. Great memories are made when your family takes the time to communicate about the fun they are having. It is also a great place to plan the upcoming days ahead. Once everyone is ready for bed, the sleeper sofa can be opened up to offer additional sleeping for up to 8 guests.
Kitchen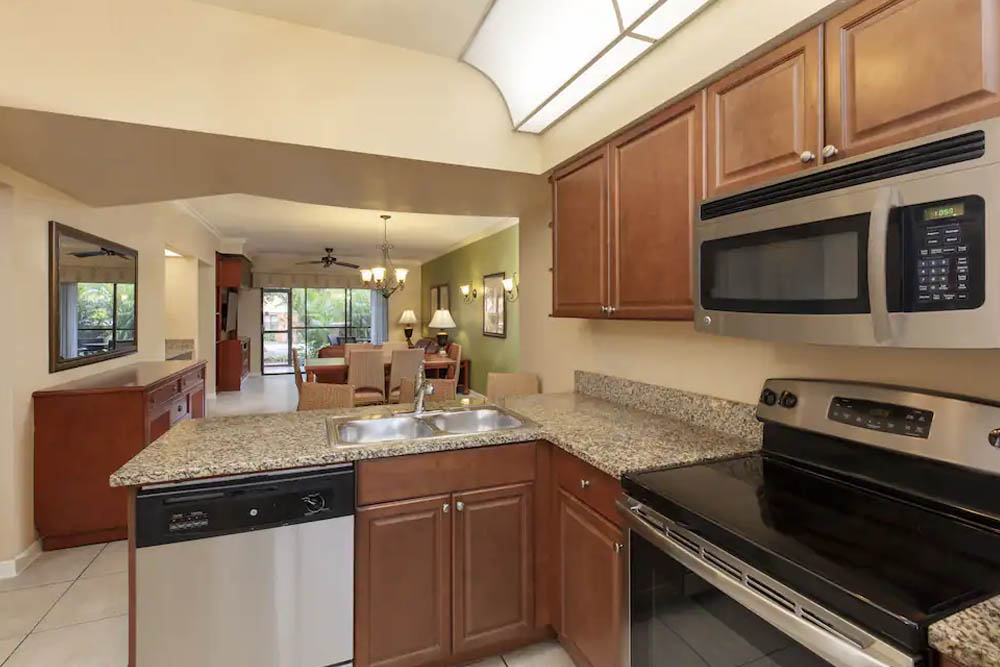 Is there anything better than having your own fully-equipped kitchen on vacation? While cooking might not be the first thing you think about when you go away, having a full kitchen can really help cut down on the cost of your stay. Large appliances, a counter with a sink, and even a bar area with stools add to the space to dine together. Each of the kitchens in the 2 Bedroom Villa offers everything you need from cookware, dinnerware, and utensils needed.
Master Bathroom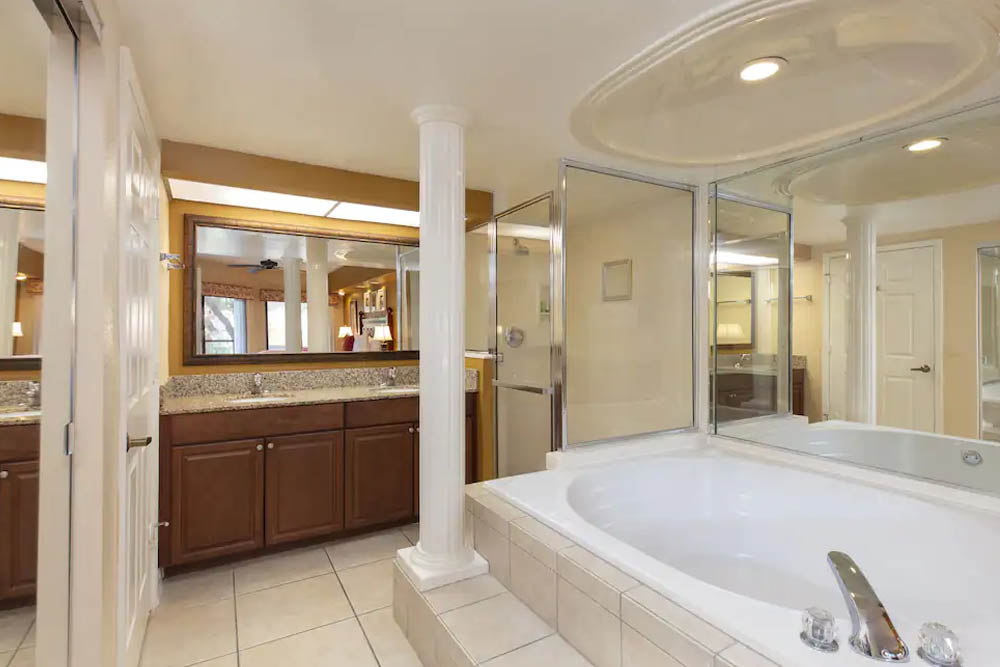 Ahh, the joy of having your own bathroom. Private spaces become very important on a long trip. The master bathroom starts in the bedroom with a 2-person jetted tub. Soak in the joy of your tub to end or start your day. A 2 person sink makes for easy times getting ready in the morning and the stand-up shower is perfect for getting washed off.
Second Bedroom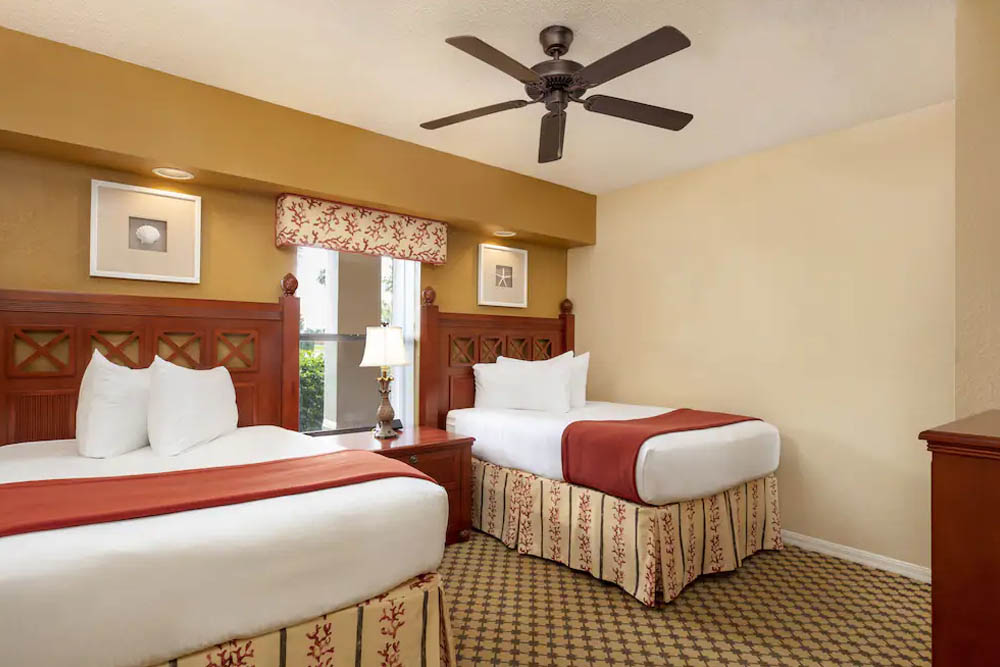 Your kids, or friends will like having a space of their own as well. Two double beds in the second bedroom give ample space for up to 4 guests. The included closet and dresser offer space for storing clothes, and suitcases. Each of the bedrooms also has a flat-screen tv.
Shared Bathroom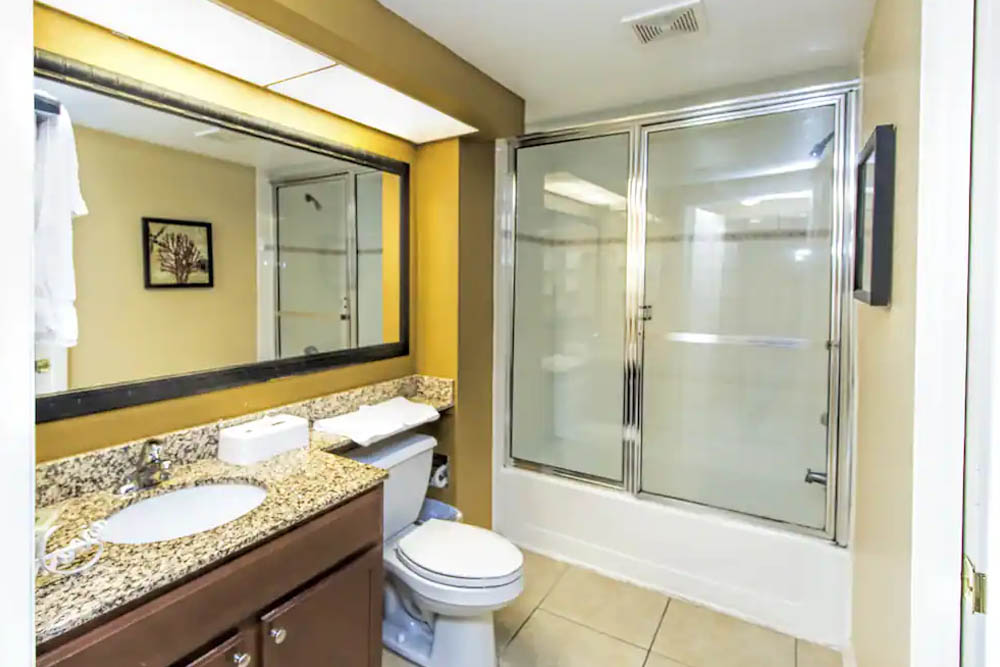 The shared bathroom is located off of the second bedroom. Having a 2nd bathroom when you have up to 8 people staying in the same place is essential. A single sink and a gub/shower helps when heading out on your day of fun.
Patio or Balcony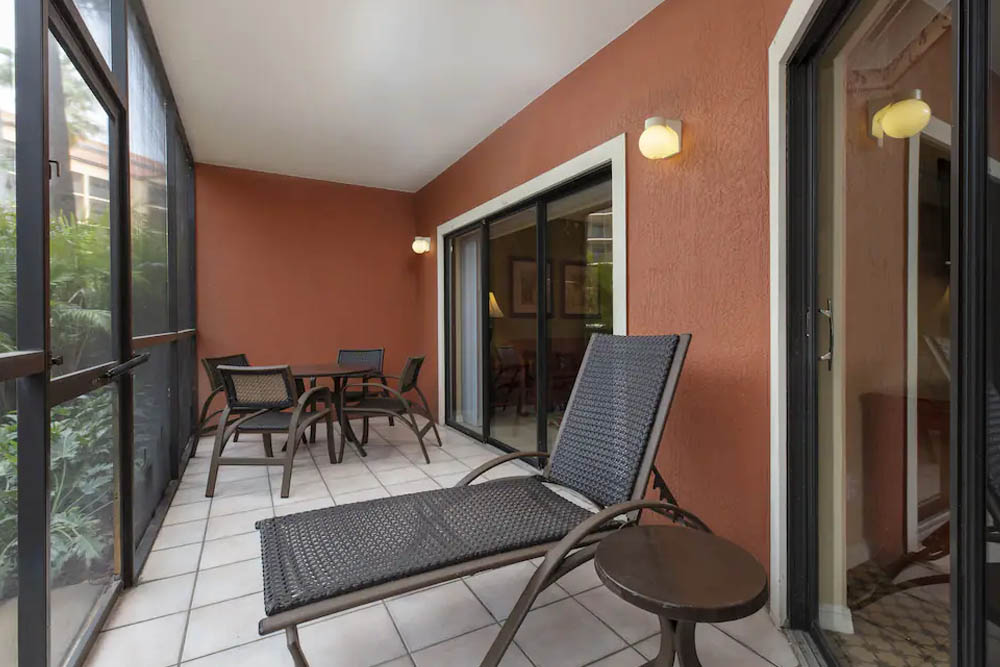 Each of the 2 Bedroom Villas has an outdoor space with a patio or a balcony. Starting your day with coffee in your full size kitchen and taking it to the balcony is a wonderful way to enjoy the fun of Orlando.
Private Laundry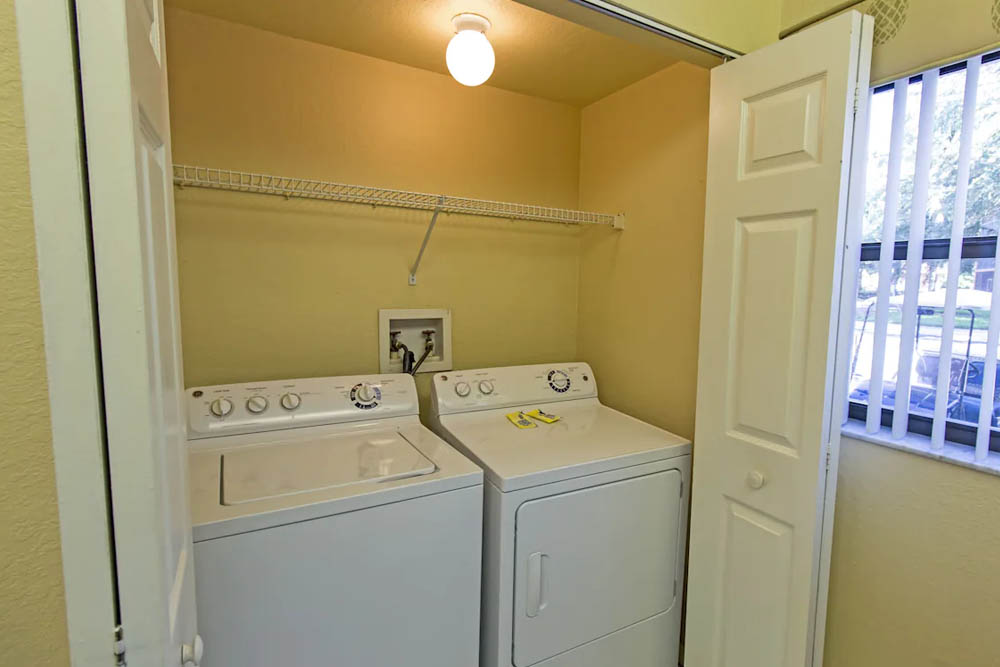 A washer and dryer are available in each of the 2 bedroom villas at the Westgate Lakes Resort.
RESERVATIONS
Westgate Lakes Resort & Spa