Westgate Lakes 3 Bedroom Villa
The larger your group, or family, the more bedrooms you will require. You can have up to 12 guests stay in the Westgate Lakes 3 Bedroom Villa. Eight (8) of the guests will sleep very comfortably in their own bedroom. The Master and 2nd Bedrooms have a King bed and the 3rd bedroom has 2 double beds. There are also two queen sleeper sofas to accommodate an additional 4 guests.
Bedrooms
When you book one of the 3 Bedroom Villas at the Westgate Lakes, you are essentially getting a 2 Bedroom Villa connected to a 1 Bedroom Villa. In this configuration, you end up with a Master Bedroom with a King Bed and jetted tub in two different spaces. The third bedroom has two (2) double beds. Each of the bedrooms has its own flat screen tv for watching shows privately when waking up or nodding off to a great night of sleep.
Kitchen and Kitchenette
With two separate spaces, you end up with a full-size kitchen and a kitchenette. Full meals can easily be prepared in the Kitchen with large appliances and all of the cookware needed to create anything from simple sandwiches to a full meal.
Villa Amenities:
Size: 1,690 sq ft
Sleeps: 12 Guests
Views: Views of the Westgate Lakes Resort
Internet: WiFi
Master Bedroom: 1 King Bed, TV, Desk, Lamps on nightstands on each side of the bed, Dresser, large jetted tub
Second Bedroom: 2 Double Beds, Flat-screeen TV, nightstand in between the beds, dresser, and a closet
Third Bedroom: 1 King Bed, TV, nightstands on each side of the bed, Dresser, sleeper sofa, large jetted tub
Living Space: Sleeper sofa (queen-size), loveseat, coffee table, dining table with chairs, flat screen tv
Kitchen: Plenty of counter space and a bar area for eating, large sink, refrigerator, microwave, coffee maker, dishwasher, oven, dishes, glassware, pots, pans and utensils (all of the appliances are full-size)
Bathrooms: 3 Bathrooms, one in the Master Bedroom and another off of the 2nd bedroom and a 3rd in the other King room. Double sink in the master and single sink in the 2nd and 3rd bathroom, Walk-in shower unit, and separate space for the toilet for additional privacy, the master bathroom and the other bedroom with a king bed have a jetted tub big enough for two.
Additional Amenities: Hair Dryer, Iron and Ironing Board
Laundry: Private laundry included with a washer and dryer off of the kitchen
TV's: 4 Flat Screen
Outdoor Space: Master Bedroom offers a balcony with chairs and a table as well as Balcony access from the living room. There is also another private balcony off of the 3rd bedroom.
Master Bedroom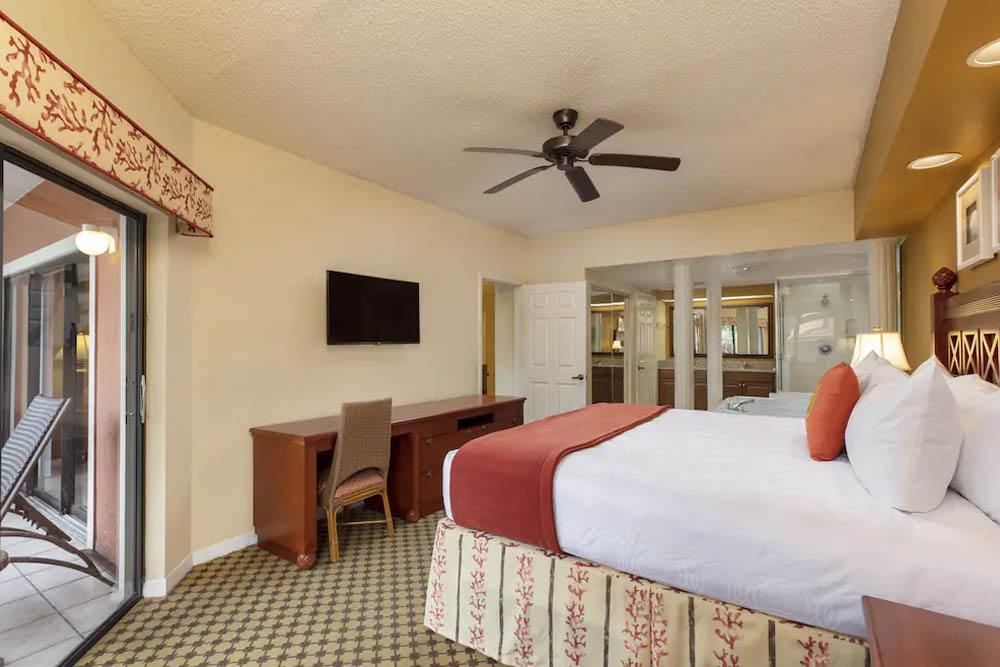 The master bedroom is a large space with a comfortable king bed. On each side of the king bed a nightstand is situated nearby to place your closest items. Turn on the lamp and read through the evening or start your day. A desk is provided in the master bedroom along with a flat-screen tv. Winding down in your own private space is a much-needed change to the running you have done all day at the parks. Having your own private, jetted tub makes this room a special place for sure.
Living Room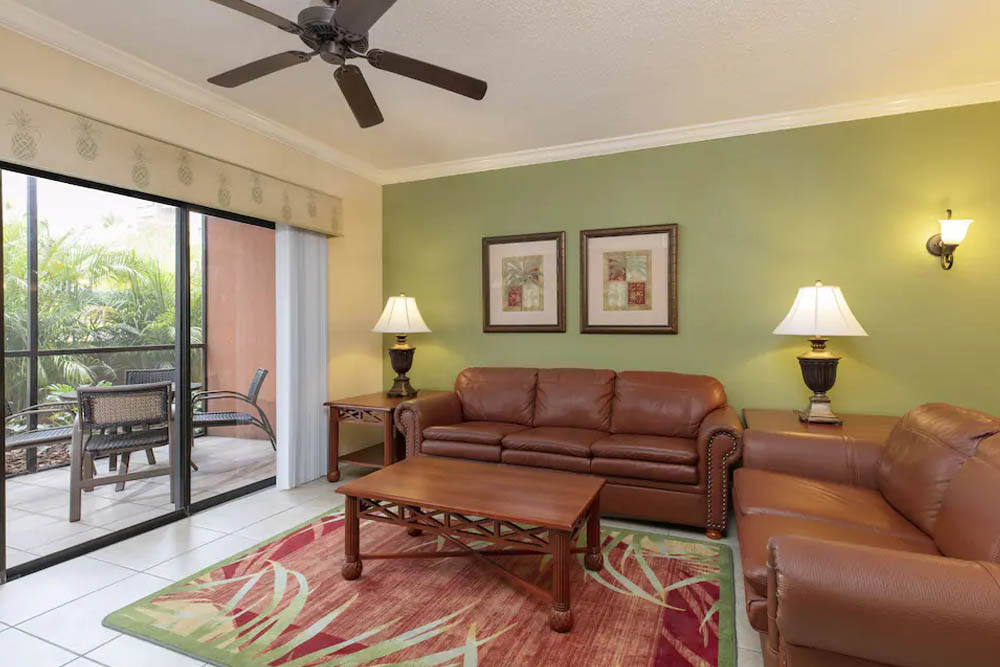 Focus on the memories and spending time together in the large living room with sleeper sofa and love seat. After you day at the Westage Lakes Reosrt, or at one of the nearby theme parks, come back to the 3 Bedroom Villa to decompress. Sharing your day with friends and family is a wonderful way to end or start the day. Located between the kitchen and living room is a large table with 6 chairs to play games and keep the fun going. A tv is also located in the living room for additional excitement watching your favorite shows or movies together.
Kitchen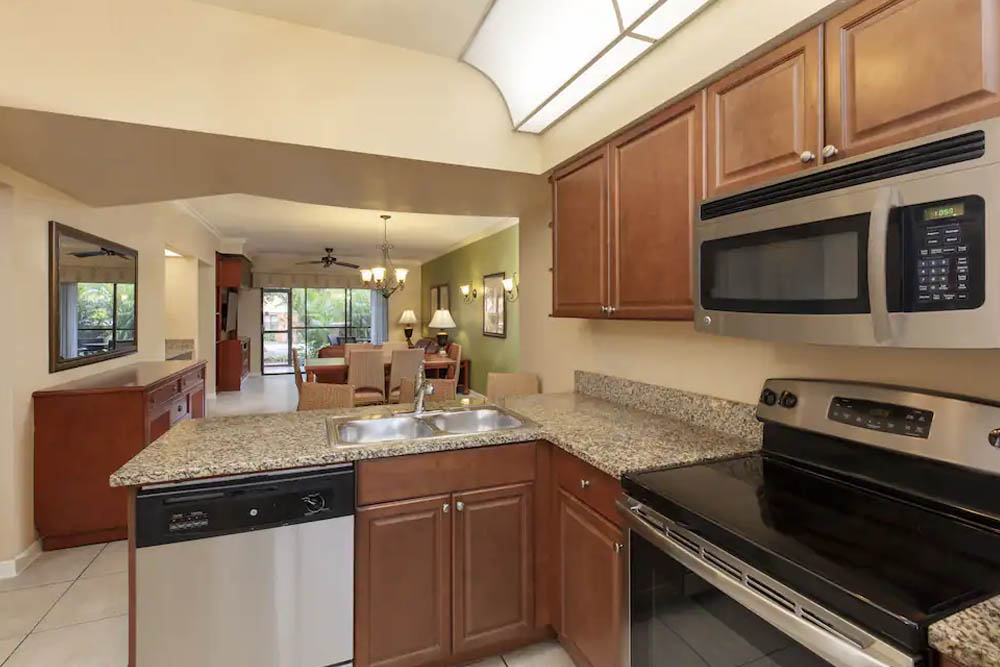 Eating out is a wonderful change when you are on vacation but it can get very expensive, especially for large families. A full-size kitchen can really help with the cost of your stay. Even if you are only preparing simple meals, providing muffins for breakfast or sandwiches for lunch, this can really save on the spending. In the 3 Bedroom Villas at the Westgate Lakes Resort, you get a full-size kitchen with all of the appliances and cookware you need to prepare any meal. Located in the other space that makes up the 3rd bedroom, you also have a small kitchenette.
King Bedroom, Bathrooms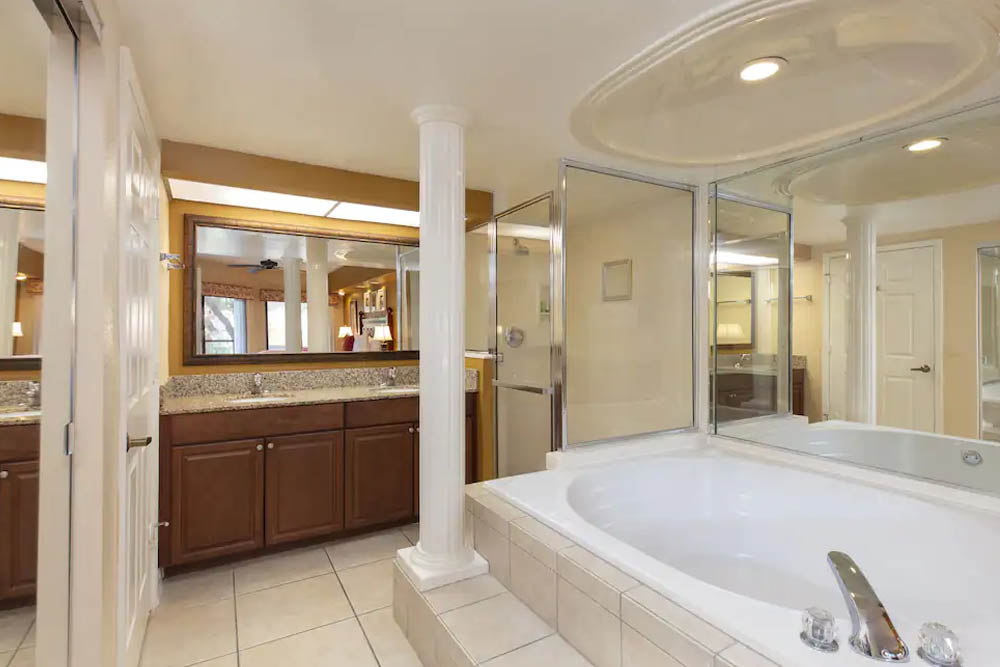 The more bathrooms you have, the better. The two king bedrooms come with a 2-person jacuzzi tub. A wonderful start or end to any day can be soaking in the hot, bubbling tub to get you going or to bring you to a state of relaxation. The longer the trip, the more necessary it is to have your own private spaces. Getting ready in your private bathroom is pure luxury.
Second Bedroom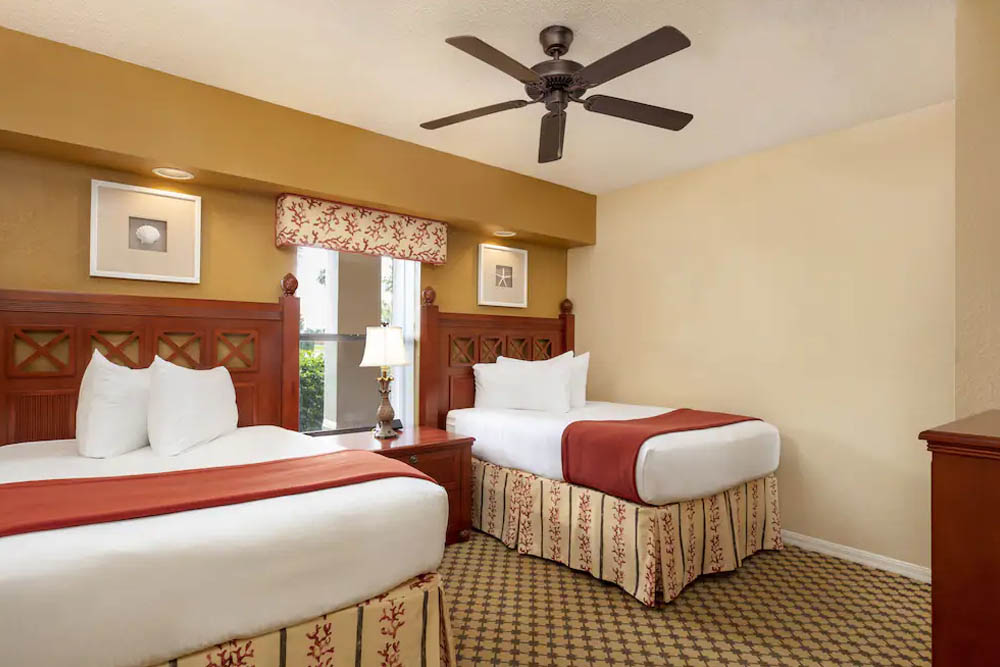 Additional guests or your kids can share in the comfort of the 3rd bedroom space. Enter the room and see 2 comfortable double beds with a nightstand in between. Closet space makes it nice when hanging clothes and the dresser adds drawers to your storage area. This room also has a flat-screen tv for a more private setting to watch what they would like while you are enjoying your own shows.
Shared Bathroom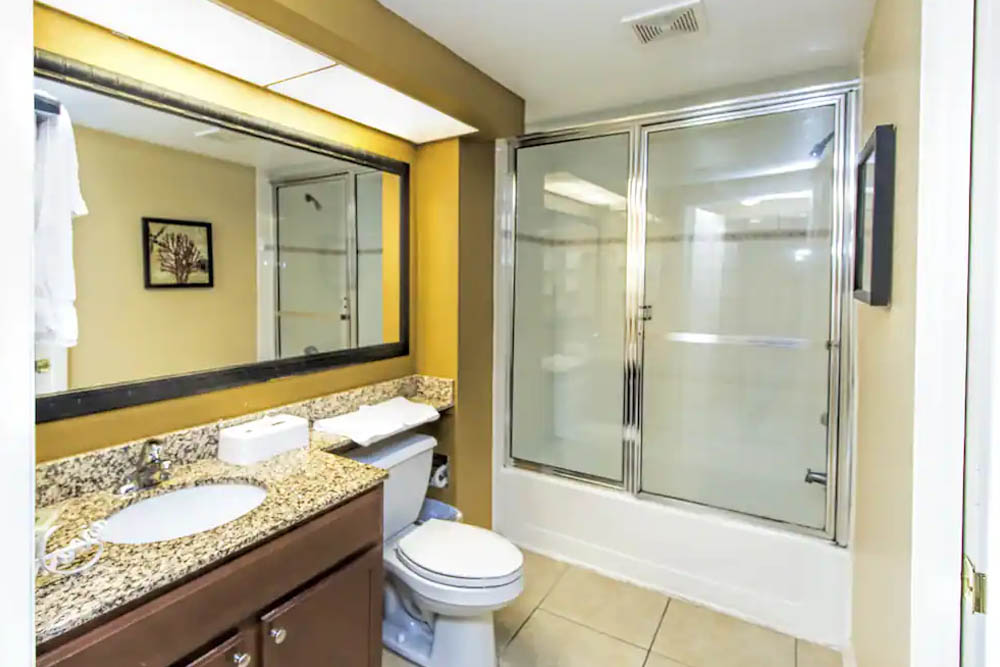 Located off of the third bedroom hallway is another bathroom that can be shared with anyone sleeping on the sofabed in the living room.
Patio or Balcony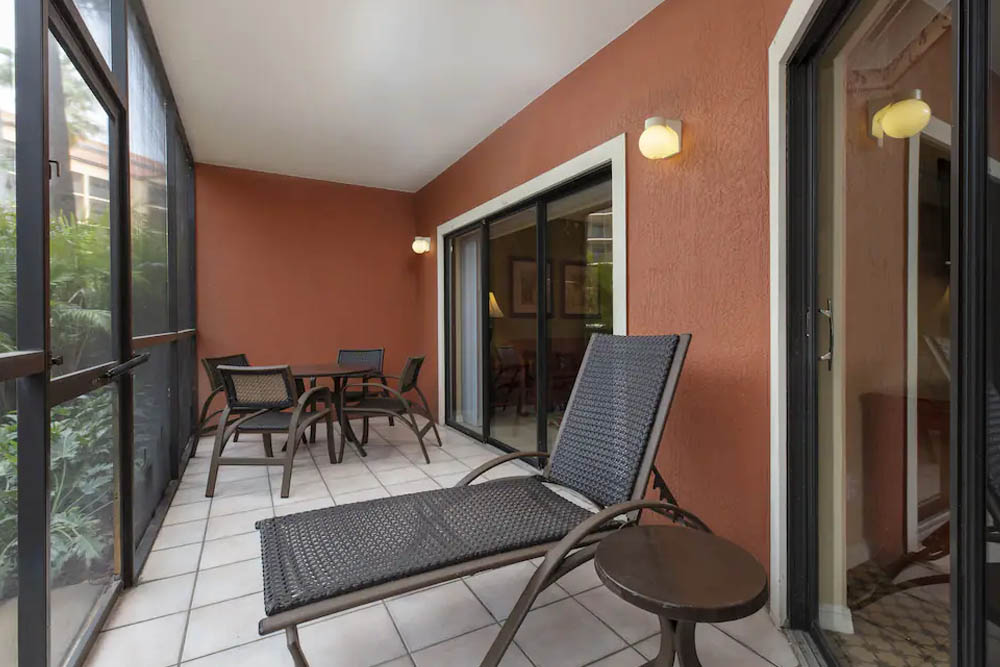 Outdoor spaces are a very nice addition and with the 3 Bedroom Vill layout, you get a couple of private spaces. On the one side you have a large balcony or patio off of the living room and master bedroom. On the other side, you have another private balcony extending from the king bedroom. Grab a cup of coffee and take in the sights around you as you enjoy the outside.
Private Laundry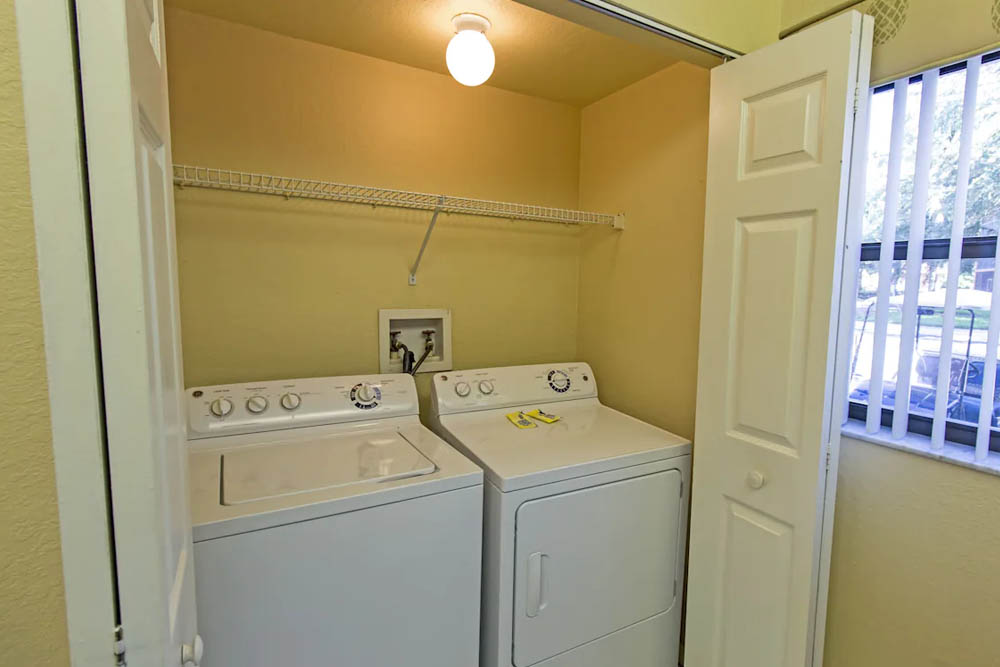 Off of the full kitchen, you will have access to your own private washer and dryer. These are included in the 3 Bedroom Villas and are a nice addition for long stays.
RESERVATIONS
Westgate Lakes Resort & Spa