Westgate Lakes One Bedroom Deluxe Villa
What do you get with the Westgate Lakes One Bedroom Deluxe Villa? Spacious rooms and a full kitchen give you a feeling of being at home while on your Orlando adventure. When you book the 1-Bedroom Deluxe Villa you can sleep up to 4 guests comfortably. A private master bedroom with a king bed adds to the comfort of your stay. Starting or ending your day in the 2-person hot tub is also a very nice addition.
Large Spaces for 4 Guests
Having a full 800 square feet gives you plenty of space for a separate living room and kitchen. A queen sleeper sofa pulls out in the living room, providing sleeping space for 2 more guests. Ending the day, talking about all of your fun and adventures is a wonderful way to keep those memories alive. Waking up in the morning, isn't it nice when you can head to the kitchen and start your own pot of coffee when you are away from home? The full kitchen offers all of the large appliances, dishware, pots, and pans you will need for preparing meals on your trip. Included in this space is also a large dining table with seating for six.
Villa Amenities:
Size: 800 sq ft
Sleeps: 4 Guests
Views: Views of the Westgate Lakes Resort
Internet: WiFi
Master Bedroom: 1 King Bed, Flat Screen TV, dresser, Desk with Chair, nightstands with lamps, 2-person hot tub
Living Space: Queen sleeper sofa, loveseat, coffee table, table with 6 chairs, flat screen tv
Kitchen: Full size kitchen with counter space, large sink, refrigerator, microwave, coffee maker, dishwasher, oven, dishes, glassware, pots, pans and utensils
Bathroom: Shared Bathroom with access from the Master Bedroom and the Kitchen hallway. Double sink, Walk-in shower unit, and separate space for the toilet for additional privacy
Additional Amenities: Hair Dryer, Iron and Ironing Board
Laundry: Private laundry included with a washer and dryer
TV's: 2 Flat Screen
Outdoor Space: Master Bedroom offers a balcony with chairs and a table as well as Balcony access from the living room
Master Bedroom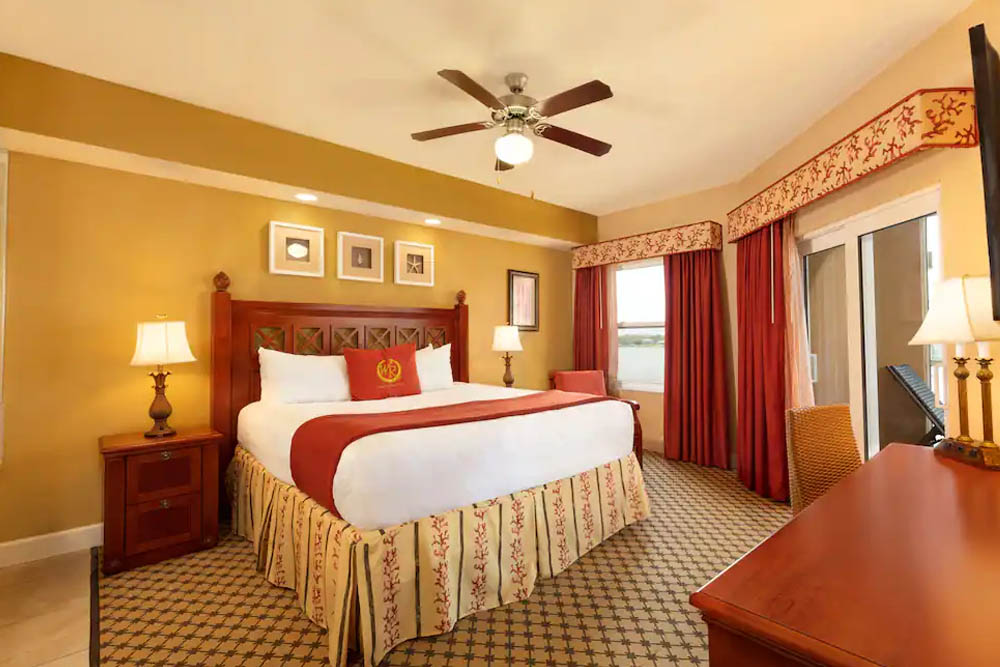 Such a great place to come back to after a long day at the pool, water park, or around the theme parks. A private master bedroom is a welcome change to get some peace and quiet. The King Bed is comfortable and waiting to give you a good night's sleep in order to tackle the next day ahead. Nightstands and lamps are located on each side of the bed for additional storage and to get some reading done before you sleep. Enjoy your favorite shows before nodding off with a flat-screen TV. If you are interested in seeing what is going on outside, the balcony connects to the Master Bedroom.
Living Room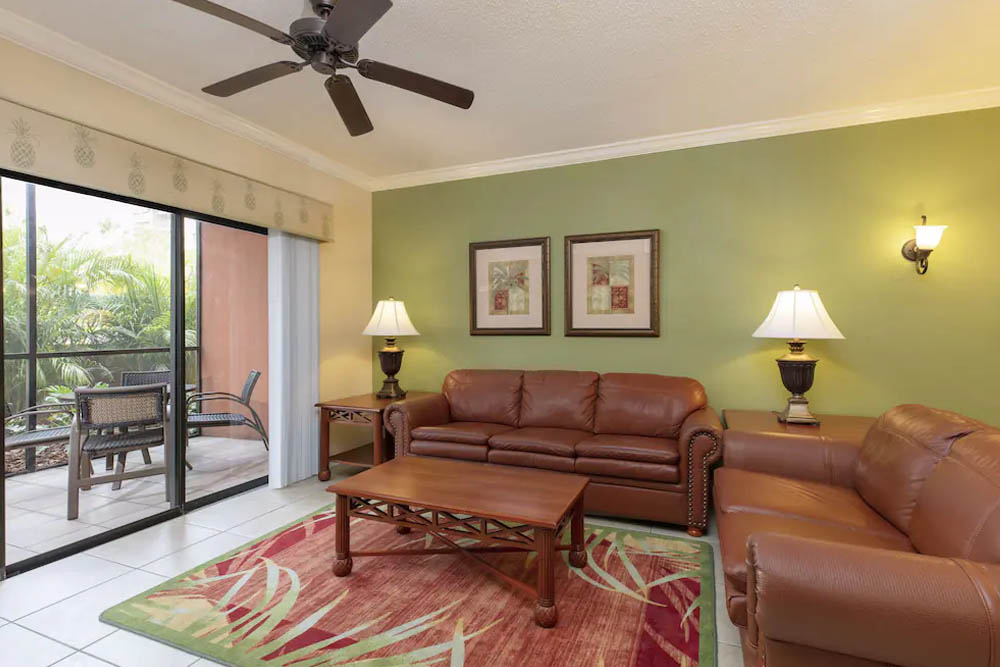 End your day sitting around the living room and sharing the events with everyone in your family. Plenty of seating is available with a Sleeper Sofa and a loveseat. Gather around and pop some popcorn while watching a movie or show together on the flat-screen tv.
Kitchen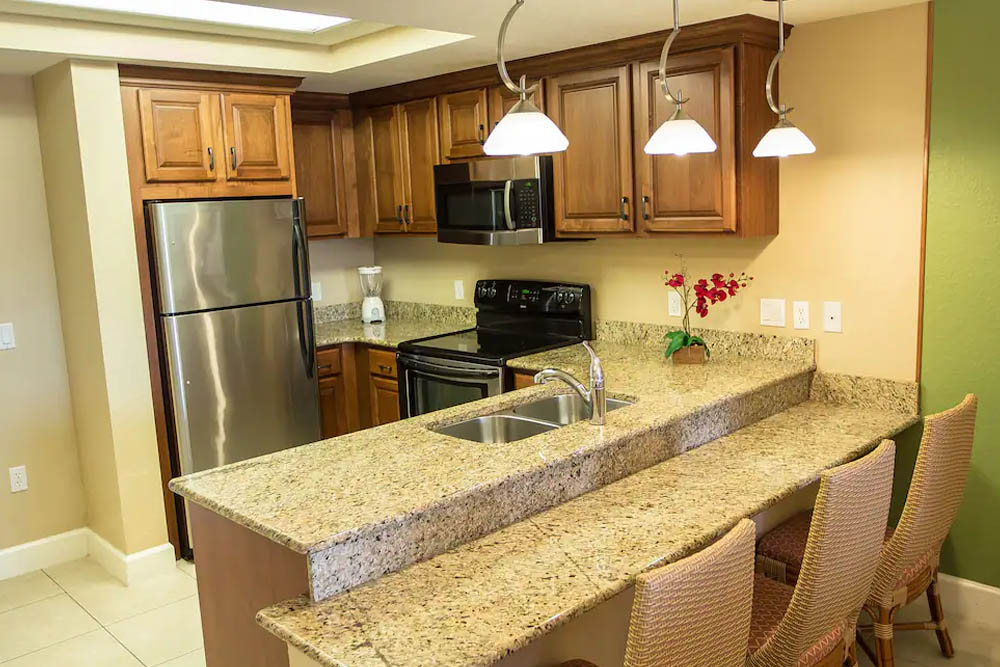 Everything you need to prepare a full meal or just have some snacks on hand will be found in this fully equipped kitchen. No mini-refrigerator here! Enjoy full-size appliances, a counter with a sink, and even a bar area. Kitchens come with all of the cookware, dinnerware, and utensils needed. Having a full kitchen can also cut some of the cost of eating out when you are on vacation.
Bathroom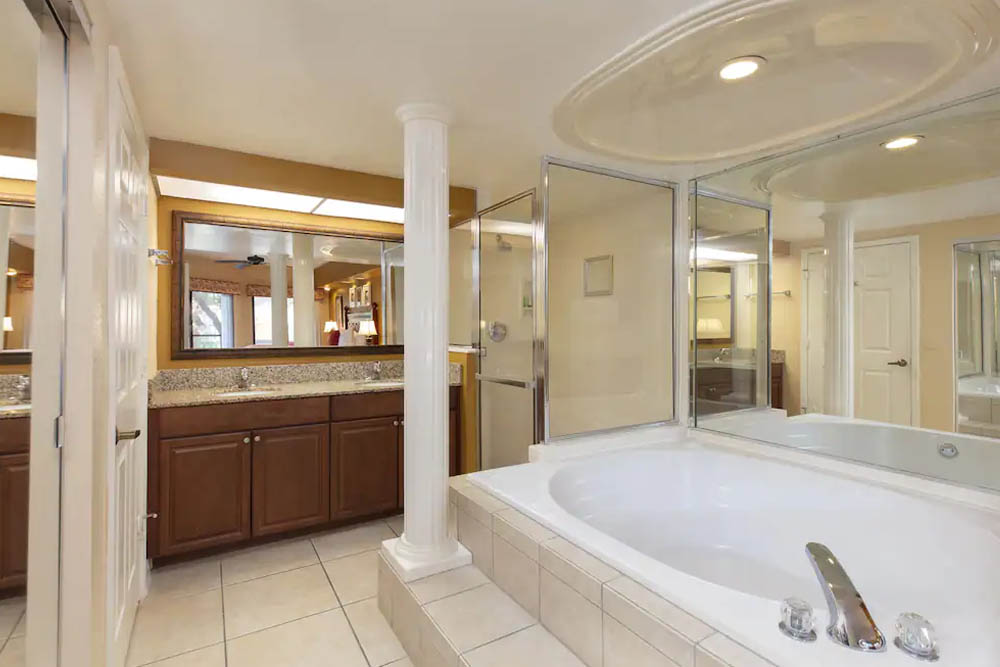 Slip into the 2-person jacuzzi tub and take in the heat and bubbles to relax those tired muscles. A trip to Orlando is fun and exciting but most visitors end up walking many miles each day. This large bathroom with a hot tub helps to prepare you for the days ahead. A double sink also makes it easier when getting ready in the morning. Get washed off in the stand-up shower.
Patio or Balcony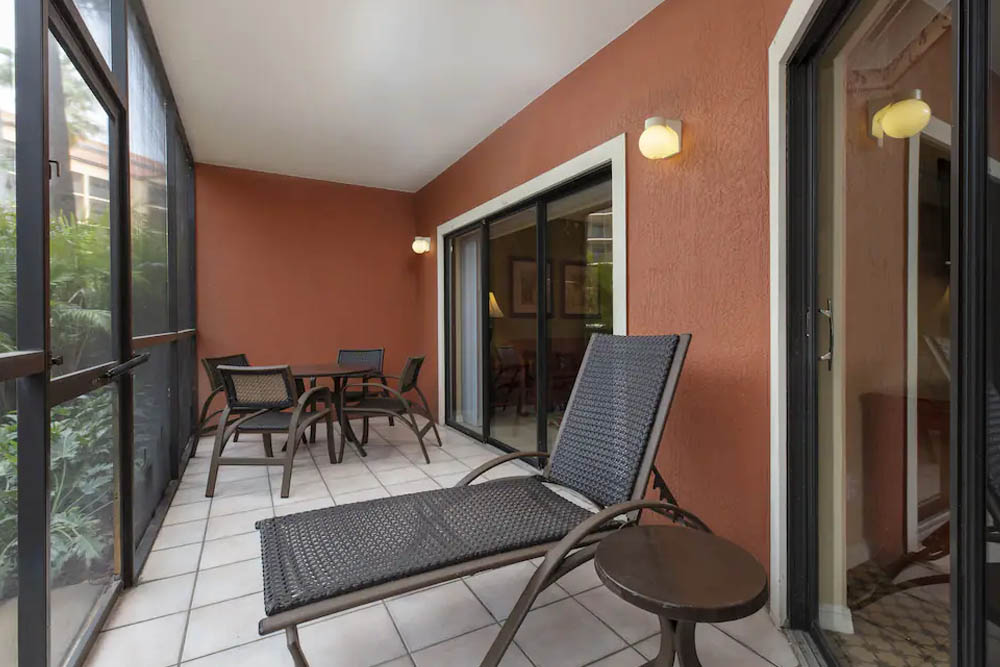 Outdoor space is a great place to spend time in the morning while drinking your coffee. A spacious patio or balcony is included with the One Bedroom Deluxe Villas at the Westgate Lakes Resort.
Private Laundry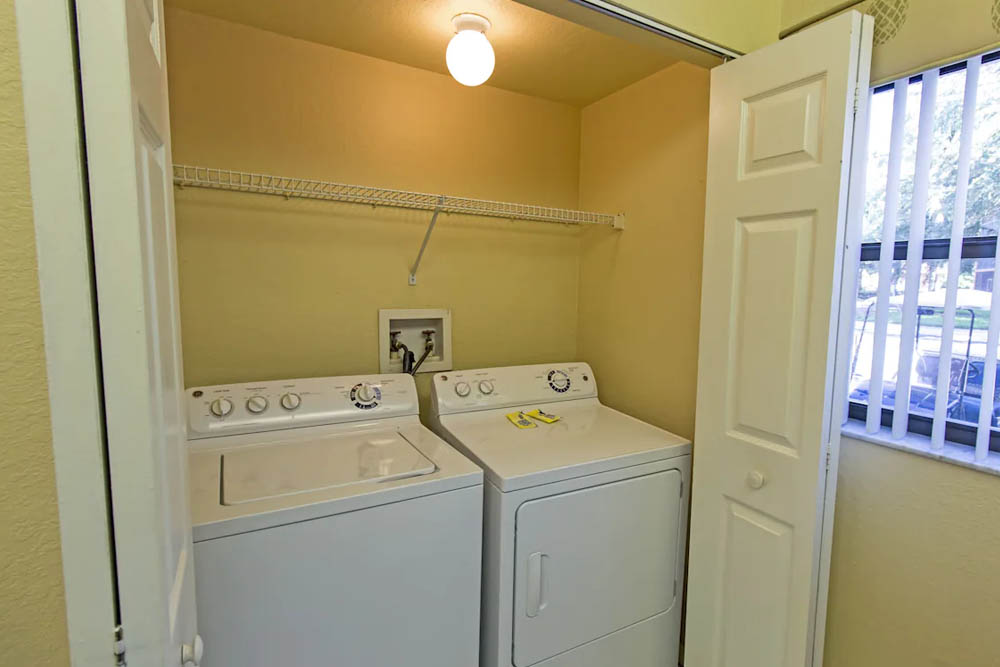 Washing clothes might not be the first thing on your mind when booking a one bedroom deluxe villa but it sure comes in handy. All of the one bedroom deluxe villas come with a washer and dryer to make those longer stays more comfortable.
RESERVATIONS
Westgate Lakes Resort & Spa