Westgate Lakes Orlando Resort Map
Situated just off of I-4, just off of Turkey Lake Road, looking at the Westgate Lakes Orlando Resort Map shows its prime location. When looking up the Westgate Lakes Resort, many sites show that it is in the "Universal Studios Area". This is because there are a number of Westgate Resorts in Florida, and this one is closest to Universal Studios and Islands of Adventure. Amazingly enough, the Westgate Lakes Resort is pretty close to all of the fun Theme Parks and Water Parks in Orlando. When you see that you are 5.1 miles from Universal, 1.9 miles from SeaWorld, and 4.8 miles from Disney Springs, it is easy to see how central to the fun you will be.
Resort Map for Westgate Lakes
On top of knowing where you are in Orlando, having a map for the Westgate Lakes Resort is helpful as well. Seeing where the different buildings are in relation to the amenities and restaurants, gives you an idea of what part of the resort you would like to stay in. Do you want to be near the Water Park? How about being in a more secluded area overlooking Sand Lake? Take a look at the Resort map and it will help. Also, we have provided a link to a PDF so you can download a copy and print it out if you would like.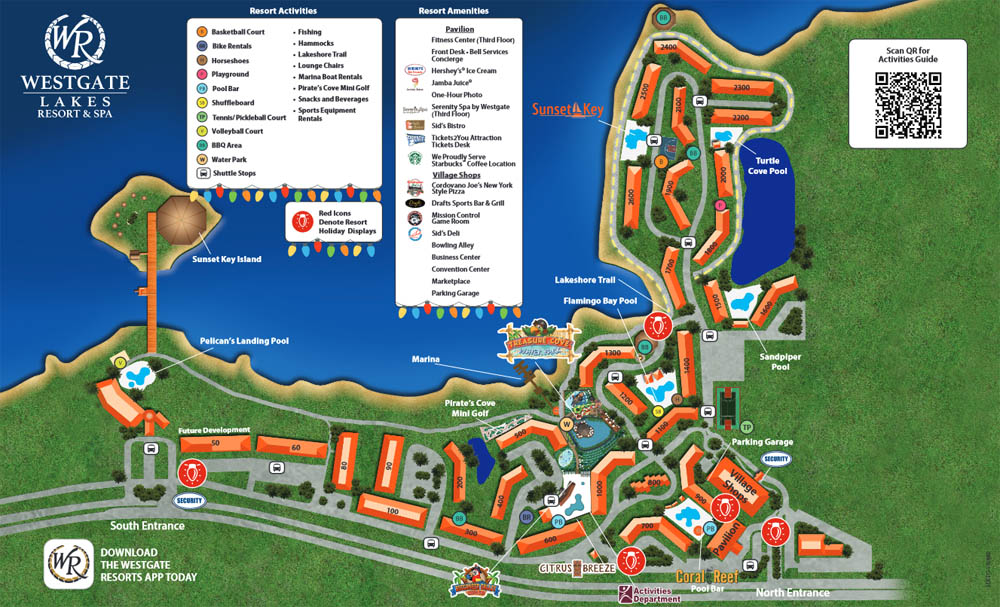 So much to do in Orlando near the Westgate Lakes Resort
Did you notice, when looking at the top-down map, that Westgate Lakes Resort is sitting on Big Sand Lake? This is a large body of water on the edge of the resort providing you with beautiful water views. Want to go out on the water? Renting a boat or a kayak is great family fun. Using the GPS will get you any place you want to go in Orlando. Looking at the map helps you to see all of the great times you will have at the attractions around you.
Directions to the Westgate Lakes Resort
From Orlando Intl Airport

Distance: 15.2 mi
Merge onto FL-528 W/FL-528 Toll W
Take exit 1 for International Dr
Use the right lane to turn left onto International Dr
Turn right onto Westwood Blvd
Turn right onto Central Florida Pkwy
Turn right onto Turkey Lake Rd
Westgate Lakes Resort will be on your Left
From Tampa

Distance: 73.7 miles
Get on I-275 N from N Florida Ave
take exit 45B for I-4 E toward Orlando
Take exit 71 toward Sea World
Keep left at the fork, follow signs for Turkey Lk Rd/Palm Pkwy
Turn left onto Central Florida Pkwy
Turn right onto Turkey Lake Rd
Westgate Lakes Resort will be on your Left
From Miami

Distance: 236 miles
Take I-95 N
Take exit 87B to merge onto W Indiantown Rd
Keep left at the fork, follow signs for Florida's Turnpike N/Orlando and merge onto Florida's Turnpike
Use the right 2 lanes to take exit 259 for I-4 toward Orlando/Tampa
Keep right to continue toward I-4 W
Keep left at the fork, follow signs for Tampa W/I-4 W and merge onto I-4 W
Take exit 74A for FL-482/Sand Lake Rd toward International Dr
Use the 2nd from the right lane to keep right at the fork, follow signs for Universal Studios/City Walk/Universal's Islands of Adventure and merge onto W Sand Lake Rd
Use the left lane to merge onto W Sand Lake Rd
Use the left 2 lanes to turn left onto Turkey Lake Rd
Westgate Lakes Resort will be on your Left
From Daytona Beach

Distance: 66.7 miles
Take FL-400 W to I-4 W
Take exit 74A for FL-482/Sand Lake Rd toward International Dr
Use the 2nd from the right lane to keep right at the fork, follow signs for Universal Studios/City Walk/Universal's Islands of Adventure and merge onto W Sand Lake Rd
Use the left lane to merge onto W Sand Lake Rd
Use the left 2 lanes to turn left onto Turkey Lake Rd
Westgate Lakes Resort will be on your Left
RESERVATIONS
Westgate Lakes Resort & Spa